Ever wondered which album to listen to while going on a long drive by the countryside? Just listen to "Are We There" and enjoy the view of the landscape around you engrossed in Sharon's voice that'll take you to a dimension that's is bittersweet familiar to the realm of your heart.
Get engrossed through every track in it, and it won't come as a surprise that Are We There jumpstarted her career in the music scenario. After all, the album was even listed as "50 Best Albums of 2014" by Rolling Stone Magazine.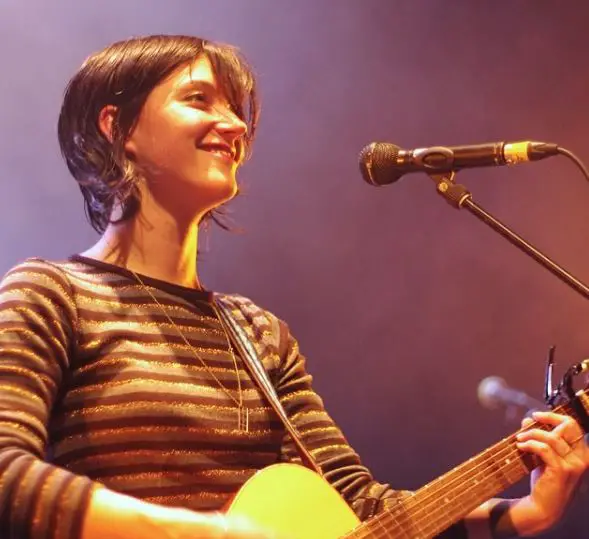 But there's more to this New York-based artist than this groundbreaking album and her original tracks. If you stumble upon her tracks on YouTube, you might be surprised to find that her cover tracks are equally amazing. And I must say that if you haven't yet listened to those covers, how do you even call yourself a Sharon Van Etten fan, bruh?
Well, let's revisit these captivating and timeless tracks where Sharon has managed to give her own ephemeral touch.
Flirted With You All My Life - Vic Chesnutt
Upon hearing this track for the first time, it felt like the words described a girl reminiscing on a man she didn't love back, although she had precious time with him.
However, the track is originally taken from the 2009 album At The Cut by the late Vic Chesnutt, and the original track sounds more on the jolly side. But Sharon's version is a departure from this as it's more dreamy with a lingering vibe of regret and nostalgia. 
Listening to Vic's original one has a Christmas kind of feel while the cover, on the other hand, is embedded at a slow pace. The melody feels woven for people confined within their memories of the unrequited.
Although "Flirted With You All My Life" is a track about a guy who realizes about being not ready to be in a committed relationship, Sharon's version feels like it comes from a different perspective, a far more different feeling with a more refined touch.
Love More - Bon Iver
I'll just say it right away that I don't really care about the original version sung by the ever amazing Bon Iver. Not that I don't like it, it's just that I'm stuck with Sharon's version: for me, it'll always shine. 
As a listener, it was a treat when I came across a clip where Sharon and Bon Iver sang together this track. This once in a lifetime talent combo happened at David Lynch's Festival Of  Disruption Held at the Ace Hotel.
Even Bon Iver himself introduced the crowd to Sharon as one of the artists he looks up to. As expected, the performance was chilling and a  beautiful spectacle. Don't believe me? Just scroll down to the comments from the video above and see for yourself.
Last Night I Dreamt Somebody Loved Me - The Smiths
The Smiths woeful and classic  "Last Night I Dreamt Somebody Loved Me" is something quite sacred, and not everyone can live up to the legacy it left behind. Well, Russia-based former duo t.A.T.u did manage to give a fresh track on one of the songs titled "How Soon Is Now," which gained positive feedback from the frontman Morrissey himself. And today, Sharon falls somewhere along this line.
It just makes me wonder if Morrissey ever listened to Sharon's version of his other track because it really gives has more depth as well. It's as if that Sharon covers a track every time she maintains the original's soul.
The feeling of melancholy, longing for someone still lingers within Sharon's cover (although with a different riff), and the chorus is just perfect on Sharon's rendition of "Last Night I Dreamt Somebody Loved Me." It slowly takes a darker and haunting tone than the original one.
In this track, let's just say that a good artist copies, a great artist like Sharon steal it.
People They Ain't No Good - Nick Cave & The Bad Seeds
This rendition of Nick Cave's classic is so freaking good, and throughout listening to it, you just start to melt with awe eyed expression. Don't believe me? Just take your time and watch the video for yourself. Just take your time before reading further.
Okay, done watching? How was it? If you didn't feel anything while listening to it, I suggest you check if something's wrong with your headphone, or maybe you do not tend, I guess, FEEL stuff. Sorry, not sorry.
I don't know what to say about this rendition because this is the first video I came across by Sharon Van Etten. And I feel that somethings are better kept unexplained than trying to provide insight.
Also, I haven't yet heard the Nick Cave version because I'm content to lie to myself that this song belongs to Sharon alone. There's also another cover of Nick's track by Sharon titled "The More You Ignore Me, The Closer I Get" that shouldn't be missed as well.
Like A Diamond - Glass Ghost
What greater joy can there be in the world than getting to discover other amazing artists through the work of the artist you love? When Sharon covered this song, I immediately searched for the original track, and I must say that I felt her rendition couldn't keep up with the original for the first time. Not that her cover is bad, it's just that the original track by Glass Ghost is just a whole different vibe.
The video is equally purely gold as well. And Sharon deserves credit for being up to date on so many underrated artists that reflect the aura of her own tracks. When listening to this track, an existential knack resonates with this lingering tune about the feeling of isolation and loneliness.
In a world today, where platforms are filled with countless aspiring artists covering mainstream tracks, Sharon's signature touch on famous and underrated gems is a blessing for the audiophiles. Her tracks are like bandages, or let's just say they are more of a place you can count on to return when you are alone.