With the news of Christopher Plummer's death hitting the world, people have been going back to the little details of the legendary actor. Most know him for his appearance in 'The Sound of Music' where he portrayed Captain von Trapp. 
Alongside his love for his career and profession, Christopher also embraced several love interests throughout his life. The actor married three times in total. His very first marriage was to Timmy Grimes, and they had a daughter — Amanda Plummer. The two stayed married for four years and divorced, which followed Christopher's second marriage, which was with journalist Patricia Lewis; they divorced after five years. Three years later and Christopher would find his lifetime companion, actress Elaine Taylor. They were married for over 50 years until Christopher's death on February 5, 2021.
Elaine Taylor's Career: She a Bond Girl and a Chef?
While Elaine Taylor had a colorful career as an actress, she is especially known as being a Bond Girl in the 1967 version of 'Casino Royale' where she played Peg. 
In 1969, Elaine appeared as Cloris in 'Lock Up Your Daughters;' this was the same time she met Christopher. According to sources, Christopher apparently had a thing for redheads, which led to his interest in Elaine who was required to color her hair red for the film. It wasn't long before the two married a year later.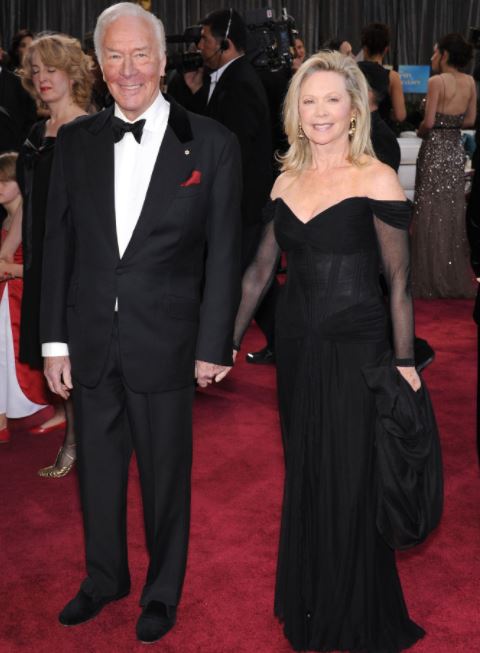 But wait, Elaine is also a gourmet chef specializing in French cooking, as per Christopher. In a 2017 interview, Christopher gushed about his personal chef wife, "Well, I have a wife, who is a terrific cook. She knows how to cook organic food fantastically so I'm taken care of as far as the kitchen is concerned… She started French cooking and… it's delicious."
Elaine Had a Huge Hand in Breaking Christopher's Drinking Habit 
Everyone knows that Christopher drank a lot and when he first met Elaine, the actor was at height of his drinking problem.
"I was drinking like mad at the time. There was no reason for me to drink as I was making quite a lot of money, but I felt I wasn't doing the kind of things I'd rather be doing. I was between marriages and I realized I mustn't be alone and I needed someone. Then I met Elaine." - Christopher Plummer to Daily Mail
It was in his memoir, 'In Spite of Myself,' where Christopher revealed, "Elaine had now completed her role in the movie and was on her way back to London for yet another engagement — a busy and popular lady. I felt absolutely empty and as despondent as anyone could be. As she was leaving, I told her I was going to miss her dreadfully and hoped she would let me see her in London. 'All right, but on one condition,' she warned, 'that you cut down on the booze.'"
Elaine had a big hand in helping Christopher break out of his problem with alcohol. She apparently threatened to break up with him if he didn't quit. 
"I was rather a petulant and angry drunk, so I gave the hard stuff up in the '70s and I've been happy wino ever since! My wife got me out of a real mess."