The seventh installment in Tom Cruise's blockbuster Mission Impossible franchise is set to resume its shooting in September. Actor Simon Pegg, speaking to Variety, said they would resume filming the "with the outdoor stuff" first. The action-spy was initially scheduled to release on June 21, but it has been postponed till November of 2021 due to Covid-19.
But the Mission Impossible's story is just the tip of the iceberg. Because of the coronavirus pandemic, countless movie releases and shootings have come to a halt, and movie theatres all over the country have remained shut down.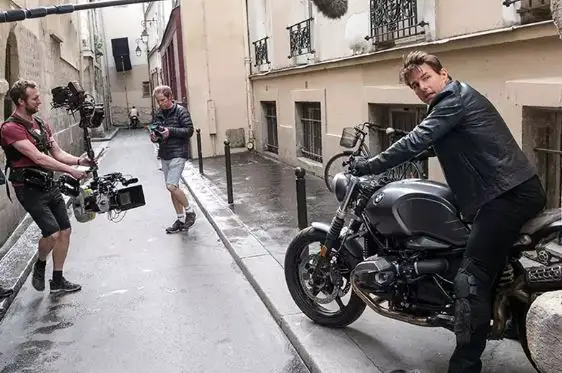 Matt Reeves' Batman's released date has been pushed from June 25, 2021, to October 1, 2021. DC's The Flash and Shazam 2 have shifted their release date from July 1, 2022, to June 3, 2022, and April 1, 2022, to November 4, 2022, respectively. And Sony has delayed almost all of its summer releases until 2021. 
On the television front, on-screen projects such as Warners' The Bachelorette, Young Sheldon, Supergirl, Batwoman, Claws, All Rise, Lucifer, Queen Sugar, and The Flight Attendant all have been delayed. Similarly, productions of Netflix's hits Russian Doll, and Stranger Things also are in limbo.
COVID-19 Isn't The First.
Let's go back a few years, 102 to be precise. When the 1918 Spanish flu hit America, the American cinema industry experienced a pause. The situation was partially identical to the one we're facing currently. 
Owing to less globalization, the virus in 1918 had spread in a patchy manner. Theatres in some regions had to completely shut their operations, while theatres in some other regions were allowed to run normally. 
But as an article from Film School Rejects suggests, the business was far from standard. The Number of moviegoers had reduced by fifty percent because of the fear of contracting the disease. They also had to comply with the safety rules and regulations, which added further stress to the already panicky moviegoers.
As the spread of the virus gradually began to dampen, authorities allowed all cinemas to open as long as they followed the precautions religiously. From banning children to limiting attendance in theatres, the restrictions varied from region to region all over the United States.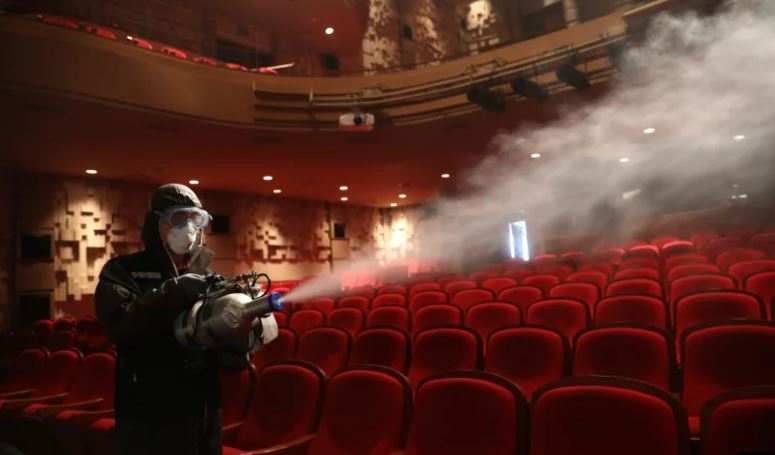 The same article also discusses the effect of the 1918 pandemic in Hollywood movie production. Film studios facing economic problems, such as "Triangle Film Corporation," never recovered. Others who were relatively unharmed had to face losses due to layoffs. The entire situation was unruly.
Nevertheless, the virus was controlled till 1920, and the situation gradually returned to normalcy. During the 1930s, movie theatres received a record-high number of moviegoers compared to any other decade before or after. 
The Uprise of Netflix and its Counterparts.
The population that would generally be seen shopping, traveling, and hanging around cafes is forced to stay home due to the pandemic. With a lot of free time at hand, it isn't surprising that people have resorted to spending hours binge-watching Netflix.
After all, amidst the news bombardment of spreading pandemic and increasing death tolls, something has to keep people from going deranged.
Netflix's views and users have increased in millions since people were first asked to stay at their homes. Similarly, a lot of movie studios also have started to release their movies online. Universal Studios released their theatrical movies: The Invisible man, Emma, and Trolls World Tour on all major streaming platforms. Matching their footsteps, Fandango also released their Bird of Prey and The Gentlemen on streaming services. 
This might suggest that a major shift is happening from theatrical releases to digital streaming at face value. But the facades could be deceiving. An article from Vulture says that all of these movies mentioned above have already run their theatres course. And movies that haven't been released (such as A Quiet Place 2 and Marvel's Black Widow) have postponed their dates rather than going online.
In February 2020, the American data analysis firm Nielsen had hinted at a significant rise in media consumption via online streaming services. That prediction has been justified now.
Some have even gone as far as to attribute the rise with the tagline 'the streaming boom."
What the experts say.
Due to the streaming boom and worldwide cinema theatre closures, people have circulated rumors regarding the "death of cinemas" post-pandemic. 
In an interview with Anadolu Agency, Yusuf Ziya Gokcek, a lecturer for Cinema Studies at Istanbul's Marmara University, dismissed this widely circulated hearsay by emphasizing that images modernity are closely connected. 
The same article also reports another expert, Ege Ellidokuzoglu, a filmmaker and lecturer at Uskudar University. He said, "I look on the bright side. This chaotic situation would bring a lot of film stories to the cinema. Thus, many movies about this period will be shot. Of course, if anyone can write and shoot."
End thoughts.
The industry, in its entirety, certainly has taken a major hit from the pandemic. 
However, even once the lockdowns are lifted, it seems like they will have a hard time bouncing back. In a survey of 1000 participants in the United States, 49% said it would take a few months or possibly never for them to return to the cinemas.  
If the survey results hold up even after the end of the lockdown, then low-level cinema workers who are already subject to severe financial and economic complications will have a hard time sustaining themselves. 
In that regard, no effort seems to have been put forward from the film industry and respective authorities.
Although lessons from history suggest that no huge, debilitating difficulty will hit the cinema industry as a whole, COVID-19 has certainly has punched the ones who get the bread and butter from the industry. And maybe the film industry's focus should be locked on helping suffering cinema workers rather than gazing at a distant future.
As for us audiences, all we can do is remain optimistic. And once the lockdown ends, we can expect the cinema to embrace us with open arms.