Cline Street singer Anne Cline is engaged to American actress Taryn Manning. 
On Friday evening, Anne popped the question to the 'OITNB' actress during one of her gigs at a restaurant/bar in Panama City, Florida. 
A video obtained by TMZ showed the 27-year-old musician paused her concert and ran over to the 42-year-old actress, and got on one knee in front of her love. Taryn became overwhelmed with emotion, placing her hands over her face before kissing Cline on the lips.
Taryn said it was the easiest 'YES' she ever said. 
The couple kept their romance out of the spotlight but were spotted together in March while walking a dog. Many fans and friends showered the happy couple's message box with congratulations messages. 
Anne Cline -- Engaged, Wedding Plans
Anne and Taryn got engaged in Panama City on 11th June 2021. Although it is unknown how long they have been together, they have been spotted together several times.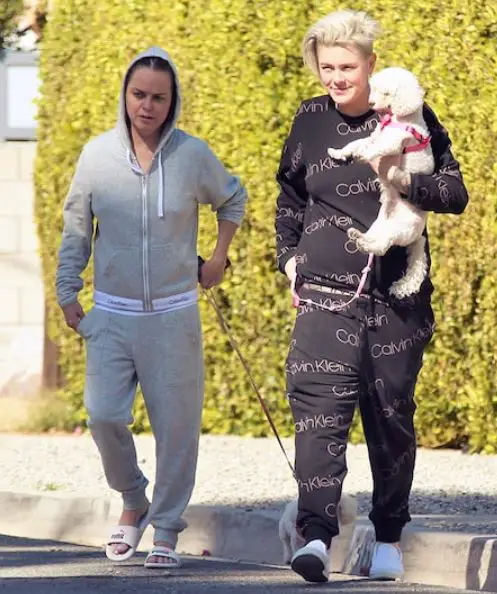 About their wedding plans, the couple is yet to share the plans with their fans. Taryn might be waiting for her family as she is estranged from her family and wishes to reconcile with them. 
In 2017, Taryn said, 
"I lost my mother, not from death. The hardest part is that my mom is still alive but we're estranged. It's really sad to watch a beautiful relationship crumble over b.s.

"I feel really hopeful about things coming to an end that has been going on. I've lost a lot in my life.

"That is one of my biggest things, to reconcile with my family and for them to understand my side."
She added,
"And that's number one, as cliche as that sounds. It's the most cliche, kind of nerdy thing. Like, 'You can't love anybody until you love yourself.' But it's true, you really can't.

"Forgiveness is another form of letting go. I think letting someone go and truly meaning it, it's a boomerang and they come back around.

"Because true love always comes back around. And family love should come back around."
Moreover, in a 2017 interview with PEOPLE, Taryn said that she experimented with other women during that time; she identified them straight. She denied being gay. 
"I'm not gay, meaning I love men," 

 "I love gay people. I've experimented. It's good. I just prefer men."
Who Is Anne Cline?
Anne Cline, born on 4th April 1994, hails from South Georgia. Her parents are named Christine Lytle Cline and Jc Cline. Her father, who studied at Montreat, North Carolina, is originally from Bluefield, West Virginia and now lives in Charleston, South Carolina. 
Anne also has a step-brother named Remi Pimm, a Saint Augustine, Florida inhabitant and a student of the University of St. Augustine for Health Sciences alum. 
Back to Anne, she is a singer-songwriter and full-time musician. Over the past couple of years, she created an opportunity to open for some big-name artists like Miranda Lambert, Cole Swindell, Shawn Mullins, Philip Philips, and Puddle of Mudd. 
Also Read: Who Is Stella Mcbride Cyrus? Wife Of Braison Cyrus Has Welcomed A Son!
In addition, Anne is also a part of a dynamic 2-piece band Cline Street. For her multi-talent, being good at singing, playing guitar, and the keys, she is considered a triple threat by her fans. 
Furthermore, Anne has also opened a merch store to sell pieces of stuff uniquely designed for her fans. 
She has an estimated net worth of $400K; meanwhile, her fiancee has Taryn has an estimated net worth of $3 million. She is an actress, singer, songwriter, designer, vocalist for the electronic duo Boomkat, and the co-owner of the clothing brand called 'Born Uniqorn.' 
Interesting Facts
Anne stands at the height of 5 feet 8 inches (1.72 meters), and her partner Taryn towers over 5 feet 2 inches. 
Cline has carved her neck, arms with tattoos. She has inked a lettered 'HOPELESS ROMANTIC' on her hands.