With modern communication means connecting us to the universe, there most likely are not many 90's kids who haven't heard the song 'Baby' sung by a blond Justin Bieber with side-swept bangs and a sweet voice during his teenage years (in 2009).
Similarly, there are millions of people who find 'Yummy' to be catchy. The song again was sung by the same Justin Bieber but with pastel pink hair and a mature voice in 2020.
Justin Bieber's popularity has not decreased with time. He is either loved or despised massively. But regardless of people's negative opinion, Bieber has gradually evolved from a small-framed breakout child singer to a popular singer with issues, and then to a mature singer enjoying a beautiful marriage.
Justin Bieber Performed On YouTube Before Becoming A Global Star
Born to Jeremy Bieber and Pattie Mallette in 1994, Justin Drew Bieber was raised by his mother. Bieber was interested in music from a young age, and his homemade cover songs were shared on YouTube. Through a 2007 YouTube video, Scooter Braun discovered Bieber at 13, after which he signed with Raymond Braun Media Group.
The 'What Do You Mean' singer has since then released five studio albums. Among many of his hit singles, a few popular ones to name are One Less Lonely Girl, Mistletoe, Boyfriend, Company, Sorry, Intentions.
Furthermore, Bieber has recorded noteworthy songs with other artists, some of which include Baby (Ludacris), Never Say Never (Jaden Smith), Beauty and a Beat (Nicki Minaj), As Long As You Love Me (Big Sean), Despacito (Luis Fonsi), I Don't Care (Ed Sheeran). Of late, he collaborated with Ariana Grande for fundraising single Stuck With U.
In addition to his prospering career in music, Bieber is an actor. He had a cameo appearance in Men in Black 3 as an alien and a delinquent in Behaving Badly. He appeared as himself in Zoolander 2 and Killing Hasselhoff.
Justin Bieber Has Been Linked To Several Women
Before Bieber said 'I do' to Hailey Baldwin, his name was linked to more than a few women. Here are the women whose names got associated with the 'One Time' singer.
Caitlin Beadles
Caitlin Beadles was Bieber's first girlfriend, who he dated from 2008 to 2009. Although they broke up, they remained friends in later years, and Beadles attended the Biebers' wedding in 2019.
Selena Gomez
Among Bieber's ex-girlfriends, he had the longest relationship with Selena Gomez, who he met in 2009, then officially dated in 2011. After their first break-up in 2012, they were involved in an on-and-off relationship over the years until they broke off in 2018.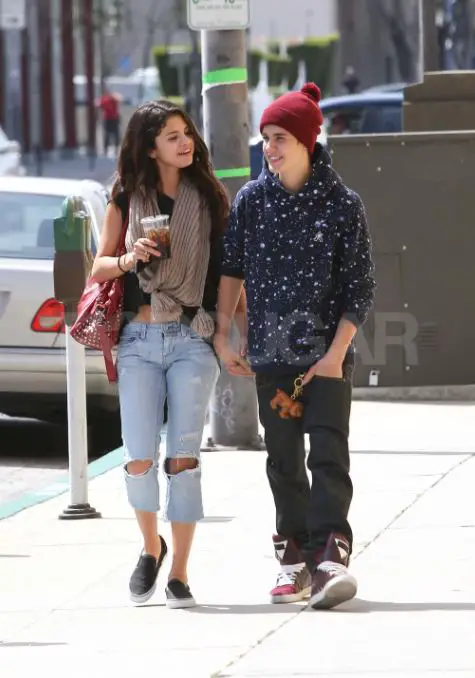 Miranda Kerr
Rumors of the 'Boyfriend' singer flirting with Victoria's Secret model Miranda Kerr sparked at the 2012 Victoria's Secret Fashion Show. According to Daily News, Bieber and Kerr partied together after the show. However, the model denied having a romantic relationship with Bieber.
Barbara Palvin
Bieber met Barbara Palvin at the 2012 Victoria's Secret Fashion Show. Dating rumors ignited when the two were spotted attending The Lion King musical on Broadway. But Palvin denied the rumors via Twitter.
Chantel Jeffries
Chantel Jeffries came under the spotlight, in 2014, for being caught riding in Bieber's Lamborghini when he was taken into police custody for driving under the influence, resisting arrest, and driving without a valid license, as The New York Times reported. Regarding the suspicion of them dating, she insisted there was no romantic involvement between her and Bieber.
Yovanna Ventura
E! News reported in 2014 that Bieber was seen "acting like a couple" with Yovanna Ventura on the Venice Beach Boardwalk in California. A source revealed that Bieber reached out to her, and they started talking in late March.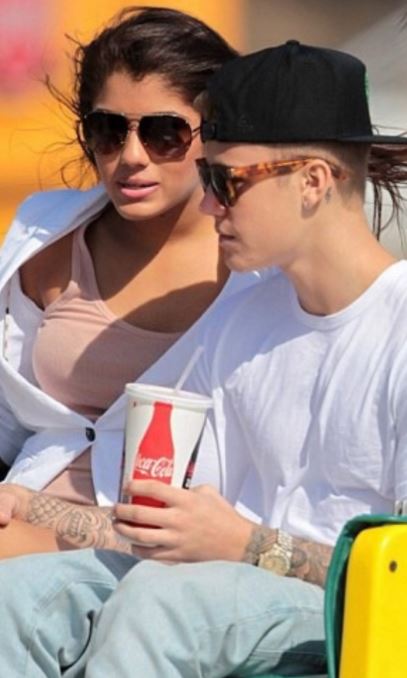 Sofia Richie
In 2016, Bieber dated Lionel Richie's daughter, Sofia Richie, for a month before splitting up. TMZ stated that they were not in a serious relationship to begin with.
Paola Paulin
Bieber reportedly dated Paola Paulin. According to Us Weekly, rumors of Bieber and actress Paola Paulin dating started when they attended a church service in Beverly Hills. An insider of the news claimed that they also went to a romantic dinner at Soho House in West Hollywood.
Nicola Peltz
Rumors of Bieber dating actress Nicola Peltz broke out when they were spotted on a date at the CN Tower in Toronto. A source told Us Weekly that they had sleepovers at Bieber's Beverly Hills home.
Justin Bieber Tied The Knot With Hailey Baldwin
Hailey Baldwin, now known as Hailey Rhode Bieber, is actor Stephen Baldwin's daughter. Bieber and Baldwin first met in 2009 at Bieber's fan event. From that time, they have known each other for a decade. After briefly dating and separating in 2016, they reconciled in 2018.
Bieber officially called Baldwin his wife on November 15, 2018, although they were seen entering a marriage license courthouse in New York on September 13, 2018, reported Vogue.
People held a second wedding ceremony and reception on September 30, 2019, in South Carolina.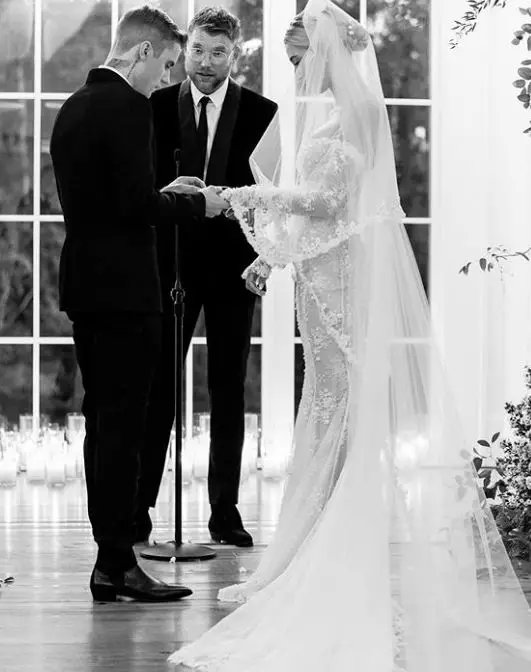 The 26-year-old singer showed affection for his wife on his Instagram. In the same way, about marriage with Bieber, Hailey told Vogue,
"I want people to know that. We're coming from a really genuine place. But we're two young people who are learning as we go. I'm not going to sit here and lie and say it's all a magical fantasy. It's always going to be hard. It's a choice. You don't feel it every single day. You don't wake up every day saying, 'I'm absolutely so in love and you are perfect.' That's not what being married is. But there's something beautiful about it anyway—about wanting to fight for something, commit to building with someone. We're really young, and that's a scary aspect. We're going to change a lot. But we're committed to growing together and supporting each other in those changes. That's how I look at it. At the end of the day, too, he's my best friend. I never get sick of him."
The Biebers' have released a Facebook series, "The Biebers on Watch," where people can have a peek into their married life.