Despite the fact that Emily Bieberly and Kobe Blaise were not on the most recent episode of 90 Day Fiance, they remain a big subject.
Some fans are dismissing Emily as a "villain" after their most recent episode, ignoring Bilal and Shaeeda's Lifetime psychological thriller undertones.
The reason Emily and Kobe are getting such a positive response is simple.
It also gets to the root of 90 Day Fiance's most serious issue. Emily Bieberly and Kobe Blaise's tale is inspiring in many ways.
They have waited a long time to be together, through no fault of their own, and they both want to lavish love on their small boy. Kobe relocated to Salina, Kansas, to live with Emily and her family and, most importantly, to bond with Koban.
But, more importantly, are they married, and are they still together after the show's filming? Well, we have no idea. Let's look into Emily's background and her relationship with Kobe.
Is Emily Bieberly & Kobe Blaise Still Together?
There have been numerous cases where couples have broken up shortly after shooting 90 Days Fiance. However, neither Kobe nor Emily stated their position in this scenario. However, based on their social media accounts, they appear to still be together. As Kobe did in April 2022, they are frequently spotted sharing one other's photos with their son.
Furthermore, Kobe recently posted a photo of the two of them together with the phrase "Somewhere Safe." When a fan asked if they were still together, Kobe said, "We were meant for each other forever." Even after taping the episode, it appears that the two are still together.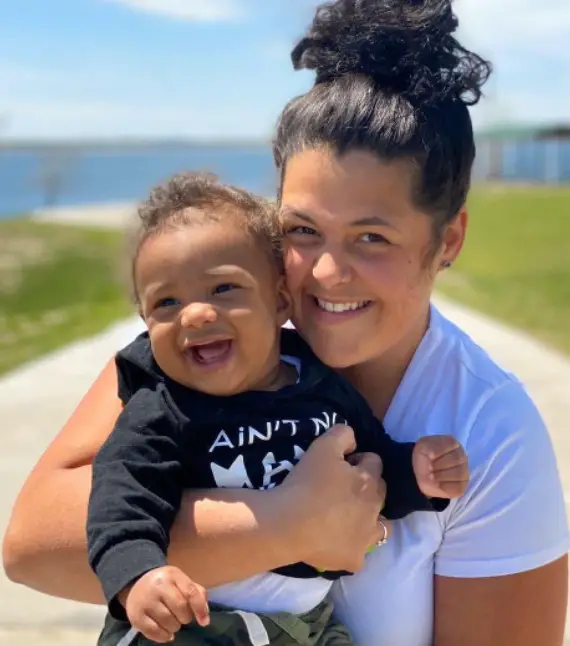 The Couple In 90 Days Fiance
Emily Bieberly, an actress of 90 Day Fiancé season 9, is facing backlash from fans following her actions towards her partner Kobe in recent episodes. 
We saw Kobe settle in Emily's house for the first time in the latest episode of 15 May, which aired on Sunday.
Despite the fact that his visa forbids him from working for six months, Emily's father was observed warning Kobe seek a job. Fans were outraged since Kobe was new to the area and Emily should have been the one to figure out how to get by.
Don't Miss: Why Did K-Pop Idol Sitala Leave The Girl Group H1-KEY? GLG Gives An Official Statement
Emily, on the other hand, was seen in the episode mistreating Kobe, yelling at him for touching Koban's feet. Emily appeared irritated by Kobe's presence in the room, believing that it was disrupting Koban's sleep.
She put Kobe in a separate room from her and made sure the baby had enough room in the bed. This angered both Kobe and fans, as Emily appeared to be attempting to prevent Kobe from bonding with his own son.
Differences and misunderstandings have already begun to smell to Kobe and Emily. Fans will be interested to see how the show continues to highlight their friendship.
Emily's Instagram
Emily does not have a social media account other than her own Facebook page. Kobe Blaise, on the other hand, has a 5K Instagram following.