Elliot Page first rose to fame as the lead in teen pregnancy comedy Juno as Ellen Page. Recently on 1st December 2020, he announced he is transgender. 
Formerly known as Ellen in 2014 came out as a gay woman and four years after getting married to choreographer Emma Portner. 
Elliot took his social media to announce how remarkable he felt to finally love himself for who he is and pursue his authentic self. 
He also wrote, 
Hi friends, I want to share with you that I am trans, my pronouns are he/they, and my name is Elliot. I feel lucky to be writing this. To be here. To have arrived at this place in my life. I feel overwhelming gratitude for the incredible people who have supported me along this journey. I can't begin to express how remarkable it feels to finally love who I am enough to pursue my authentic self. I've been endlessly inspired by so many in the trans community. Thank you for your courage, generosity, and ceaselessly working to make this world a more inclusive and compassionate place. I will offer whatever support I can and continue to strive for a more loving and equal society.
At a Human Rights Campaign conference in Las Vegas, Elliot announced that he was tired of hiding, tired of lying by omission. He further explained that he suffered for years because of the fear of coming out. 
Now, finally, he is out of the closet and openly states himself as transgender and non-binary and uses both he/him and they/them pronouns.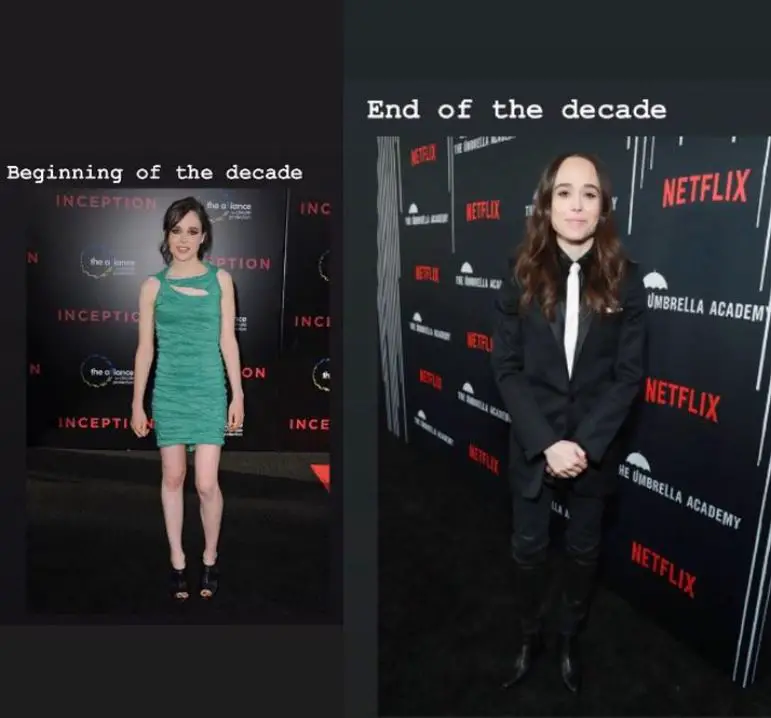 He also received the full support of his wife Emma, and she also shared a message on her personal Instagram account. 
I am so proud of @elliotpage.

Trans, queer and non-binary people are a gift to this world," Portner wrote in the caption. "I also ask for patience & privacy, but that you join me in the fervent support of trans life every single day.
She further added, 
Elliot's existence is a gift in and of itself. Shine on, sweet E. Love you so much.
Elliot, a 33-year-old Canadian actor, and producer, is known for his roles in the recent Netflix series "Umbrella Academy" as well as  "X-Men: The Last Stand," "X-Men: Days of Future Past," and "Inception."
In 2019, Elliot debuted as a director with the documentary "There's Something in the Water."
Prior to his announcement, Elliot was one of the most visible gay actors in the entertainment industry.