Katie Maloney and Tom Schwartz are formally divorced.
TMZ revealed on Tuesday (March 22) that Maloney, 35, had filed divorce papers in Los Angeles County Superior Court. The two spent the weekend in the San Fernando Valley together. They appeared uninterested in one other, according to onlookers, and barely made eye contact when speaking.
Maloney was the one who decided to dissolve their marriage, according to Tom, because they had been "building up" for months.
Katie Maloney & Tom Schwartz Divorced
On March 15, the Vanderpump Rules co-stars announced their separation on their own Instagram profiles.
Katie wrote,
"I never thought I would have to make an announcement like this. But I feel it's important that I'm open about my life with you."

"After 12 years on an adventure through life together Tom and I are ending our marriage. This ending is not met with resentment or animosity, no sides to choose. We have deep admiration for one another that will always remain and we cherish our friendship."
Maloney concluded her announcement, "Although we may be on different paths we will continue to love and support one another's happiness. Thank you for all the kind words and support."
Schwartz, 39, also announced their breakup on Instagram with a poignant post.
"Well this sucks. How am I supposed to capture 12 years of love in a f–in canned Instagram caption," he began. "I'm not quite ready to use the 'D' word bc it's too painful. Yes, my heart aches but I'll be ok.

"Fully respect Katie's decision and we've had healthy, productive conversations about it. It would be far sadder if she decided to stay with me whilst not happy," he wrote in part, adding that "we had some of the most blissful, romantic, fun times humanly possible over the course of our relationship" and that Maloney has "taught me so much about love & being a better partner."
Maloney was photographed without her wedding ring on Instagram earlier this week, sparking rumors of a divorce.
Following their declaration, Maloney expressed her desire to do what was best for her.
Maloney claimed her "most empowering experience" was "choos[ing] myself, in any form," during Dear Media's Women's History Month event.
She continued, 
"Accept and love myself and don't back down."

Women's History Month is "a reminder that women are powerful and have the ability to govern the world," according to Maloney, who also claimed the best advice she's ever received is,  "If you're being true yourself you will never have any regrets."
Following their announcement, the former couple spent time together and dined on an outdoor patio table at Mister O's in Studio City, California, as seen in photos acquired by TMZ. A photo from the meetup was published by the TomTom restaurateur, which Maloney reshared on her Facebook. "It's all good," she wrote with the image.
The now-ex-couple wedded in 2016, but it wasn't until 2019 that they filed the actual paperwork to be officially married.
Their Relationship & Marriage
Katie and Tom began dating in late 2010. Although they have been together for 12 years, they do not yet have any children. The couple made their television debut in 2013 on Vanderpump Rules when their romance and marriage were filmed.
On June 7, 2015, while both of them were out celebrating fellow castmate Tom Sandoval's birthday, Schwartz proposed to Maloney. With a 2 carat rose cut pear shape champagne diamond in 14 karats rose gold rings, he got down on one knee.
Don't Miss: Lisa Bonet & Jason Momoa Reunite! Why Did They Break Up?
They kept the news to themselves for a month before announcing it on their Instagram accounts.
After a year of engagement, the couple decided to take their relationship to the next level, marrying. The couple married in a small wedding ceremony in August 2016.
Their wedding took held in northern California, in a breathtakingly magnificent forest setting. The bride donned a gorgeous Zuhair Murad long-sleeve lace wedding gown from New York City's Kleinfeld Bridal.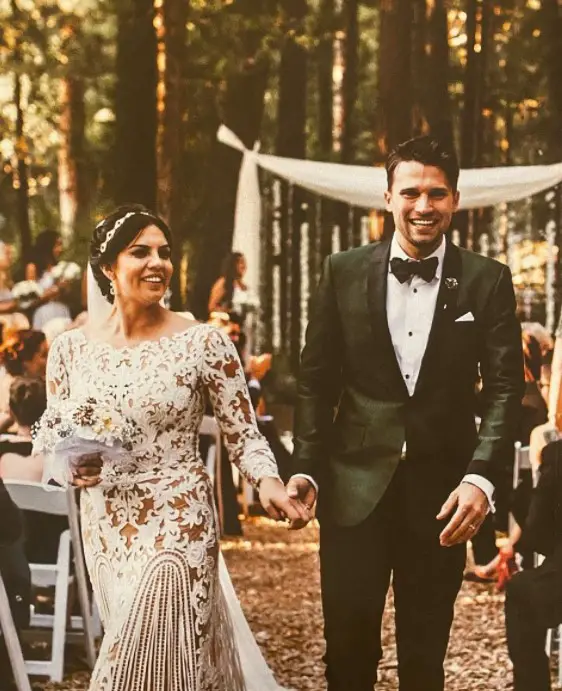 Because the two waited until 2019 to file the actual paperwork, they were able to experience their dream wedding twice. Schwartz gave his two wives a 15-carat heart-shaped tanzanite ring made by Kyle Chan for the second time. In Sin City, the two marry in a Western-style ceremony.
The bride donned a modest yet stunning seated bodycon for their big day, while the groom went full Elvis with a cowboy attire.