Ryan Trahan is an American YouTuber and social media personality most notable for his comedy and lifestyle content. During his 7-year long journey in the entertainment field, he has gathered millions of subscribers on his self-titled YouTube channel. 
Besides being an internet persona he is also the founder of a company named Hydra Collective and Neptune Bottle. Moreover, he was also seen in the 2020's Walkaway Joe as Josh. 
Other than his professional life, Ryan is also a married man. He is married to his YouTuber wife Haley Pham. With his wife, he has a YouTube channel named The Traphamily. 
In this article, learn more about Ryan's professional as well as married life. 
Engaged & Married
Ryan Trahan is married to his fiance Haley Pham. His wife is also a YouTuber and has a self-titled channel where she has 2.21 million subscribers. 
The couple started dating back in 2018 and got engaged in 2020. In May 2020, Ryan proposed to his long-time girlfriend during their trip to Big Bend National Park. 
On his Instagram, he posted snaps of their beautiful moment and also shared the video on his YouTube channel. 
However, some people assumed that their engagement was just a prank. But Ryan's better half proved it otherwise. She posted a video titled Why I Got Engaged At 19, confirming their engagement on his YouTube channel. 
Also Read: Who Is JoJo Siwa's New Girlfriend Katie Mills? The Couple Was Seen On A Date Night At The Lakers Game
Six months later, Ryan and Haley held their wedding privately. Although on 21st October 2020, Haley shared their wedding planning and also talked about bridesmaids' dresses they did not reveal the location and date of their wedding. 
On 8th November 2021, Ryan's wife posted a snap on their wedding dress and said 1 year of being Mr. and Mrs. Trahan.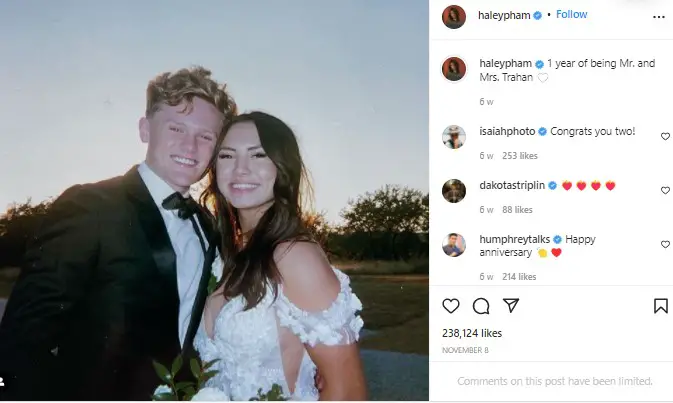 Who Is Ryan Trahan?
Ryan was born on 7th October 1998 in Texas.
He has a brother named Matthew Trahan and he is often seen on Ryan's YouTube channel. 
Ryan earned his Bachelor's degree from A&M University. 
On 18th October 2013, he created his YouTube channel which now has 5.2 million subscribers. On his channel, he started posting vlogs, challenges videos, tips, and many more. 
From his channel and sponsorships, he is side to have made an estimated net worth of $1 million.