Addison Rae strolled down the renowned event's red carpet with beau Omer Fedi, who was part of the team nominated for Song of the Year for Lil Nax's Montero (Call Me By Your Name) at the Grammy Awards 2022 on Sunday, April 3.
Fedi donned a deconstructed suit and Rae wore a white slip dress from Nili Lotan with Jennifer Fisher earrings and cuffs as the two kissed, touched tongues, and embraced for the cameras. They reminded us of their friends Kourtney Kardashian and Travis Barker, who love some red carpet PDA as well.
The couple posed hand in hand at the Grammy Awards on Sunday night, displaying a lot of PDA in preparation for their special performance in Las Vegas. Since they initially linked up in August 2021, the online star and Grammy-nominated producer have discussed their romance on social media and at various events, but this is their first time walking the red carpet together.
Netizens Blasted Addison Rae For Her Grammy Appearance 
The famous TikToker's attendance at the 64th annual ceremony, however, did not go over well with social media users, who chastised Rae for being a 'one plus' guest with her famous beau.
Moreover, they also said why the TikTok singer was attending the event, given that she has only ever recorded one song. This prompted a barrage of tweets criticizing the influencer's presence at the 64th Annual Grammy Awards, which will be held at the MGM Grand Garden Arena in Las Vegas on April 3, 2022. @figgynyk, a Twitter user, expressed surprise that Rae was attending the well-known music event.
The internet was not thrilled with Addison's first public appearance on the red carpet. They couldn't figure out what she was doing there. When their favorite performers were not present, many folks were disappointed to see Rae on the guest list. Many others took advantage of the occasion to create influencer-related memes. They joked that Addison Rae would win an award for her just-released single.
One Twitter user wrote, "(expletive) James Charles and Addison Rae gotta do with the Grammys?" 

Another expressed saying, "Why to take [the] Grammys seriously when Addison Rae and James Charles are attending it."

Meanwhile, another tweet read, "She's literally just a plus one because her boufriend is a huge producer lol she didn't get invited."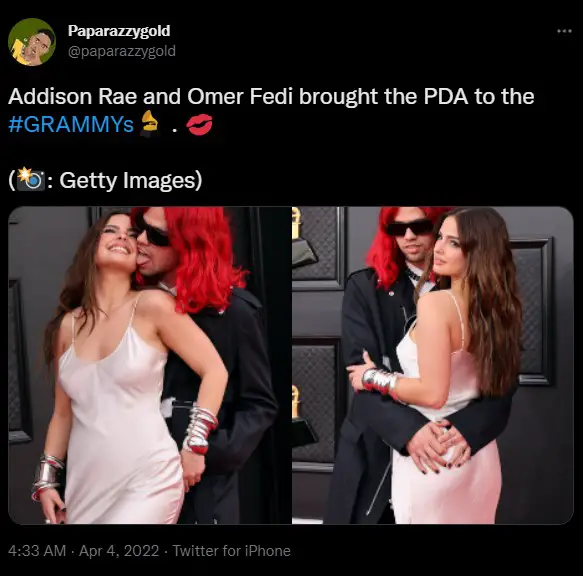 Addison & Omer Began Dating In 2021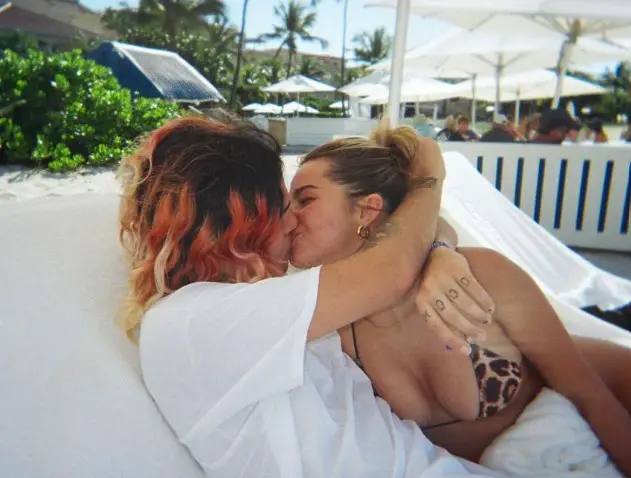 Dating speculations regarding Rae and Fedi began to surface on social media in the first few months of 2021. In July 2021, Rae hinted at their relationship in an Instagram story. A video of two shadows kissing was included in the story. 
In August, Fedi endorsed Rae's debut film, He's All That, on his Instagram account. When the film was released, it made a lot of money, and Fedi's song with Justin Bieber and Kid Laroi was at the top of the billboards at the same time.
He shared his joy in yet another Instagram story, this time announcing his relationship with Addison Rae. He said, 
"Right now, my kid and I are both number one. I'm so proud of her. I'm curious whether we're the first pair to accomplish it with a movie and a song. Anyway, I adore you, baby."
Ever since the two started dating they frequently appear in each other's social media posts.
Addison Rae  Responds To Omer Fedi Leaked Picture Rumor
After a photo of Addison Rae's boyfriend was shared on the internet, her fans are upset. Rae and singer Omer Fedi shared a personal moment of their relationship on social media, but her admirers were not impressed. Fedi appeared to be covering Rae's breasts while holding her in a selfie (presumably shot by him).
That was enough to enrage a crowd of fans. Rae's fans began to believe that she, too, was unhappy with the photo she had posted. Despite the fact that the photograph has already been removed, commenters say that Omer shared a "inappropriate" photo of Addison on Instagram. 
The rumors that he had released the photo without her permission spread like wildfire, but Addison soon put an end to it. 
Addison wrote,  "This is completely untrue." 

"I have no idea where this rumor came from, but it's a false narrative."
She further added, 
"I posted the photo as well. These rumors are disgusting. I love Omer, and if I didn't feel safe and comfortable with him, I wouldn't be with him." 

"This is completely untrue. I have no idea where this rumor came from, but it is a false narrative."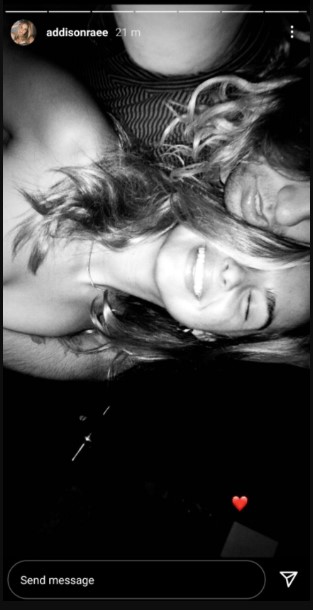 After all, it was just a rumor. Despite the fact that Addison posted the same photo on Instagram, her lover was unfairly accused by her fans. As a result, Addison herself retaliated against the critics for spreading false information.