Are Skai Jackson & Michael Jackson Related?
As a young celebrity, Skai Jackson has made a mark in the entertainment industry!
Some people often have mistaken Skai Jackson as Janet Jackson's daughter. However, her parents are named Jacob Jackson and Kiya Cole. Neither of her parents had any connection with Michael Jackson as well as with showbusiness connections.
In conclusion, despite the misconception, Skai Jackson has no connection with the more famous Jackson family. 
Bio Unfolds Skai's Age
Skai Jackson was born on 8th April 2002 in New York City. She is not the only child but has two siblings; a brother and a sister. 
Skai's parents are not together and are divorced. Skai, 18 years, lives with her mother, Kiya, engaged to Gene Salas in early 2016. 
A Ladder To Success
Since Skai's childhood, she had always been inclined to the artistic side of life. She has always convinced people around her that her enthusiasm for being on the camera can entertain people.
Skai started making an appearance on the camera since she was nine months old. She started her career as a baby model, later appeared on different commercials, and also did plenty of photoshoots during that period itself.
By the time she reached nine, Jackson had become an active user of social media, which helped the world to witness her graceful growth in the industry. 
In 2007, Skai made her first film appearance in the independent film "Liberty Kid" with a minor role.
Once she was also asked about her passion for acting, to which she replied saying, 
"I always had a passion for acting since I was four years old."
People around her were quite evident in her eagerness and her speed of learning new things. As she impressed everyone, she slowly started getting several acting roles. 
Skai made her way towards the big-screen and appeared on movies like 'Rescue Me,' 'The Rebound,' 'Arthur,' 'The Smurfs,' and television series including 'Sesame Street,' 'Royal Pains,' and 'Boardwalk Empire.'
Skai got her breakthrough after she landed on Zuri Ross, a Ugandan orphan in "Jessie" on the Disney Channel. Throughout the show's four-season, she flaunted her rudiments of acting and creative skills.
Other than acting skill Skai has also written a book called "Reach for the Skai: How to Inspire, Empower, and Clapback. "
As of 2020, Skai Jackson joined the cast of ABC's Dancing With The Stars with her professional partner Alan Bersten. 
During one of her performances, Skai and her partner suffered a lift gone wrong while performing the Samba to Ne-Yo's "Miss Independent. Due to the mishap, Skai and her partner scored 15 out of 30 but was saved.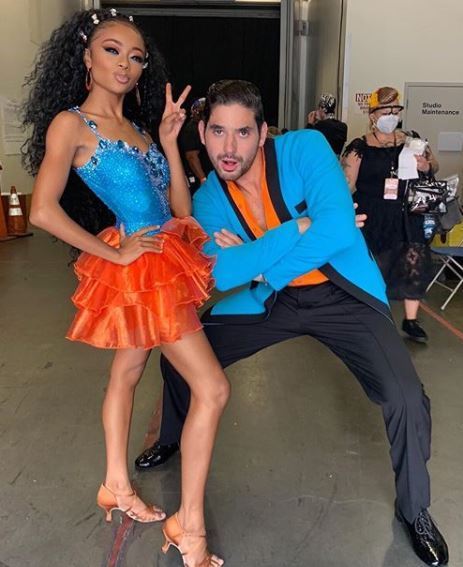 Although Skai faced a little breakdown, her passion for keeping moving forward kept her still going on the show.
For now, everyone is eagerly waiting for the duo's comeback dancing the Jive to "Almost There" from Princess & the Frog.
Tune into Entertainment Tonight to watch Skai as well as other contestants dance!
What Is Skai's Net Worth?
According to Celebrity Net Worth, Skai's net worth is suggested around $500K.