Inside Out co-host Mike Pyle is a landscape designer and consultant who has worked in the landscape field for over 15 years. Mike is also known for transforming multiple garden spaces and backyards for his clients. 
However, other than his professional life, people are more curious to learn about what his outside-the-screen life is like. People are also questioning whether Mike is married or not. 
Putting aside Mike's Inside Out show and landscaping skills, let's get inside the host life!
Is Mike Pyle Married?
Mike Pyle is not a married man; however, he is happily taken. He is engaged to his fiancee Lizzy Farag. The couple first met in 2018 and soon started dating. Soon in September 2019, Mike got on his knee and proposed to Lizzy. Newly engaged Mike took his Instagram to share the news of their engagement. 
They also adopted a dog named Steve, who passed away in October 2019. Mike's partner said their hearts might never be the same without Steve. 
When Steve passed away, Mike's fiancee Lizzy was pregnant with their first child. On 13th December 2019, they welcomed their baby daughter, Stevie Pearl Pyle.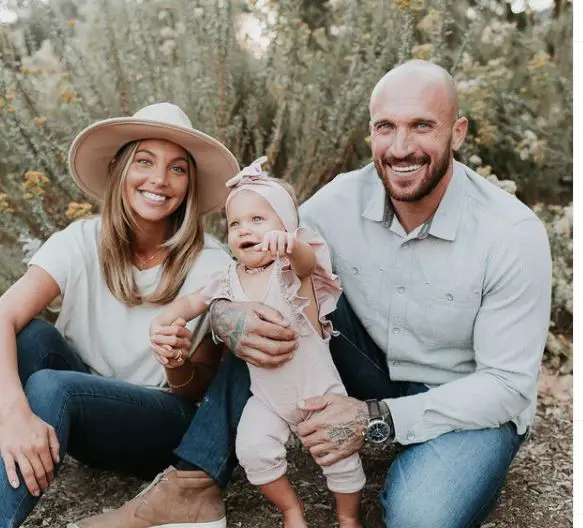 Now, their daughter is already over one, but the couple is still yet to get married. 
Facts Of Mike Pyle
Mike Pyle celebrates his birthday on 5th December every year. However, his exact birth year is not known. He was raised in Palm Desert, California, by his parents Stephen and Deliah Elizabeth Pyle. Although Mike lives in Orange County, California, he seldom missed wishing his parents on their day. 
Moreover, Mike also has a brother named London Pyle (born on 13th November 1983). His brother is a Palm Desert High School graduate. Now, he studies at Point Loma Nazarene University. 
Back to Mike, he stands at the height of 5 feet 11 inches (1.80 meters). Talking about his distinctive features, he has mysterious blue eyes, tattoos-covered hands, and a bald head. Looking at his tattoos, we can say that he is a tattoo enthusiast. 
Short detail about his career, he is the owner of Mike Pyle Design and a founding partner of The Hunt Collection. 
Mike showcased his 19-year experience in the landscaping field, and among numerous designs, the best would be "living murals." Some of the 'living murals" include "Olive Trees with Yellow Sky and Sun" and Van Gogh's "Starry Night."
As of 2021, Mike, alongside Carmine Sabatella, is all set to host HGTV's Inside Out and Rock The Block. In the show, Mike led all things outside, whereas Carmine did everything from the walls.
In the show, they will also be judging the teams of two who would transform identical three-story suburban properties.