Jimmie Allen is an American country music singer who performed at the 2020 CMA Awards show. He was also nominated for New Artist of the Year and had released the two singles "Best Shot" and "Make Me Want To." 
As people are trying to know more about the singer, we did a deep dive into his background, relationship, and stardom path. In doing so, we found that Jimmy, who sings about fairytales, is also living a real-life fairytale with his wife, Alexis Gale. 
In this article, we tried to uncover all Alexis's facts, like her age, nationality, parents, job, net worth, and height. 
Alexis & Jimmie's Fairytale Romance
Alexis Gale and Jimmie Allen first met in 2019, after Jimmie's cousin's wife introduced them. The couple felt an immediate connection on their first meeting. After dating for a few months, Jimmie got on his knees and popped the question. 
On 15th June 2019, the couple got engaged at Disney World, where their family and friends were present to celebrate their happy moments. "Like a real-life fairytale!"
Some people thought they took the step too early but sometimes when you know, you know! For Jimmie and Alexis, there was never even a question. 
Well, adding more happiness into their fairytale romance, on 1st March 2020, the couple welcomed baby girl Naomi Bettie Allen.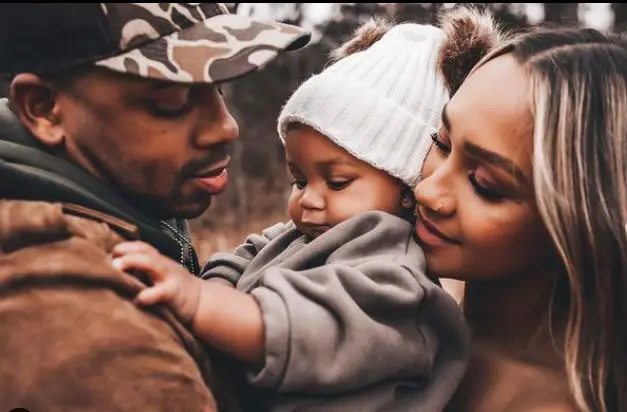 Alexis' boyfriend turned fiance turned husband Jimmie could not stop gushing about their daughter. 
"I thought getting a number one [single] was going to be the best part of my day, but then my daughter, Naomi, was born yesterday. The baby's middle name is Bettie, we named her after my grandma [who passed away in 2014], so her initials are NBA, go figure. And my grandma's birthday was actually March 13, my mom's birthday is March 7, and Naomi's birthday is March 1. And Lexi is laying right here looking awesome."
During an interview with PEOPLE, Jimmie said, 
"Her smile melts me; her pure heart challenges me to love better, the way she motivates and supports me is unlike anything I've ever seen; the way she loves my son and me is unlike anything I've ever experienced,"

"It feels incredible to find the type of love I've been writing songs about all these years!"
Recently, the couple tied the knot during a star-studded ceremony in May 2021. 
However, it was not their first time getting hitched but tied the knot in June 2020 but opted to stay quiet about their marriage. However, Alexus changed her Instagram username to Lexi Marie Allen.
She also admitted saying, 
"We haven't officially announced this, but we've actually been married for a year," she admitted. "We got married on his birthday — June 18 — last year."
Furthermore, Alexis and Jimmie are also raising Jimmie's son, Aadyn, from a previous relationship. 
Expecting Second Child 
Alexis and her husband Jimmie Allen are currently expecting their second child together. Jimmie also revealed the gender of their unborn baby. During an appearance on The Sam Alex show, he revealed that they are welcoming a baby girl.               
"We've got a new girl, a baby girl on the way," 

"We didn't do the whole baby reveal thing because we did it for the first one, we're done [with that] - whatever pops out, pops out." 
Jimmie added, 
"We do not have a name 'cause we were preparing for a boy so we don't have a girl name,"
"I want to name her Arya Stark Allen because I'm a huge Game of Thrones fan but Lex ain't letting that happen. So I don't know what we're gonna call her. We might just name her 'Hey You.'"
Shortly after their wedding, the couple shared the news of their pregnancy.
On 27th May 2021, the couple ultimately tied the knot at The Lake House Inn in Pennsylvania in a ceremony attended by family and friends including Darius Rucker, Tyler Rich, and wife Sabina Gadecki, and Chuck Wicks and wife Kasi.
Alexis and Jimmie's wedding was originally scheduled for 2020 but delayed their wedding due to the pandemic.
Who Is Alexis Gale?
Alexis Gale was born on 6th January 1996 in Milton, Delaware, to parents Ellyne Gale and Tyrone Gale Jr. Her father is the president of the company Atlantic Transportation. In 2014, her father was hit by a Walmart trailer where his friend James McNair lost his life, and Tyrone, on the other hand, sustained physical injuries. Alexis' father lost almost 400 pounds following the accident. However, after Alexis encouraged him, he underwent weight-loss surgery. 
She embraces an Asian bloodline from her mother's side and an African bloodline from her father's side. 
Alexis stands at the height of 5 feet 6 inches (1.67 meters).
For education, she attended the Delaware Technical Community College and Margarate H.Rollins School of Nursing. 
Talking about her career and job, she is a registered nurse. Between 2015 and 2016, she served as the licensed esthetician at Zen Spa Fenwick. 
However, her, as well as her partner's net worth, is not known.