The phenomenon known as Katee Sackhoff is an American actress best known for her role on the Sci-Fi Channel's television program Battlestar Galactica (2004–2009) playing the role of Lieutenant Kara "Starbuck" Thrace.
Katee has also played a lead role in movies like 'Oculus,' 'The Haunting in Connecticut 2: Ghosts of Georgia', 'Don't Knock Twice.' 
Since she completed high school, she has been in the entertainment field and eventually gained immense popularity over the ensuing years.
Katee was previously diagnosed with thyroid cancer. She did not get radiation treatment as it was not required, and by February 2009, she was in remission.
Is Katee Starting A New Life?
Katee Sackoff is all set to start a new journey of her life with her partner Robin Gadsby. On her 40th birthday, her beau Robin proposed to her with a 'will you marry me" cake. 
On 10th April 2020, Katee shared her excitement on her Instagram with the caption "I said yes" and "this is 40."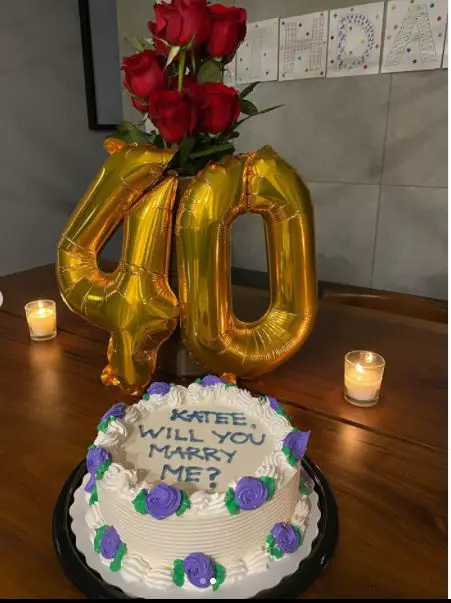 The couple has not revealed their further plans for the wedding. However, during this COVID-19 pandemic, the couple is spending their time together. 
Before getting engaged to Robin, Katee was engaged to film producer Scott Niemeyer in 2012 but parted their ways shortly thereafter. 
Katee had also dated New Zealand actor Karl Urban from 2014 to 2015. 
Katee Sackhoff Doing These Days?
Recently, Katee was seen on two TV series, The Mandalorian as Bo-Katan Kryze and Another Life as Niko Breckinridge. 
After a decade working in the sci-fi TV series 'Battlestar Galactica,' Katee was once again back in the sci-fi series 'Another Life' where she played astronaut Niko Breckinridge. In the series, she is put on a mission to find alien intelligence, due to which she faces imaginable danger. 
Katee was asked why she waited 10 years to go back to space, for which she replied, it was important for her to take a break from the genre and try different new things. She further explained that she wanted to give her fans and followers something that she was proud of and had a little control over. 
Another Life drew Katee towards its storyline, and she also loved the cast of characters and Niko especially. 
Other than her on-screen life, Sackoff is also lending her fame for a good cause. As we all know about the current situation due to COVID-19, many have lost their jobs, which have impacted their ability to pay bills and provide other essentials for their families and themselves.
Katee has also taken a step and has helped promote the Humane Society of the United States' COVID-19 Relief Fund. 
Sackoff also promoted to buy some cool new Battlestar Galactica gear to help fund the cause.