Jaclyn Hill is an American entrepreneur who rose to fame via her YouTube channel. Fans watching her makeup videos since the beginning must have known about her marriage to drummer Jon Hill. She got married to him before she started her YouTube career and later posted content together. 
Things between them were different off-screen, and in 2018, the couple announced their divorce. Shortly after the split, Jaclyn started dating food blogger and rapper Jordan Farnum. 
Jaclyn also often gave her fans and followers an inside look into her relationship with Jordan. Jordan regularly appears on Jaclyn's social media profiles caught people's eye. They tried to learn more about her boyfriend.
In this article, let's get familiar with Jordan!
Facts About Jordan Farnum
Jordan Farnum was born on 12th March 1994 in New Port Richey, Florida. However, now, he resides in Florida, Miami. 
He embraces Russian ethnicity. 
His mother, Michelle, and his father are no longer together. His mother has remarried to a man named Mark. He has a sister named Peyton. He also had a brother named Jayson, but unfortunately, he died in April 2016 at 31. 
Jordan is a tall man with a height of 6 feet 3 inches (1.90 meters). He has a toned body and has impressive features like blue eyes, pierced ears, and black hair. 
Another Read: Mikayla Nogueira Opens Up About Her Love Life | Who is Her Boyfriend?
He started his career as a rapper on small rap battles and later stepped into the bigger picture. Now, he produces his music and has over ten songs on Spotify. Some of his music include Cup of Rage, Ride or Die, and Bubblegum Trap. 
Moreover, he also has a YouTube channel and hosts a cooking show, "MoreSeasoning."
His actual net worth is unknown, but Jaclyn has a net worth of $1.5 million. 
Jordan and Jaclyn started dating in November 2018.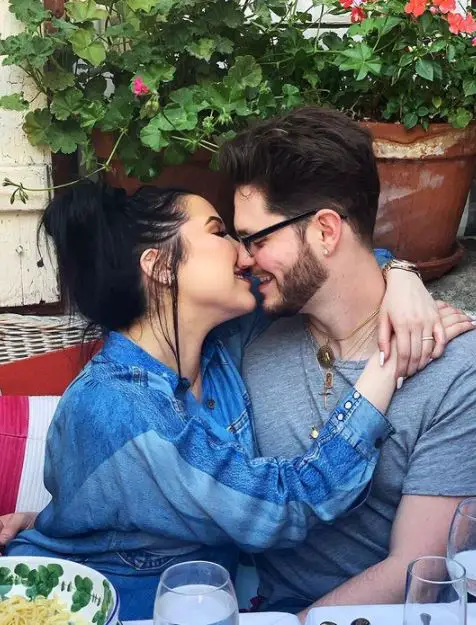 Since Jaclyn started dating him soon after her divorce announcement, people assumed that she cheated on Jon. There was also a rumor of Jon and Jordan being good friends until Jaclyn began dating him. In September 2020, Jaclyn spoke about the rumor and said she and her husband separated long before the divorce announcement. 
"When I got on camera and announced that I was getting a divorce, my ex-husband and I had been separated, completely, and he had been moved out of the house for over six months at that point," 
Jaclyn also mentioned that Jon and Jordan were best friends, and they bonded over music. She also mentioned that Jordan and she started talking casually only after her divorce. 
Jaclyn once opened up that after her divorce, she decided to make peace with being single; Jordan showed up, which changed everything. 
In December 2020, Jaclyn posted a picture with Jordon on Jaclyn's Instagram account. What people noticed on her photo was her massive emerald ring on her ring finger. Fans flooded her comment section asking if they got engaged. However, the couple never shed light on the engagement rumor.