Netflix's 'Last Chance U: Basketball' shifted its focus on KJ Allen after expanding the sports documentary. The documentary followed the KJ's journey to chasing the state championship. Watching Allen working hard to achieve his goal, his tale of passion like no other is visible. 
Now, people wonder what Allen is up to these days and find more about his personal and professional life. Through this article, we tried to provide all details you are looking for!
All Facts On KJ Allen
KJ Allen was born on 17th August 2000 as Kaelen Allen in Monterey Park, California, United States.
His parents are named Damieon Allen and Tajuana Mallard. His father, Damieon, who hailed from Los Angeles, California, attended Crenshaw Senior High. Damieon also played basketball and worked at South Hills High School as an assistant varsity coach. However, after he and his wife had KJ, he moved on from sports to find better opportunities to support his family. Damieon began working as a mail handler at US Postal Service. 
KJ, always being surrounded by basketball, picked up the ball at the age of 3, and since then, he has never let go of the ball. 
In his family, he has a brother named King Allen. His brother worked at Diamond Supply Co. 
Moving back to KJ, he is a Westchester High School graduate. He also earned the title of Los Angeles High School Player of the Year from his high school. However, he only accumulated a GPA of 2.2; thus, he attended East Los Angeles College (ELAC) to get to the next level. He broke all bounds to get his academic life in order. 
KJ again retook the ball and got the attention of many division class colleges like Washington State, Western Kentucky, Oregon State, Texas Christian University, Southern Methodist, New Mexico, New Mexico State, Loyola Marymount, Fresno State, and the University of South California.
In November 2020, Allen verbally committed to the University of South California that he will be a part of the Trojans.
On his social media, he also wrote,
First, I just want to thank God for his guidance through this journey," he wrote. "Secondly, I want to thank my family, my friends, and my coaches for pushing me every day to do better and keep improving… Third, I like to thank all the schools who recruited me. This decision was not easy. So with that being said, I am 110% committed to the University of Southern California. Go Trojans!! Fight On ✌?."
KJ, who has just started his basketball career, is bound to make six-digits net worth value in his near future. 
Allen is currently dating his girlfriend named Soriano. On 23rd March 2020, KJ celebrated his girlfriend's 19th birthday.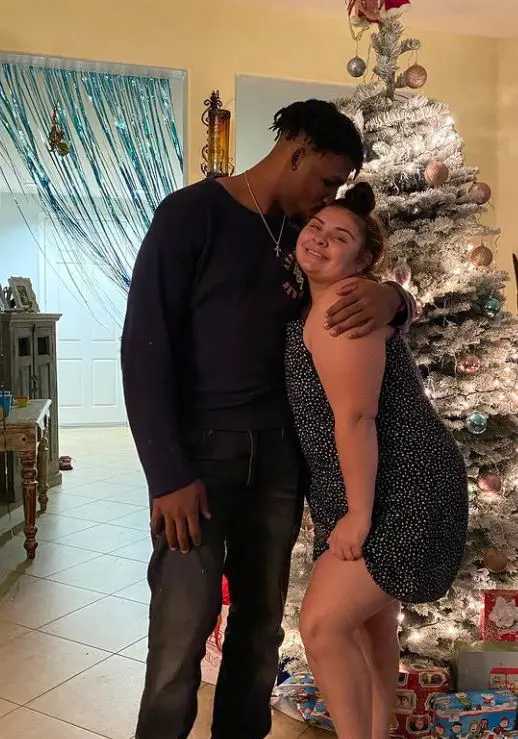 He took his Instagram wishing her, saying,
Happy 19th birthday love ? ?u make me a better person. I'm so glad to have you in my life, u always find a way to make me laugh. I'm lucky to have you by my side ❤️?