Laura May Gibbs has been catching the attention of several people ever since she was spotted at the beach with Simon Baker. 
So, who is the new girlfriend of Simon Baker? Let's get to know her a bit more.
Laura May Gibbs' Age, Family
Laura May Gibbs is a fashion designer by profession, based in New South Wales, Australia. While there are not many details reported on her background, we know that she is currently 36 years of age. Laura is also very open about sharing some personal moments with her family on her social media.
Read More: Who is Brian Keys? Expecting Baby with Wife Hunter McGrady
Her posts suggest that she has a very good relationship with her sister, Hannah Gibbs. Laura also often posts pictures of her nephew, Jett.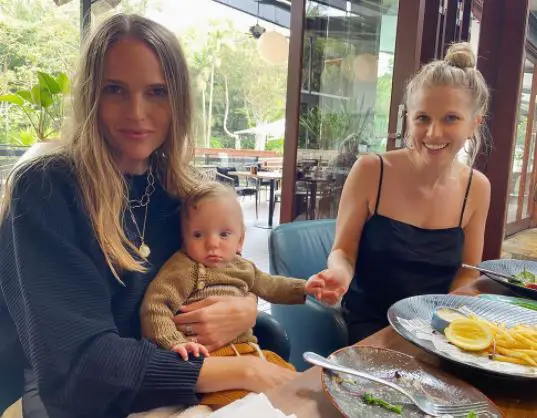 She has even shared the whole story of Jett being born 3 months premature, in January 2020. In fact, Jett has a whole Instagram profile set up by his parents, where there are pictures describing every single moment of his struggle after his premature birth.
Her Education, Career
For her education, Laura attended The Hills Grammar School in 1997 and graduated in 2002.
Laura is the founder of NAGNATA, a sustainable activewear label that was created through her love for yoga. According to the website of the brand, Nagnata is "a luxury fashion and lifestyle brand informed by movement and mind practices." 
Interesting Read: Huke COD: Get To Know Him and His Adorable Relationship with his Girlfriend
The brand is a collaborative creation of Laura May and her sister, Hannah. They merged their own background and talent to birth the label. Nagnata was created through Laura's experience of working as a fashion designer and creative director and Hannah's experience as a textile artist and photographer. 
Before forming her own brand, Laura collected several experiences of jobs throughout her life. She worked as a product development manager and assistant designer for Leona Edmiston from October 2003 to March 2007. She then went on to work as Design, Production, and Sales Assistant at Shakuhachi and Design Room Assistant and Fit Model at Sass & Bride from 2007 to 2008. 
After that, Laura took on the role of womenswear designer from 2009 to 2013, working for several clients and agencies.
Laura May Gibbs and Simon Baker
According to The Daily Telegraph, Laura and Simon had met in Byron Bay. It is where Laura's fashion design studio is based near Simon's farm in Nashua.
More: Unexpected Star Max Schenzel Is Out Of Jail & Feuds With Chloe Mendoza
The news of their relationship came to light when the two were spotted engaging in PDA in Byron Bay last month. 
The couple was seen together only weeks after Simon and his wife of nearly 30 years, announced their split. While they publicized their split recently, according to Fox News, the two had already parted ways in April 2020. Simon and his wife, Rebecca Rigg, have three children. 
In a joint statement to People, Simon and his ex-wife, Rebecca Rigg said that they would remain close friends and that their children "will always be the most important focus of our lives."