Rapper DMX passed away at 50, leaving behind 15 children and his fiancee, Desiree Lindstrom. On 9th April 2021, the rapper took his last breath after an apparent overdose, just after suffering a heart attack a week before. 
In a statement to PEOPLE, a rep for the musician said, 
"We are deeply saddened to announce today that our loved one, DMX, birth name of Earl Simmons, passed away at White Plains Hospital with his family by his side after being placed on life support for the past few days,"

"Earl was a warrior who fought till the very end. He loved his family with all of his heart, and we cherish the times we spent with him."
Following the news of DMX's death, a crowd was gathered outside the White plains Hospital to show their love and support for the rapper. 
Desiree and DMX's ex-wife Tashera Simmons were also amongst the crowd hugging each other, mourning DMX's death. 
Desiree and DMX were one of the hip hop's favorite couples, and in this article, learn more about DMX's fiancee. 
DMX Shares A Son With Desiree
Desiree and DMX welcomed their baby boy named Exodus in 2016. Exodus, who is now 5-year-old is the youngest of DMX's 15 children.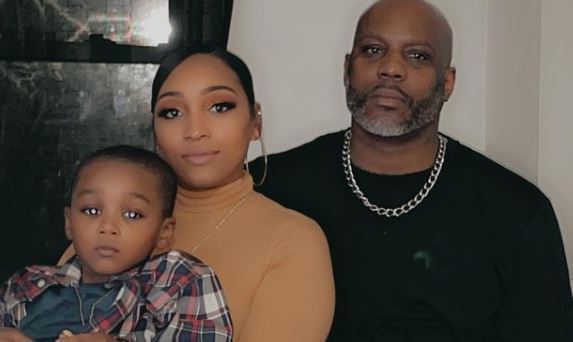 On the other hand, DMX has a very close bond with his youngest son, and Desiree could not stop herself from gushing over her Instagram about her son and baby daddy's relationship. 
"Their bond and love is all I could have wanted out of my life as being a mother… thank u, God, for such a blessing for sending me a wonderful man that is a wonderful father to our son."
Desiree & DMX Got Engaged in 2019
Desiree and her finance had been engaged for almost two years and been together for more than eight. In 2019, on the occasion of their son Exodus's birthday party, DMX proposed to Desiree — and of course, she said yes. 
Desiree has essentially remained out of the limelight; however, on her Instagram, she regularly posts pictures of the trio. If you go through her social media, her feeds are littered with happy snaps celebrating their love.   
On DMX's 50th birthday, she shared a post with a sweet tribute saying, 
"SCREAMING HAPPY BIRTHDAY…to my friend, my baby daddy lol, my FIANCÉ! I love you to the moon and back," 

"I know you love me too, to the moon and back regardless of what anybody thinks! This year has been full of surprises, some good and some bad, but hey, it's nothing that we can't get through together as a couple, as a family!" 

"I appreciate the type of father you are to exodus; everybody sees a difference in you when it comes to that! The promises you made me about that you keep no matter what!"
Desiree Vehemently Defended Her Relationship With DMX
Desiree was often seen fighting against the detractors who criticized her relationship with DMX. DMX, who is several years older than her, might have complicated their relationship. 
When Desiree got into the relationship with DMX, things became more complicated as she became step-mom to 14 kids, which is no Joke!
Either way, Desiree shut down the critics and defended her relationship, saying, 
"People will never understand or get our relationship but guess what… f**k them!" she wrote in a 2020 IG post. "We know we love each other, we both are not perfect by any means, but we know where we stand with each other! I love you, baby!"
Facts On Desiree Lindstrom
Desiree was born on 10th September 1992 in Arizona to mother Thalia C Lindstrom and anonymous father. Her mother worked as a BD agent with Travers Automatic & RV Group.
Her parents are divorced and live separately. 
Moving on, Desiree stands at a height of 5 feet 5 inches (1.65 meters), weighing 58 kgs. 
As per her job and career, she was into fashion from a young age. At 18, she worked at BeBe Fashions at Phoenix Mall, Arizona. Now, she is quite establishing the Instagram model. 
However, her net worth is not known; on the other hand, her fiance had a net worth of negative $1 million at the time of his death per Celebrity Net Worth.