Randy Cronk is an American insurance agent. In 2019, he made several news headlines for dating TV celebrity Kathie Lee Gifford.
Who is Randy Cronk?
Randy Cronk, also known as Randall Cronk, is a Tennessee-based insurance agent. As per his LinkedIn bio, he currently serves as the president of the international insurance company, RMC Insurance Group LLC. Cronk has over 15 years of experience in the insurance selling industry. 
Cronk has made it to the limelight and media in recent years because of his association with the American TV presenter Kathie Lee Gifford.
Randys Early Age & Education
While Cronk has not revealed his exact birth date, he was born sometime in 1963 in Cincinnati, USA. Cronk is 58 years old as of 2021.
Cronk attended the University of Southern Mississippi from 1982 to 1986. He graduated with a bachelor's degree in computer science.
Randy Cronk Dated Kathie Lee Gifford
Cronk dated the former Today show host Kathie Lee Gifford, beginning in 2019. They first met while attending Tim Akers & The Smoking Section concert at a club in Nashville. 
Cronk asked her for a dance, and the pair soon bonded. They also attended another concert of the same band just a few weeks later. In an interview with Dailymail in November 2019, Gifford confessed to her surreal experience of dating Cronk. '
She was previously married to her late husband Frank Gifford for over three decades. Thus, her date with Cronk was her first date after nearly 33 years.
Peek Inside: Maia Reficco To Star In 'A Cuban Girl's Guide To Tea And Tomorrow' Alongside Kit Connor
Several media outlets spotted Kathie Lee Gifford and Randy Cronk on a couple of dates in 2019. The same year, DailyMailTV spotted them dancing with each other during a concert.
Gifford also discussed the man she's been dating during an April 2021 interview on TODAY with Hoda & Jenna.
"I have a very sweet man in my life," she stated. "He's good for me, and I'm good for him."
Cronk has also featured in one of the group photos on Kathie's Instagram handle on 21 July 2019. The photo was taken during the group night out at a farm in Arrington.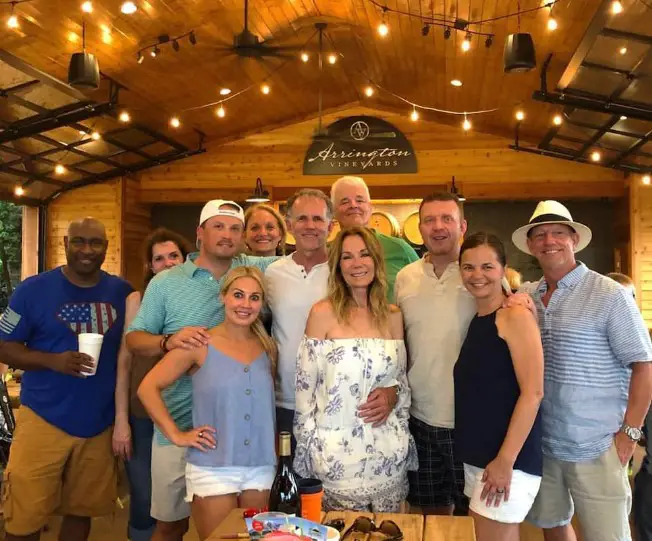 Despite the fact that the two went on a few dates, they reportedly went on separate paths according to Dailymail.
About Kathie Lee Gifford
Kathie Lee Gifford is an actress, journalist, and TV presenter. She was born to an American family, on 18 August 1953 in Paris, France. As of 2021, she is 68 years old. 
Kathie began her TV industry career in 1975 with a guest role in the NBC soap opera Days Of Our Lives. After that, she has always been a regular face on TV. People mainly recognize her for her long-term tenure as the host of the NBC morning show, Today (2004 to 2021). 
Her other credible TV shows include Hercules (1998), Higglytown Heroes (2004-2005), Hot in Cleveland (2011), Donny! (2015), Girlfriends' Guide to Divorce (2014-2017), The Baxters (2019).
Regarding Kathie's personal life, she married the former NFL star Frank Gifford in 1986. The pair were together until Frank's demise on 9 August 2015. She became the mother of two kids, Cody and Cassidy Gifford, with Frank.
Randy's Net Worth
Any authentic information about Cronk's 2021 net worth is not available on the internet. His social media handle (LinkedIn) suggests his primary income source to be his insurance agent job.