Melanie Scrofano is an actress well known for her appearance in the TV series Letterkenny and Wynnona Earp. 
Who is Melanie Scrofano?
Scrofano debuted her acting career in the TV series Undressed (1999) in 2002. The following year, she starred in a TV mini-series documentary, Mob Stories. From 2004 to 2007, she appeared in several shows like Naked Josh, Beautiful People, Jeff Ltd., and Supernatural.
In 2010, she landed the role of Rebecca in the popular TV show Being Erica. She was also featured in the series, The Listener from 2012 to 2014, appearing in 24 episodes as Tia Tremblay. Likewise, she had a key role in Gangland Undercover in 2015. However, her breakthrough role came in 2016, after playing the lead character in the TV series Wynnona Earp. Scrofano's most recent credit was in the 2021 TV show SurrealEstate.
Age & Early Bio
Melanie Scrofano was born Melanie Neige on 20 December 1981 in Ottawa, Ontario, Canada. As of December 2021, she is 40 years of age. She is of Italian descent and trilingual, and proficiently speaks English, French, and Italian. Furthermore, her father was an engineer, and her mother was a government employee.
Melanie In 'Letterkenny'
Scrofano played the role of Mrs. McMurray in the series Letterkenny, which was first released on 7 February 2016. The show's tenth season premiered on Crave, a streaming service in Canada, on 25 December 2021 and on Hulu the next day in the United States.
Letterkenny is a Canadian sitcom that follows the problems of a small town in rural Ontario. The show revolves around Jared Keeso's character, Wayne, and his friends and sister setting up a small farm and producing a stand. The show initially took off as a YouTube web series called Letterkenny Problems. However, it was later expanded into a full television series.
Melanie In 'Wynonna Earp'  
Wynnona Earp is a supernatural and horror TV series released on 1 April 2016. The show is a Canadian comic book adaptation acquired by the NBCUniversal-owned cable network. Wynnona Earp was distributed by IDW Entertainment and produced by Seven24 Films in Calgary. The series contains four seasons and 49 episodes, with the last episode being aired on 9 April 2021.
Also Read: American Actor Donny Boaz Is Ready To Walk Down The Aisle With His Partner! Who Is His Girlfriend Turned Fiancée?
In the series, Scrofano played the lead role as Wynnona Earp, great-granddaughter of Wyatt Earp. The show follows her as she battles demons and other supernatural creatures. Wynonna is a technologically advanced gunslinger who uses her unique skills and a dysfunctional crew of allies to bring paranormal activity to justice.
Several episodes from season 2 aired with her outfits designed to cover her pregnancy with her second child, Teddy. Besides that, the pregnancy was later written into the story, and it served as the catalyst for the plot for Wynonna's daughter, Alice Michelle. She also shared the series poster on her Instagram in July 2020.
Her Married Life
Scrofano has been married to Jeff Pentecost since 14 July 2006.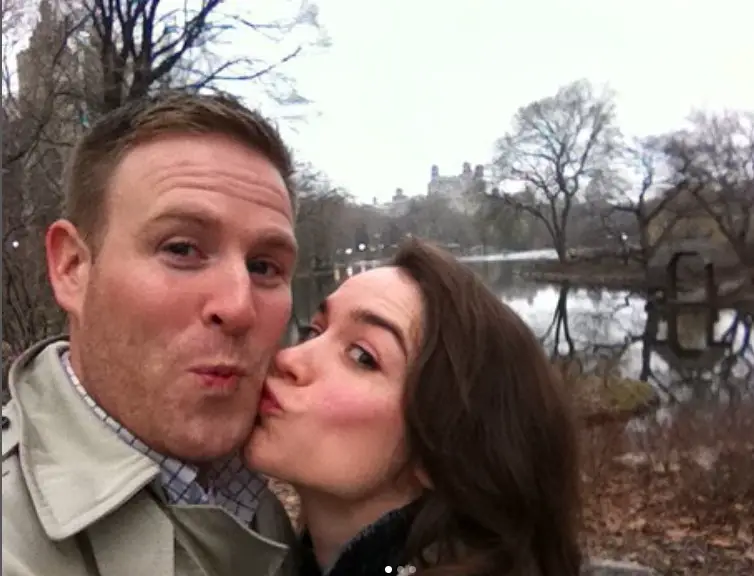 The couple has two children named Harry and Teddy. Harry was born on 1 April 2013, whereas Teddy was born on 18 April 2017. She updated on her Instagram that he was born 4 days after wrapping Season 2 of Wynnona Earp.