Sabina Altynbekova created quite a stir when she burst onto the global volleyball stage at the 2014 Asian Under-19 Championships in Taiwan. Just 24-year-old and 1.82m in height (6ft), Sabina is dubbed as the 'girl too beautiful to play volleyball,' by her then Kazakhstan coach Nurlin Sadikov.
However, for Altynbekova it was an uncomfortable baptism of fire in international sport. She said, 
"I was flattered at first but it's all getting a little bit much. I want to concentrate on playing volleyball and to be famous for that, not anything else."
Despite the resulting publicity and subsequent modeling offers, Sabina just wanted to play volleyball and is pursuing her volleyball dream. 
Here's what you need to know about the beautiful volleyball player you're likely to see on Instagram and sports pages.
Sabina Altynbekova Started Young
Sabina Altynbekova made her international debut at the age of 17 after she joined the Asian Juniors Championships in Taipei, Taiwan. She endeavored to showcase her abilities in the sport but people became more interested in wowing and oohing her beauty. 
After the event, her videos kept circulating online but she soon made it clear that her skills deserve the spotlight and not her looks. 
Check Out: Jenna Compono & Her Fiance Zach Nichlos Welcomed Their First Child Together
Her skills were acknowledged as her volleyball career widened and has been associated with the Almaty club since 2017.
Sabina had also joined Al Wasl based in Dubai, the United Arab Emirates, and still plays for the side. 
All Facts On Altynbekova
Sabina was born on 5th November 1996 in Aktobe, Kazakhstan to parents Abay Altynbekov and Nuripa Altynbekova. 
Her father was a skier whereas her mother participated in track and field events. 
It was reported that she has two siblings; sisters named Karina Altynbekova and Guldana Altynbekova. 
Sabina Altynbekova is Muslim and often posts images of her wearing the traditional hijab on her Instagram page. She also marks special dates in the religious calendar.
For education, Sabina studied law at Kazakh University for Humanities and Law. 
Coming from an athletically inclined background, she decided to pursue her career in volleyball. 
She was also approached by several modeling agencies but she rejected their offers. Having a refined figure she caught people's attention within a day after her appearance at the tournament.
Peek Inside: Insight Malia White's Professional & Personal Life
Her video titled beautiful Asian Women Volleyball Player Kazakhstan U19 reportedly gained over 1.15 million views in a few days. 
Many took it as an opportunity and created an account under her name and gained thousands of followers overnight. 
Sabina was overwhelmed with all the attention and admiration but she implored her fans to stop setting up an account under her name. She also stated that she wanted to be known as a volleyball player.
Talking about her personal life, she is married to Sayat Salmanuly, an author, producer, and entrepreneur.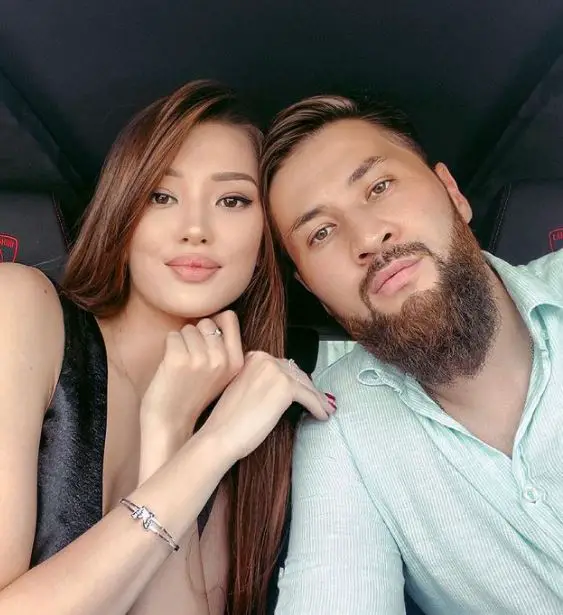 Per her social media presence, she has verified an IG account where she has 1.1 million followers with 370 posts.