Taiyon Hector, aka Lil Twin, is an American rapper and songwriter who built a career in music in Atlanta. He has drawn the most attention through his music and also for his relationship with Blac Chyna. 
Recently, Lil has been under the radar of the rumor mill that he could possibly be getting married to Chyna. The rumor was confirmed by celebrity hairstylist Hair by Jay after he stated that Twin and Chyna are tying the wedding knots and wedding plans are underway. 
Jay posted a message on his Instagram story on 12th July 2021 writing, 
"Happy to say that @blacchyna has now confirmed booked and sent deposit to me as the one who's going to be doing her hair for her upcoming wedding."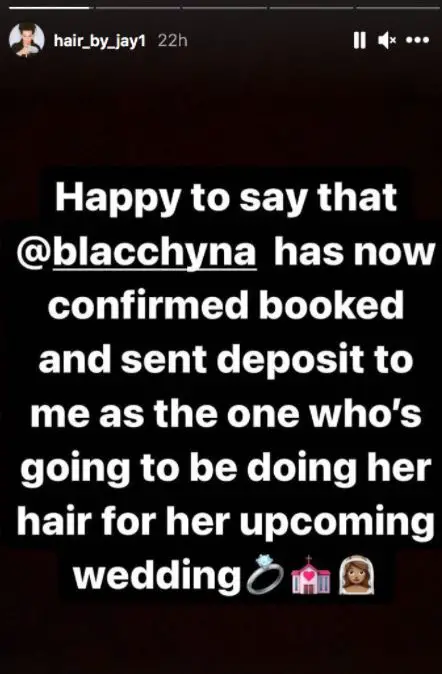 Soon after the post, people wondered who is the lucky guy to put a ring on Chyna. Chyna was linked with Lil' Twin, and she also posted his picture with the caption "mines."
However, the photo has since been deleted from Blac Chyna's account; thus, their relationship status remains obscure. Blac and Lil' both have neither responded nor commented on the rumors. 
The Sun, however, was able to contact Blac Chyna's mother, Tokyo Toni, and asked her about her daughter's alleged upcoming marriage. Tokyo was shocked to hear the rumor and said it was the first time she heard the news. She also mentioned that she is clueless about the marriage news, but her daughter is happy with Lil Twin. 
"She's with Lil Twin. They've been together about two years or so now."
"I've met him and I think he's a pretty good fit. I even met his mom, they're a pretty cool family. I wouldn't be against it. They seem to be very, very happy & content." 
Tokyo added, 
"I haven't heard they were engaged, just dating strong, that's all." 
Before Chyna was linked with Lil', she was engaged to Rob Kardashian, but the couple called off the wedding in 2017. Chyna and Rob share a daughter named Dream. 
Lil Twin Sexuality
Lil Twin is openly bisexual. In December 2020, Blac Chyna shared cryptic messages on her Instagram account. 
People speculated Lil Twin as her alleged man, but Sola Radio came into the scene and introduced himself as Lil's previous lover. 
In one of the posts of Blac containing Lil picture, which now deleted, Sola left a comment saying, "Yeah he mine too." One of the IG users asked Sola, "that's yo dude?" to which he replied, "been my n***a but I guess we sharing now."
Facts On Lil Twin
Lil Twin was born on 17th April 1997 with the actual name Taiyon Hector in Dayton, Ohio. He has a twin brother named Tevon Hector, born 7 minutes apart. He formed a duo called TEAMTWIn and released a single titled We Get Turnt Up with his twin brother. 
At the age of 12, Lil moved to new Atlanta for talent exposure. 
Moreover, besides Tevon, he has a younger sister named Miyah and two brothers Taz and Bam. 
Lil stands at the height of 5 feet 8 inches (1.72 meters). 
He attended North Clayton High School and earned a 3.7 GPA, and his twin brother earned a 3.6 GPA. 
Continue Reading: English Television Presenter Sarah-Jane Crawford Expecting Second Baby With Boyfriend
Around 2012, the twin started making music and won all the talent show in the school. Lil and Tevon released the single, which went platinum, earning record deals from Warner Brothers, Atlantic Records, and the Universal Republic. 
As of now, Lil is signed with The Twins/Presidential Coalition and 2408340 Records DK. 
Sone of the bodies of work Lil released is No Soul to Sell, The Way Back, and Soufside Hector. 
Some of his famous songs are 126 Bars, Woman's Worth, Innocent, Dear Mama, and Heartless Love. 
In addition, Lil has founded the clothing line Hector Macho.
He has not disclosed his net worth, but he must have made worth a million looking at his rising career. 
In February 2021, Lil and Blac handed out 200 bags of essentials to homeless people on Skid Row in downtown LA.