After the contentious final season of Game of Thrones, it shouldn't come as a surprise that fans of the prequel are responding to it in a variety of ways. House of the Dragon has made its official HBO debut. 
In the upcoming weeks, many of those will be shared on social media, but one member of the House of the Dragon cast won't be subjected to them all the time. Before the first episode of the show, House of the Dragon star Emily Carey allegedly deleted her Twitter account.
Following an apparently innocent response she provided to a query over the weekend, British actress Emily Carey has experienced an odd backlash.
Emily Carey Portrayed Alicent Hightower
Although Emily Carey portrays one of the series' most significant roles, the House of the Dragon ensemble is big and may require some getting used to. Alicent Hightower's younger self is brought to life by Carey. Otto Hightower, King Viserys' Hand of the King, is the father of Alicent. And based on the hints given during the House of the Dragon premiere, it appears she will be used as a pawn in her father's schemes to ascend to the throne.
When the story begins, Alicent is also Rhaenyra Targaryen's (Milly Alcock) best friend, yet it appears that a gap may develop between the two characters later on. Fans will undoubtedly support one team over the other as a result. Thankfully, Carey won't experience any online criticism of her persona.
Emily Carey Faced Backlash
Some fans didn't enjoy the remarks the 19-year-old actor, who portrays a young Lady Alicent Hightower on the show, made about Alicent Hightower at San Diego Comic-Con.
During an interview with News.com.au, she claimed that the criticism she received in the wake of Comic-Con forced her to delete her Twitter account.
"I stand by what I said in the panel. Alicent is not the villain, folks. When we meet her she's a child, a product of the patriarchy. Just you wait and see. Maybe you'll sympathize."

"I love social media," Carey told the outlet. "I'm 19, so I'm all on social media, and I've been on social media since I was a kid because I've worked since I was a kid so I'm very conscious of things. Any hate that comes in, it's just … It's a person behind a screen. You just have to move on from it."

She added, "But I will say I did delete Twitter [after Comic-Con] because it's just so loud. Even when it's good, there's so many and it's so loud."
Carey discussed the backstory for Alicent during her July speech at Comic-Con this year (above) and emphasized her saying, 
"I've never had the freedom to create a whole human being like this before. So it was so much fun being able to go so in-depth with her."

She added: "I think she's so multifaceted. There are so many layers to her. I think lots of people are already expecting her to be the villain of the show, but I think bringing her in younger, there was a lot more to explore."
Fans of the book apparently didn't enjoy Carey's more sympathetic treatment of Alicent, in part because she eventually turns into Rhaenyra's adversary. Therefore, some fans started tormenting Carey online.
Fan's Mixed Reaction On 'House of the Dragon'
House of the Dragon has only had one episode air on HBO, but it was enough to get the fanbase talking, both favorably and unfavorably.
As viewers return to Westeros, their reactions to the series premiere have ranged from delight to contempt. On the plus side, several viewers expressed their excitement about the start of the show on Twitter and Reddit. Even one Redditor stated that episode 1 "pleasantly surprised" them.
But other viewers have objected to the brutality depicted in the premiere, especially when it involves women. Even during Game of Thrones, that was a complaint from viewers. They also don't appear hopeful that the House of the Dragon will solve the issue.
To obtain a clearer understanding of the situation, we'll have to wait till House of the Dragon Episode 2. The show has 10 episodes to convince viewers to watch it; let's hope it does.
Every Sunday at 9 p.m. ET/PT, HBO premieres a brand-new episode of House of the Dragon.
Emily Is Openly gay
Emily Carey is dating Kelli Marie, a musician who plays in the group Real Like You. On Emily's TikTok, you may see a ton of lovely videos of the couple.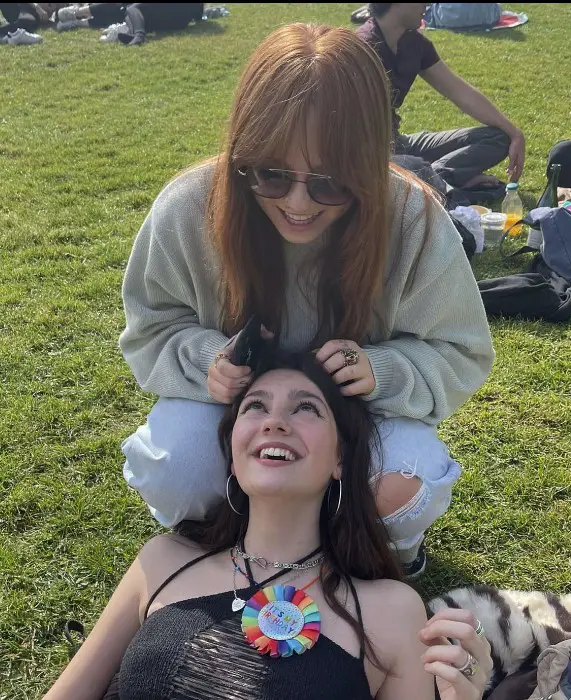 Emily came out of the closet in the Pride month of 2021. On February 1, 2021, the actress made her first sexual orientation known by posting a photo of herself sporting what appeared to be a rainbow flag-themed hat. She captioned the picture by saying, "happy lgbt+ history month." 
Later, on June 25, she posted a photo of her rainbow flag-themed hand fan, donuts, and cardboard with the word "Pride" written on it. She expressed gratitude to Sarah MacDonnell, her mother, in the comment for giving her "some gay donuts" from Doughnut Time UK. 
As of now, Emily is openly relishing her romantic relationship with her partner Kellie.