Rebel Wilson, also known as Fat Amy lost a substantial amount of weight by 2020. Her journey to lose weight had been fantastic. In her 2020 "year of health," she met her goal of losing 60 pounds by November. 
She described herself as "very confident" after achieving remarkable weight loss. Prior to making the decision to lose weight, she indicated that she had always been confident. She added that maintenance would be the priority of the year 2021.
Wilson's metamorphosis was rumored to have been made possible solely through weight loss surgery. These assertions, however, are untrue. Wilson lost weight in a short amount of time by combining a healthy diet with regular exercise. She never had any sort of weight-loss surgery.
She encountered 'pushback' from her own management team in her decision to shed weight, despite being a role model for larger models and a staunch advocate for body positivity. While working on the Pitch Perfect film series, the producers were adamant about not losing weight and insisted on staying the same size.
How Much & How Did Rebel Wilson Lost Weight?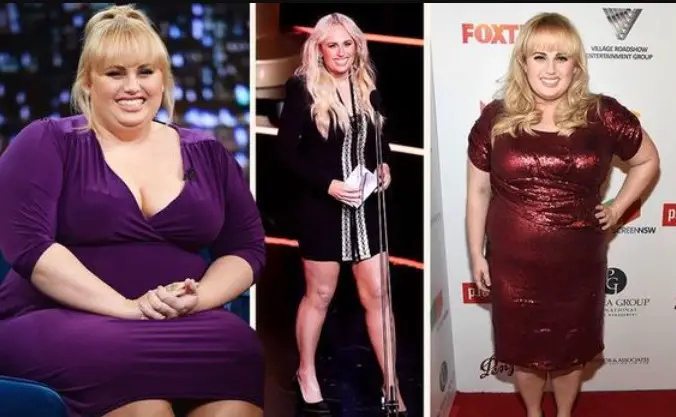 Rebel Wilson, star of Pitch Perfect, has declared 2020 to be her "year of wellness." She set a goal for herself in the year 2020 to shed at least 60 pounds. By November, she had met her weight-loss goal of 165 pounds. She had shed a little more than 77 pounds by the end of the year, which was more than her goal.
In 2020, Rebel Wilson ran a "year of health" campaign. Wilson was determined to reduce the weight he had set for himself, despite the fact that it was easier said than done. She did it by following a rigorous diet and exercising regularly. 
See More: Is K-Pop's LGBT Star Holland Getting Married? Also Know More About Him
Wilson, who suffers from emotional eating as a result of the pressures of celebrity, has to be tenacious in the pursuit of her goals. She cut her calorie consumption and switched from a carbohydrate-based to a protein-based diet. 
In the process, she ate less than 1,500 calories. She slightly raised her calorie intake to 2000-2500 to balance the weight once she attained her goal of 165 pounds. In terms of exercise, walking was her primary mode of transportation. She was never had to adhere to strenuous fitness regimens.
Rebel's Short Bio
Rebel Wilson is a well-known Australian actress and comedian who has built a name for herself in Hollywood. She is one of Hollywood's famous plus-size actresses, best known for her role as Fat Amy in the Pitch Perfect film series. She has been in comic parts in a number of films and television shows.
Wilson, a Teen Choice Award recipient, was previously labelled a serial liar. Wilson was accused of being a persistent liar in an article published in the Australian magazine Woman's Day. Wilson was accused of lying about her background, birth name, age, and upbringing, according to the newspaper. She had been claiming to be 6 years younger than she actually was.
Continue Reading: Mads Lewis Clear Up Dating Rumors With Josh Richards After Flirty TikToks!
Melanie Elizabeth Bownds' real name is Melanie Elizabeth Bownds, and she was born on March 2, 1980, making her 41 years old. Business records submitted with the Australian Securities and Investments Commission (ASIC) established her genuine birth date.