Lena Miculek is a professional multi-gun shooter and reality TV personality. She is best known for appearing on Outdoor Channel's reality TV series, Shootout Lane (2015-2017).
Who is Lena Miculek?
Miculek holds two TV appearance credits, first in the 2013 series 3 Gun Nation and the latter in Shootout Lane from 2015 to 2017.
Furthermore, Miculek is amongst the world's best 3-Gun shooters. She first began appearing in major competitions in 2003 (8 years old) and went on to win her first World Championship title in 2012 (17 years old).
In 2021, she hold eight world championship titles and has won over 80 major competitions. Besides being a professional shooter, she serves as a shooting instructor at SIG Sauer Academy. She primarily teaches Pistol shooting and PCC to the females in the academy.
Miculek's Age & Early Bio
Miculek was born in the United States on 22 March 1995. She took birth at a shooting range co-owned by her parents. As of 2021, her age is 26 years. Growing up alongside a shooting community, Miculek spent her childhood years traveling with her parents to several competitions. Thus, she chose to walk in her parent's footsteps, and at just eight years old, she took part in her first competitive shooting.
Her Championship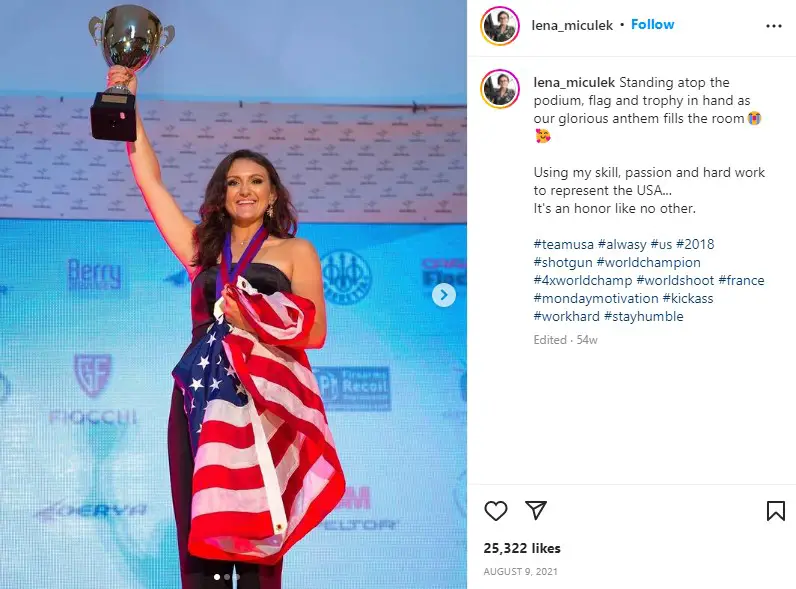 Miculek holds several world championship titles in her name. In 2012, she won her first IPSC Shotgun 'World Championship' title in Hungary. She then won Three 'Gun Pro Series' consecutively in 2013, 2014, and 2015. Moreover, she again won gold medals at the IPSC Shotgun 'World Championship' in 2015 and 2017. Lena's most recent titles came in February 2021. She earned her career's first victory in Florida 'Open Overall PCC (Pistol Caliber Carbine)'. She also received the titles of 'Grand Master' and 'High Lady Honors' in the same match.
Miculek Family
Lena belongs to a family of professional shooters. She is a third-generation pro shooter in the Miculek family as she is the granddaughter of Jim Clark and daughter of parents Jerry Miculek and Kay Clark Miculek.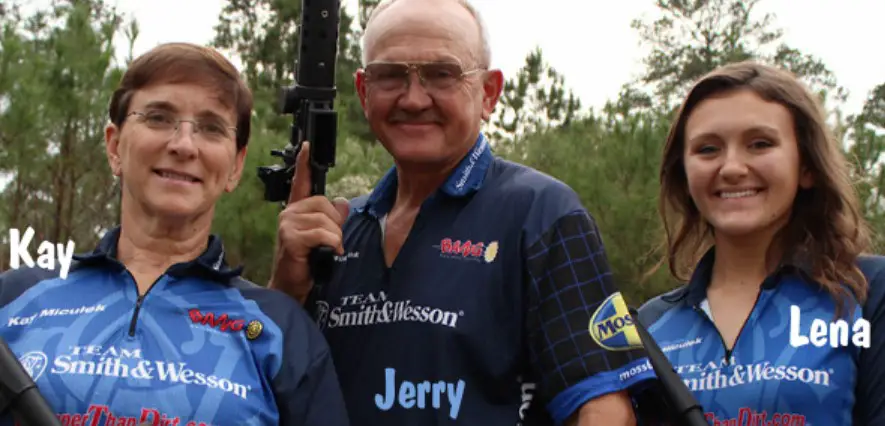 Her grandfather Jim is the founder of Clark Custom Guns. Moreover, he holds the record as the first non-military person to compete and become the winner of the NRA's National Pistol Championship (1958).
Her mother, Kay, has spent over two and a half decades as a competitive shooter. She holds several national and international titles in shooting. In an interview with ktbs.com in August 2019, Kay said,
Over my 28-year career, I've probably got dozens and dozens of national and world titles.
Similarly, Jerry Miculek is a world record holder in the professional shooting. He is one of the fastest revolver shooters in the world. He holds the records for eight rounds shot on a single target in one second, eight rounds shot on four different targets in 1.06 seconds, etc. Jerry gushed, in the same interview as Kay,
I hold six NRA-sanctioned world speed shooting records, five of them with revolvers.
Is Lena Miculek Single?
Miculek has been married to her husband, Brock Afentul. Afentul is an actor and director best known for his works in 'Iggy Azalea Feat. Anitta: Switch' (2017 music video), 2Can.TV (2016 TV series), etc.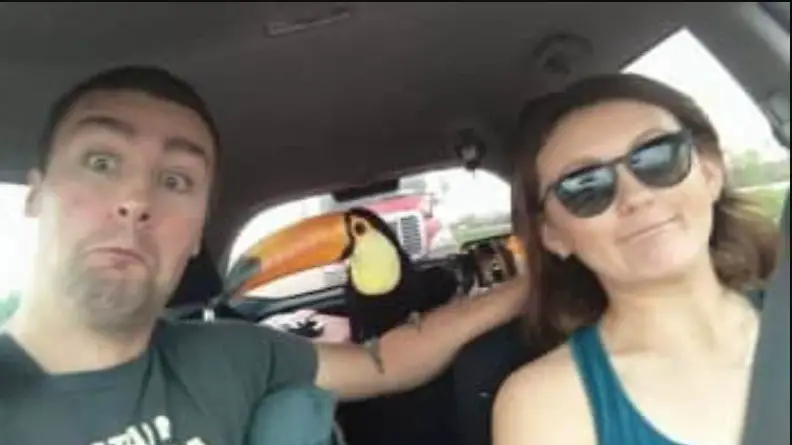 There is no authentic information about the pair's relationship and marriage date. In addition, Miculek's social media handles also do not feature any posts dedicated to her husband.