Stephanie E. Denaro recently made headlines after spewing a racist rant at a Manhattan bakery employee after being asked to wear a mask. She called the employee a "bitch ass n***er."
The now-viral video showed that Stephanie was with her children at the counter of Davidovich Bakery at Essex Market maskless. When a security guard intervened and asked her to wear a mask, she told the security guard off. 
The security guard told the employee,
"She said she has medical problems. You don't have to serve her if you don't want to,"
But when the guard told her to leave, she spewed a racist rant at the employee. After her racist rant, people around immediately elicit an adverse reaction to her remark. The surrounding customers demand Stephanie to stop saying racial slurs, but she shut them, saying she can call him whatever she wants. 
One of the customers responded saying,
"You're white trash. You're disgusting."
In response, Stephanie said,
"Oh, I'm white trash because I have black kids?"
Stephanie finally left the bakery after the security guard told her to go multiple times. 
She soon earned the titled 'Bakery Karen.'
It does not seem complicated too hard not to say n***er, but when you are racist, maybe it is!
Soon after the video went viral, Stephanie received a hateful tirade. To make the matter worse, unapologetic Stephanie got on her Instagram to defend her actions and said, 
I STAND BY WHAT I SAID!!!!" she captioned a photo of the American flag. "You mistreat me with my children. You infringed on my freedoms. I have freedom of speech. I can SAY WHAT I FEEL. Leave me alone and stop attacking me for saying my opinion. Do you know what the 1st amendment is? FREEDOM OF SPEECH. I don't see you all getting mad about the others that use [sic] that word? Focus on more important problems like Chicago's murder rate... Stop telling me how to live my life."
In her defense, she said she is Black and posted a photo including DNA results that showed 39% Nigerian ancestry and 12% Mali, 10% Europe West, 8% Africa Southeastern Bantu and 7% Scandinavia.
However, people quickly pointed out that the DNA results come up in a Google search because it was once featured in a TechCrunch article.  
Stephanie, however, posted another picture of her with her children said that her children's father is Black; thus, she cannot be racist if she has a Black child.
"Can't be racist if I have black children. Jealous libs. Oh yeah," 
Stephanie is also actively involved in protesting against COVID 19 regulations. While speaking with New York Daily, she said, 
"They're forcing people in New York City to wear masks. It's political theater," she said. "I don't believe in COVID-19. It's a hoax to convince people to use absentee ballots to steal the election from Donald Trump."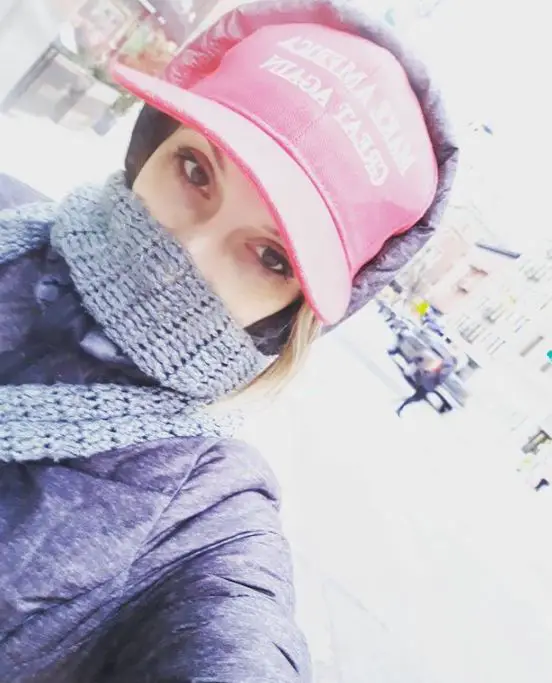 Stephanie Denaro is From New York. Here are More Things About Her
Stephanie Denaro was born on 26th July 1982 in New York, United States. Details on her parents are not available at the moment. 
According to her December 2020 post, she was a Trump supporter where she donned the Make America Great Again hat. 
Denaro is a New York University graduate and pursued her career in creative writing. She has performed in several dramatic roles, comic roles, and poetry in various school publications and showcases. 
She is an author and a poet and has written a couple of books like American't Romance (2016) and The Fairest One of All (2013). 
More about her professional life, she has also worked at different burger joints. 
Stephanie is a mother of four children; three daughters and a son. Her children inherited part-African American heritage. She mentioned her children's father is Black on her Instagram post, but more info about him cannot be found.