Marion Cotillard might be finally done with Instagram after all. The French-born actress mostly known for role in big-budget and indie gems such as Inception, Two Days, One Night has faced a setback for a  picture she posted in her official Insta profile.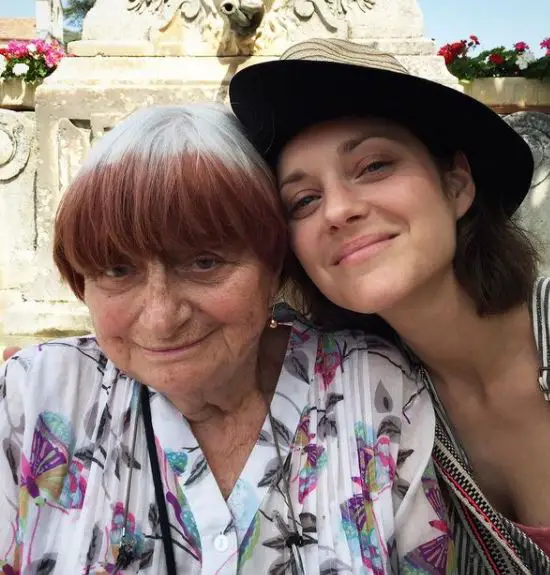 On 20th Oct 2020, she posted a childhood picture of herself to thank her fans for sending her birthday wishes on 20th September ( born in 1975). Unfortunately, the picture was removed by Instagram, citing "infant nudity" as the main reason behind the removal. The actress shared the screenshot of the message on 18th November with a caption in both French and English that read,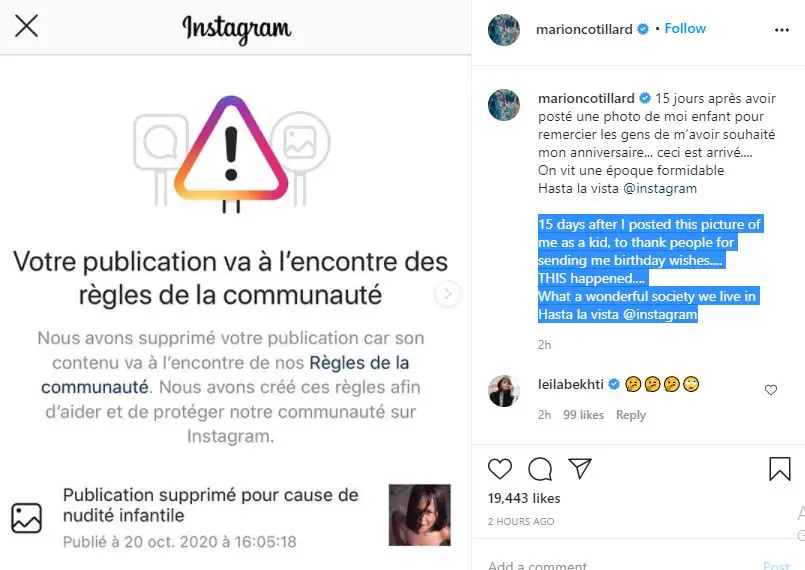 15 days after I posted this picture of me as a kid, to thank people for sending me birthday wishes....THIS happened....What a wonderful society we live in Hasta la vista @instagram
The picture contained a scant portion of nudity, mostly only her head visible; the Facebook-owned platform didn't shy away from removing her well-intended post. The caption pretty much made it clear that Marion would soon be deactivating her Insta handle as she wrote Hasta La Vista towards the end: a Spanish term that translates to "goodbye" or "see you later" in English.
Is Marion Really About To Deactivate Her Instagram?
There is a probability she might sign off. From the caption alone, it is pretty much clear that the removal of her childhood picture clearly offended her. After all, the picture had nothing but nostalgic sentiment associated with it.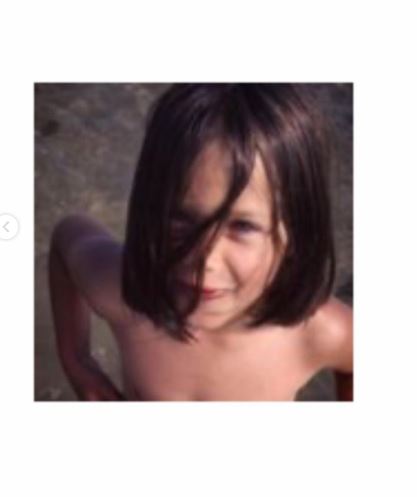 Her profile currently has more than a million followers; however, high-profile figures have deactivated their Instagram in the past. On the other hand, though, there is a bigger chance she's just taking a temporary break from Instagram since she has been quite active in the platform for a while now, not just for sharing her whereabouts. Marion's Insta page an important platform to spread awareness on the environmental activism she's associated with right now.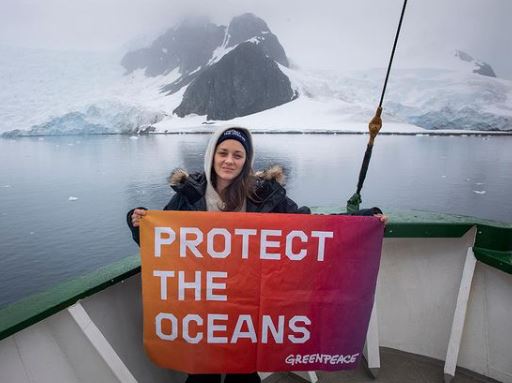 On top of that, her ad campaigns for brands like Chanel is one major reason why Insta is crucial to further her product placement deals. Through her Insta, the artist has been vocal on supporting other movements launched by her peers and important activist. So yeah, leaving Instagram permanently might have more downside as well.
Of course, there are more feasible and less restrictive platforms such as Twitter, but it's about the closure, and the audience base since Twitter itself isn't devoid of some drawbacks.
Did Instagram Do Injustice In This Case?
Nope, not at all. Yes, the intention of Marion was clearly nothing wrong; after all, it was her own childhood picture she was sharing. Moreover, fans in comment sections were in a hurry to blame the algorithm and develop the same old rant on our world turning into 1984 dystopia.
But here's the catch, Instagram is just a platform, and to be honest, Marion clearly hadn't read the guidelines properly before signing up for her Insta account. We all read the guidelines, terms, and conditions before signing up for an account, right? (wink).
The following points from Facebook (it owns Instagram) will make it more clear.

As stated in official guidelines by Facebook, the intention isn't everything that matters. For example, even though a parent may share a partially nude picture of their child with good intentions, not every user will be watching it with a good intention. It's common sense because the internet is full of some pretty sick people as well (like pedophiles), and Instagram is keeping these guidelines for the users' own good.
This brings us to Marion's case. The talented actress posted her childhood picture, which was partially nude, although it is her innocence. But the same images have a high probability of being used for bad intentions as well, and in the case of a famous figure like her, there will definitely be vile people tampering with the picture.
So, the verdict being Instagram was right on taking this action, be it an algorithm or based on users who reported on that picture.