TLC's hit show '7 Little Johnstons' has been airing since 2013 and has returned with another season. The show is about little people Trent and Amber Johnston, and their five children (all members have achondroplasia, a rare type of dwarfism). Anna Johnston, Emma, and Alex are adopted children of the couple whereas, Jonah and Elizabeth are biological. 
Viewers who watched the show saw Anna navigate plenty of ups and downs and got an interesting backstory. 
The current season focuses on Anna Johnston and her mother Amber Johnstons' strained relationship. Amber also hinted at her another child moving out of the Johnstons family on her Instagram. 
In this article, let's find out who is moving out of the family -- Anna or someone else. Let's have a look at the details below. 
Is Anna Johnston The One To Move Out?
Anna's mother Amber's recent Instagram post hyped the fan's curiosity about who is moving out of the house. In comparison, Anna's father Trent's 3rd May 2021 post connected the dot with her mother's post. 
Trent's post said, 
"Busy-busy-busy day! Last free weekend for the next nine months."
In the post list of things like ceiling fans, clean the garage, hang pics in the office, wrap up straps in the truck, Anna's furniture/ stuff to storage, and many other things were listed. What caught people's attention was the straps in the truck and Anna's furniture. 
Well, connecting the dots between Amber and Trent's post, it is confirmed that Anna moved out. She moved out of the Johnston house to attend Gordon State College to earn an early childhood education degree. She also revealed that she had rented a room with her friend named Faith. 
However, Anna's parents Trent and Amber, do not seem very excited about their daughter moving out.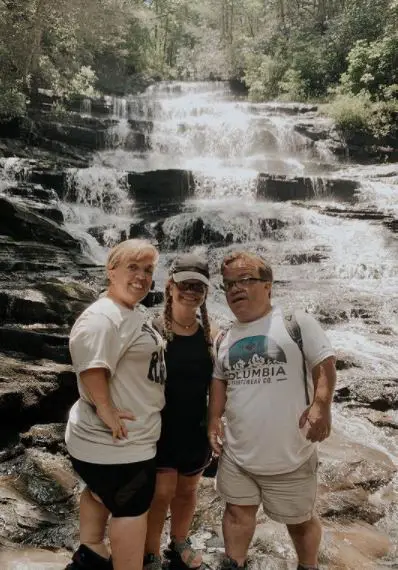 Who Is Anna Johnston?
Anna, born on 7th May 2000, is a reality star and a thriving businesswoman. As a reality star, she earned fame and recognition after she and her family joined highly rated TLC's Little Johnstons. 
Ever since they starred in the show, the family has become a local celebrity. Anna's parents were even dubbed as "Brad and Angelina" for adopting kids from different countries. Trent and Amber have done a great job teaching their kids about living life the way regular-sized people do. 
Check out: Why Jacob Roloff Is No Longer A Part Of Little People; Big World?
Per Distractify, TLC pays the Johnstons family around $25K to $40K per episode. 
She has moved out; she needs to meet her rent and is trying her best to pursue her path in the entrepreneurial path as she has started a home-based online shop called Fizz4Passion. She makes handmade jewelry out of beads of different shapes, colors, and sizes. 
For the promotion of her product, she has coordinated with Etsy. At such a young age, she has already figured out a few things in her life. Through her home-based business, she is drawing an attractive sum of money. 
Per Stars Offline, Anna's total net worth is estimated to be under $200K. 
Dating Life
Anna Johnston is single as of June 2021. However, previously she dated a guy named Daniel, who she met on social media. Her boyfriend hailed from Australia, and they first met in person at the Little People conference. 
More From Us: 'Married To Medicine's Contessa Metcalfe Opens Up About Her Marital Issues!
In no time, the couple bonded with each other, and Daniel also revealed that he was glad to make it to the conference and meet her. 
Anna openly mentioned dating her Australian boyfriend, but on the other hand, Daniel was not sure about a long-distance relationship. 
Anna mentioned that she would visit Australis one day.