Victory Brinker, a precocious young singer, stunned the judges with America's Got Talent performance and earned a collective Golder Buzzer. Before she even sang a note, she wrapped the judges around her finger with her sassy critique. She said Simon Cowell needs some color and then sang opera. 
Judges Howie, Simon, Sofia, Heidi, and Terry all awarded her their Golden Buzzer. 
On the 6th July episode, Victory made history for the first time earning the show's first-ever collective Golden Buzzer. 
Find a lot more about Victory on this article.
Victory On America's Got Talent
Victory auditioned for America's Got Talent 2021, accompanied by her mother, Christine. On 31st May 2021, her parents announced her AGT arrival through her Instagram. 
For her audition, she sang Juliet's Waltz, earning herself the collective Golden Buzzer. 
During an AGT interview, she said, 
"When I'm singing it makes me happy, happy and happy."
Victory's performance was so incredible; it summoned a bird.
Facts On Victory Brinker
Victory Brinker was born on 5th February 2012, making her Aquarius. 
She was adopted by Eric Brinker and Christine Brinker as a baby into a family with 11 children. Out of 11 children, nine, including Victory, are adopted.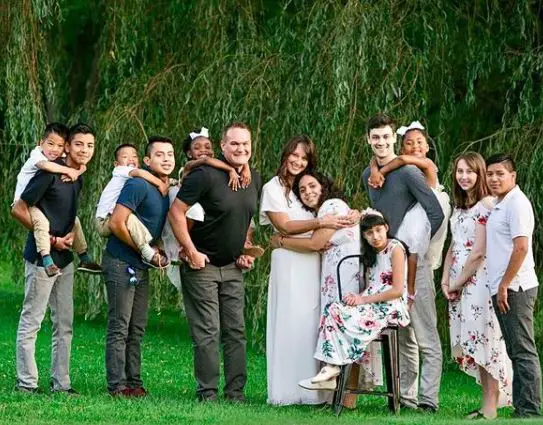 There is no information on her biological parents, but it is apparent that she was born to a Black parent. 
Moreover, about her adoptive parents, Eric is a pastor of Impact Life Church in Acme whereas, Christine is a naturopathic doctor in Greensburg. 
Per her education, Victory was homeschooled along with her three siblings by their mother, Christine.
In addition, Victory is the public figure in her family, but her brother Issac Brinker also gained fame as a video content creator. He is famous for various comedy sketches, family-friendly content, self-written music, and covers on his Vine account. 
Don't Miss: '90 Day Fiance' Star Molly Hopkins' Daughter Olivia Hopkins Arrested On Battery Charges!
Moving on, Victory stands at the height of 4 feet 5 inches (1.34 meters) for now. She has beautiful green eyes. 
She has social media account like Instagram and Twitter, which are run by her parents. 
Before she auditioned for AGT, she started performing at the age of 5 and can sing songs in Italian, French, German, and Latin. At the age of 6, she discovered Opera and memorized 'Ave Maria,' the song with Latin and German.
Soon she started competing in the talent shows and won 1st place in most of them. 
She has performed at Carnegie Hall in New York City, The Star-Spangled Banner, performed the national anthem before the Utah Jazz game, at the President's Athletic Conference Championships, and NBA game Saint Vincent College Basketball games. 
In addition, Victory has also landed minor roles in short films and runs an eponymous YouTube channel.