Danielle Herrington has welcomed her baby boy!
The model, who was the cover star of Sports Illustrated Swimsuit's 2018 issue, and her boyfriend, Geron McKinley, have become parents to a son, she revealed on her Instagram Story.
Danielle shared a mirror selfie where she is holding her baby boy and wrote, "It's already been 2 weeks with my boy."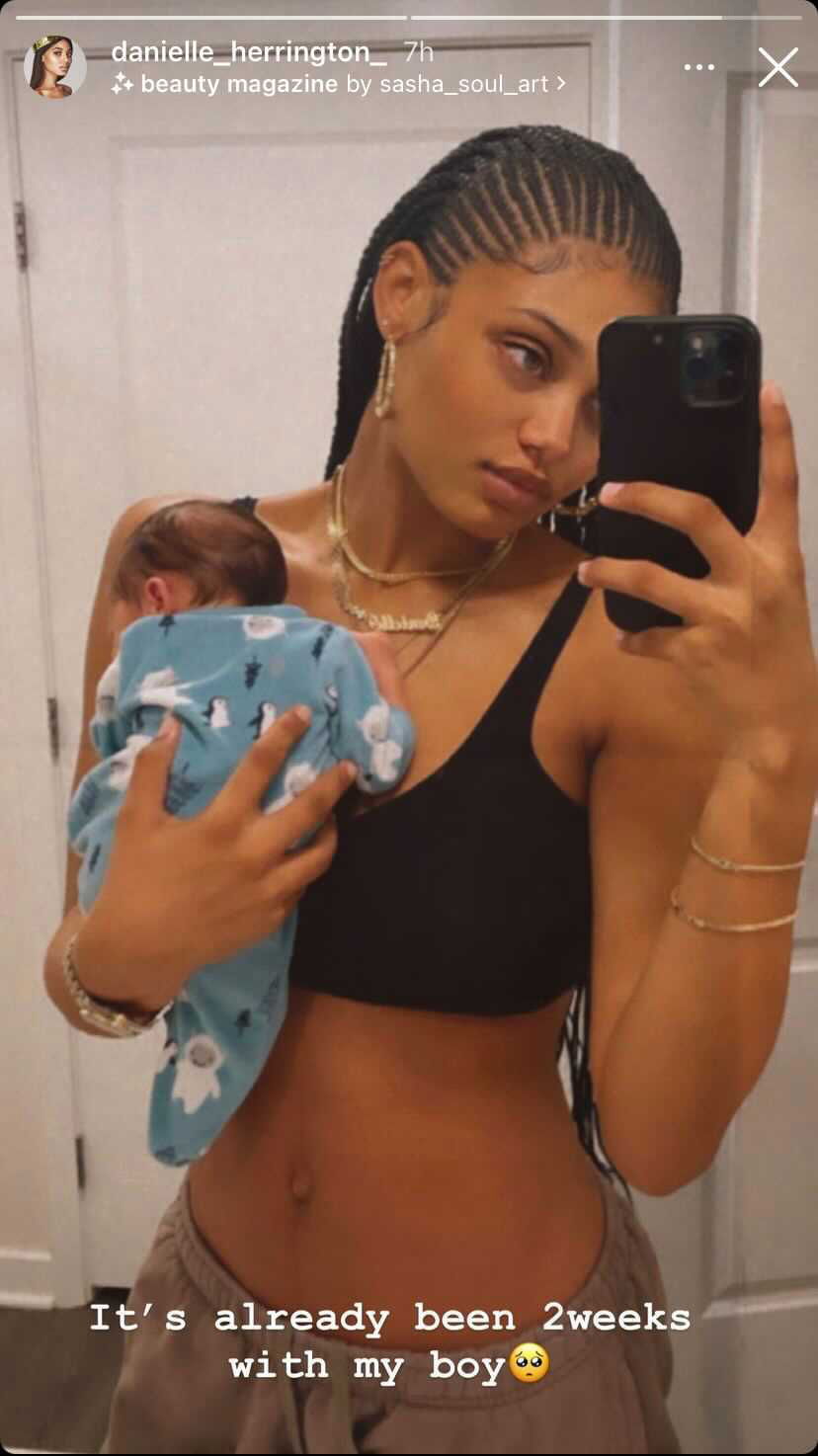 Danielle first revealed that she was expecting in June. She posted pictures of her growing baby bump at the beach on Instagram and wrote, "baby boy coming soon!"
It was in July when the model appeared on PEOPLE's TV Show and recalled her discovery of pregnancy four days after wrapping her photoshoot for the 2021 SI Swim issue of January.
"I was honestly in shock. It was like pure shock and a little terrified. I had no idea," Danielle said as she added that she went through seven at-home pregnancy tests because she couldn't believe it. "I'm telling you, I was so shocked. I was like, 'No, I need to be certain. I need to be for sure."
Danielle then talked about her morning sickness being "terrible" but in her third trimester she felt "good."
Also Read: John Mulaney And Olivia Munn Are Expecting Their First Baby!
"I'm a few days away from being eight months pregnant, so now I'm just a little tired. I'm always just getting tired, anything I do. If I wash the dishes and make breakfast, I'm like, 'Okay, I need a nap.' That's how it is now, but otherwise, I'm good."
In June, she spoke with SI Swimsuit and said her boyfriend, Geron McKinley had "been so supportive" throughout her pregnancy.
"My first trimester was so hard for me physically and mentally, and he has been there every step of the way. I'm so lucky to have him," the model said. She added, "Once I found out I was pregnant, I downloaded four different pregnancy apps. I've been reading everything I possibly can about pregnancy, labor and delivery. I went and bought books and even a pregnancy journal."
"I'm excited to meet him and hear his little cry. Also getting to know his personality and seeing who he's going to look like."
Who is Danielle Herrington?
Danielle Herrington was born on May 26, 1993, in Compton, California. She began modeling at the mere age of 13 and was featured in GQ in November 2016. 
She first appeared in the Swimsuit issue in 2017, which she booked four months after moving to New York City to further develop her modeling career at age 21. 
Peep This: Caleb Finn & His Girlfriend Lil Soup Are About To Embark On A New Chapter - Becoming Parents
Her first runway performance was in 2017 when she made her New York Fashion Week debut at Philipp Plein's spring show alongside Irina Shayk and Adriana Lima. 
In 2018, Danielle was selected as the SI Swimsuit issue cover model and became the third black woman to appear on the cover of the Swimsuit Issue, after Tyra Banks and Beyonce.