Geron Mckinley who's Black and Mexican American is a model from California. He has modeled for big fashion brands like Versace, Philipp Plein, Todd Snyder, Hermes, Bottega Veneta, Fenty, Fear of God, Balmain, Hugo Boss, and Tommy Hilfiger. 
McKinley is represented by Jami Wrenn of Wrenn Management — runs Concreet, an organization that works to mentor underprivileged youth in Compton, California. 
Recently, in 2021, Geron welcomed a baby boy with his girlfriend Danielle Herrington. She is a Sports Illustrated swimsuit model. 
Let's learn more about Geron and Danielle, and also about his bio, age, parents, job, and net worth.
Who is Geron McKinley?
Geron born on 27th November 1993 hails from Compton, United States. However, his Facebook bio reads his birthday on 12th October. He stands at the height of 6 feet 3 inches (1.91 meters). He has hazel-colored eyes. 
His parents are named Gerald McKinley and Lori McKinley. During an interview with At Large magazine, he shared that growing up with his Mexican mother he got inspired to do philanthropic works. His mother worked two jobs to support her family and her work ethic inspired him in his life.
When he pursued his career in modeling his parents had doubts about his career as his mother wanted him to do something that could earn him a living. 
Don't Miss: John Mulaney And Olivia Munn Are Expecting Their First Baby!
However, once he landed on his modeling gigs and got paid a handsome sum of money, his parents believed in their son and supported his modeling career. 
Furthermore, it is not known how many siblings he has but they all embrace Mexican-African-American ethnicity.
For education, Geron attended Centennial High School and King/Drew Medical Magnet High.
Mckinley's Career & Net Worth
Geron first started modeling in 2010 but initially, he planned to get enlisted in the military. But after he was approached by an agent, he chose to model after giving a long and hard thought. 
A photographer named Tyler Adams introduced him to Click Management, therefore, Geron started making names in the modeling industry. 
In March 2021, McKinley was signed with CAA Fashion which is home to veteran models like Jordan Barrett, Alessandra Ambrosio, Kate Upton, Claudia Schiffer, Luka Sabbat, Lourdes Leon, Duckie Thot, Winnie Harlow, Georgia May Jagger, Leomie Anderson, and Indya Moore. 
Geron has also been featured in Numero Homme and Vogue Italia. 
Check Out: Amelia Gray Hamlin Split From Scott Disick: What Went Wrong?
In addition, to his modeling career, he also runs a non-profit organization called CONCREET or CNCRT Inc and is associated with another non-profit organization Grand institute of mastery (G.I.M). 
CONCREET or CNCRT Inc. works to help the disadvantaged youth in LA by creating scholarships for sports, music, arts, and entrepreneurship programs. 
During his modeling, he has made an estimated net worth of $2 million. 
Geron & Danielle Herrington: Relationship, Baby
Geron and his girlfriend Danielle Herrington welcomed a baby boy in September 2021. Danielle posted a mirror selfie of her and her newborn baby on her IG and wrote, "It's already been 2 weeks with my boy."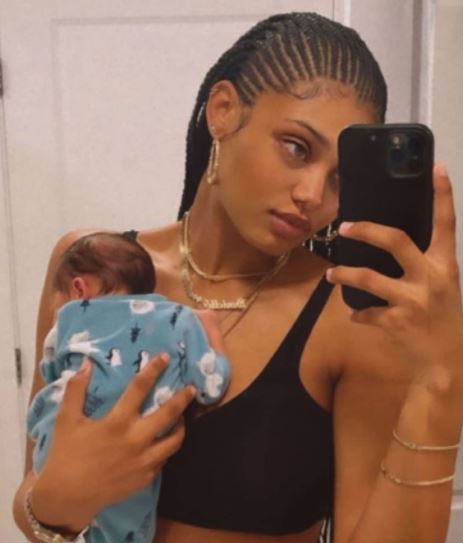 Geron's girlfriend revealed that Danielle learned about her pregnancy four days after wrapping her photoshoot for the 2021 SI Swin issue back in January 2021. At first, she was terrified and shocked but Geron's support throughout her pregnancy had her relieved and happy. 
In an interview with SI Swimsuit, Danielle shared that she feels lucky to have Geron by her side. 
However, there are not many pieces of information regarding the couple's relationship. 
Geron McKinley's Past Relationship 
Geron McKinley previously dated Skye Townsend. The couple first met in 2012 and per Reddit thread, Geron was a love interest in Skye's video "normal." 
More From Us: Who Is Lily Collins' Husband Charlie McDowell? Meet The Son Of Malcolm McDowell And Mary Steenburgen
They dated for nearly 7 years before splitting in 2018. Soon after the news of their breakup broke, some fans showed their concern and some even crossed the line. 
Geron wrote on his Instagram post saying, 
"Please stop asking if me and Skye are together. We are fine, this app has destroyed countless relationships and our relationship is one of the few things I hold dearly and protectively, please respect it."
However, his post didn't do any good as people were quick to notice that they unfollowed each other on their Instagram account. 
Geron and Skye never officially announced the split but in a way, their split was confirmed.