All the attention has turned to Alyssa Scott after she announced that she is pregnant on her Instagram account. She captioned her picture with "ZEN S. CANNON." Her post led to a question about the baby's father, and people speculated him to be Nick Cannon. 
Nick is an American comedian, rapper, television presenter, and actor best known for All That before, The Nick Cannon Show, Wild 'n Out, America's Got Talent, Lip Sync Battle Shorties, and The Masked Singer.
The news of Alyssa's pregnancy spread like wildfire and Nick Cannon being involved made the information spicier. 
So, who is Alyssa, and is Nick, the father of her still-born baby?
Alyssa Scott Allegedly Pregnant With Nick Cannon's baby?
One of the burning questions people are raising is how Alyssa Scott and Nick Cannon know each other. 
Alyssa, a model, previously worked with Nick Cannon on 'Wild 'N Out.' She made fans more confused after she posted her pregnant picture captioning "Zen S Cannon."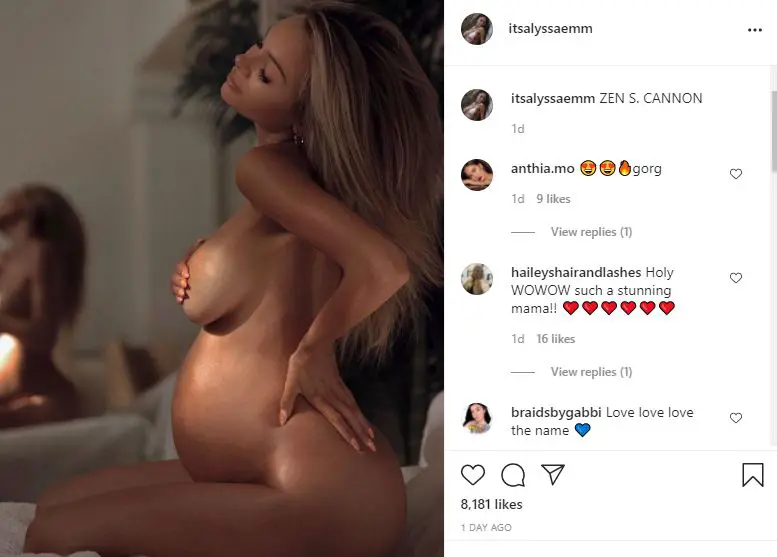 One of the fans asked Alyssa if Nick Cannon is the father, to which she replied with three smiley heart emojis. 
Another comment read,
"You're gorgeous and you and Nick are going have a beautiful baby," to which Alyssa replied with: "thank you."
Alyssa has neither denied nor confirmed Nick being the father of her child. On the other hand, Nick is yet to address the rumors. 
Who Is Alyssa Scott?
Alyssa Scott was born on 12th October 1993, making her Libra. She was raised in Austin, Texas, the United States, by her parents Alan Scott and Lisa Marie Kalender. Her father, Alan served the community as a policeman; meanwhile, her mother hails from Santa Cruz, California. 
Sadly, her parents are divorced and have moved on with their life. More about her family, she has an elder brother named Alexander 'Alex' Scott and a younger sister. Her brother is a bike enthusiast and a married man. He is married to his childhood best friend Brittany Rose Scott, a real estate agent. 
Physical Attributes
Alyssa stands at an impressive height of 5 feet 8 inches (1.73 meters), weighing 57 kgs. She has inherent her White-American mother and light-skinned Black father's genes. With her exotic look and measurements of 36-25-35, she looks more stunning while modeling. 
It was reported that she underwent breast enlargement plastic surgery. 
Career & Net Worth
Alyssa Scott was already an established model before she was linked with Nick Cannon. She had landed a few modeling gigs with several photographers. Moreover, she also competed to be on the cover of MAXIM magazine and was featured on the cover page of Dreamstate's January 2021 issue. 
Don't Miss: Brooke Blurton, First Openly Bisexual Australia's Next Bachelorette!
With her burgeoning career as a model, other opportunities like modeling for jewelry brands, cosmetic goods, bikini brands came knocking at her doorstep. 
In addition, she has modeled for portraiture painter David Rees and worked as a model for MTV show Wild 'N Out.
However, her exact net worth remains a mystery; meanwhile, Nick Cannon has an estimated net worth of $30 million.