Bindi Irwin is an Australian television personality, zookeeper, conservationist, and actress. People also know her as the daughter of the famous crocodile hunter, the late Steve Irwin.
Since the age of 2, Bindi has been in front of the camera, and at 9, she hosted a children's wildlife documentary TV series Bindi the Jungle Girl. As of now, she stars in Crikey! It's the Irwins, alongside her mother Terri and brother Robert. 
Other than her professional life, Bindi is married to Chandler Powell. The couple is expecting a baby in 2021. Let's find more about their baby and excitement on being a new parent.
Bindi Irwin & Chandler Powell Expecting A Baby Girl
Bindi Irwin and Chandler Powell, who got married in a private ceremony at Australia Zoo on 25th March 2020, announced their pregnancy news on 11th August 2020 via Instagram. On 22nd September 2020, the couple revealed the gender of their baby and happily announced that it was a girl.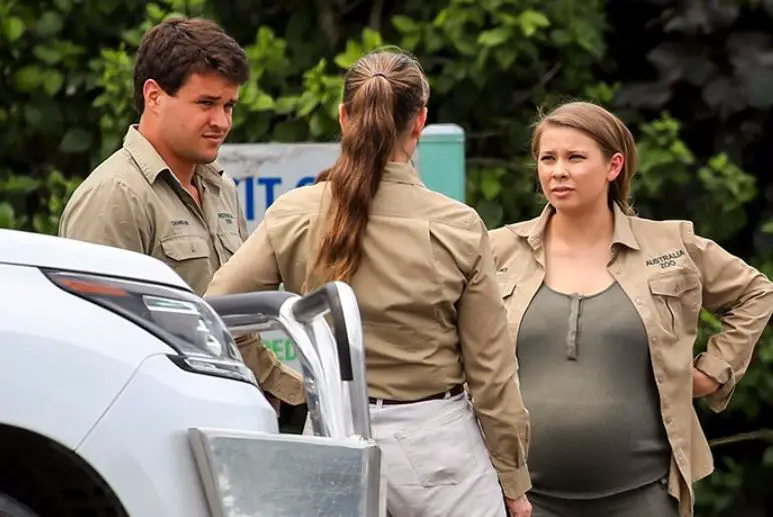 Currently, Bindi and her husband live within the zoo's Sunshine Coast compound with Terri. Bindi and Chandler also recreated her father's memory when her baby brother was in her mother's belly. 
Bindi, who is in her third trimester, is finding it very hard and is ready for the baby to be born soon. 
Bindi & Chandler Welcomes Firstborn
Bindi and Chandler welcomed their firstborn on 25th March 2021. The couple named their daughter Grace Warrior Irwin Powell. Bindi honoring her father, Steve Irwin, gave her newborn daughter the middle name Warrior Irwin. Likewise, the name Grace comes from Bindi's great-grandmother and relatives in Chandler's family dating back to the 1700s.
"Her middle names, Warrior Irwin, are a tribute to my dad and his legacy as the most incredible Wildlife Warrior."
The newborn has already started receiving lots of love and blessings. 
Who Is Bindi Irwin?
Bindi Irwin was born on 24th July 1998 in Buderim, Queensland, Australia. She was named Bindi after her father's favorite female crocodile at Australia Zoo.
Bindi embraces English and Irish ethnicity. When she was 8-year-old, she lost her father, Steve Irwin, killed by a stingray barb on 4th September 2006. After his death, Bindi and her mother, Terri, announced that they would continue Steve's conservation and television work. 
On the other hand, Steve's father, Bob, fell out with Terri after Steve's death. Bob also suddenly resigned from Australia Zoo in 2008. Bindi, who is near to give birth to her daughter, has high hopes on reconnecting with her grandfather Bob. 
The inside source said,
"Bindi would love nothing more than to invite her grandfather to be in the hospital waiting room when his great-grandchild enters the world," 

"She thinks it would be a nice touch to have four generations all together and have him be among the first to meet her daughter."
However, Bindi's mother, Terri, does not want Bob in their lives and avoids bringing him up in any conversation. Whatever the reason might be, I hope the baby who is on its way will change Terri and Bob's mind. 
Who Is Chandler Powell?
Chandler Powell is an American professional wakeboarder. He was born in 1996 in Florida to parents Chris Powell and Shannan Powell. He graduated from the University of Central Florida with a degree in International Business. 
Chandler and Bindi first met in November 2013 as teenagers at Australia Zoo.