There are rich people, there are ultra-rich people, and there is Christine Chiu, best known for starring on Netflix's newest reality show Bling Empire with husband Dr. Gabriel Chiu, a plastic surgeon. 
Writing below is about Christine on how being born into money and how she utilized it to create something independently. Also, learn more about her relationship with her husband. 
All Facts On Christine Chiu
Christine Chiu was born on 13th December 1982 in Taiwan as Christine Cheng. 
There is also a rumor that she is not in a talking term with her affluent father for more than a decade.
For academic qualification, she attended Stanford University for economics. Later, she graduated from Pepperdine University with dual degrees in International Business and Philosophy. 
After completing her education, she worked in the beauty and public relations industries for ten years. Later, she became the Managing Partner for Beverly Hills Plastic Surgery Inc. (BHPS Inc.) and served for L'Oreal's SkinCeuticals brand, BHPS Inc.
For Christine's style, beauty expertise, and social involvement work, she has been featured in local, national, and international leading media outlets like The Wall Street Journal, Harper's Bazaar, Style.com,  UsWeekly, Town & Country, Beauty Blitz, Examiner.com, Los Angeles Confidential, LA Times, Angeleno Magazine,  France's TF1, Elle France, InStyle magazine, and Elle China, M6 networks, Harper's Bazaar China, Marie Claire China, and more. 
 Her husband Gabriel has teamed up with Prince Charles to open The Prince's Foundation Chiu Integrated Health Programme in Cumnock in East Ayrshire, Scotland, in January 2019. 
According to Celebrity Net Worth, Christine's husband Gabriel has an estimated net worth of $20 million. 
Christine got hitched with her husband, Dr. Gabriel Chiu, in 2008. In the show Bling Empire, she spilled some bean about her husband. He is "the 24th direct descendant of the Song Dynasty," and Christine said, "In China, my husband's father would be an emperor, and Baby G would be a little prince."
On 29th June 2018, Christine and Gabriel welcomed their son Gabriel Christian Chiu III—aka Baby G—. Although they are not living in China, their son still gets the royal treatment.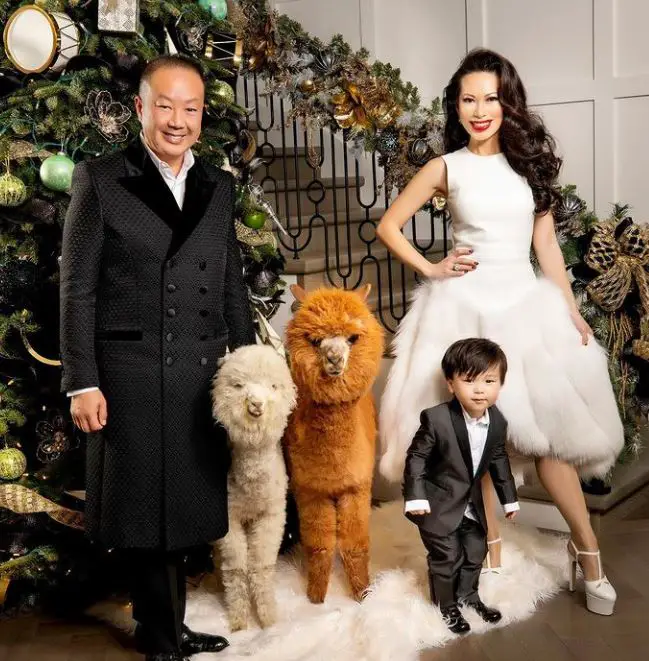 On the first birthday of Baby G, the couple donated $1 million to the Cayton Children's Museum for a dedicated wing to provide free museum admission to children from underserved communities. 
The show showed that the couple did not have a comfortable journey to parenthood, and Christine was even at the risk of losing her own life. 
Christine met her doctor for the second pregnancy, but the doctor suggested surrogacy as an option for their second child. However, she did not seem to be okay with that option and said,
"surrogacy was something that Asians tend to look down on or stay away from." "I just don't want to do anything or make any decisions that would offend your parents and bring shame to your family,"