Gianna Hammer, a former contestant on MTV's "Are You the One?" opened up about her experience on the reality TV show.
The 25-year-old star accused the unnamed cast member after production drugged her and covered up a sexual assault while filming in the Dominican Republic in 2016. 
"I was super confused, super nervous," 
"I remember being shaky and not knowing what had gone on or if I was in trouble. That's when they asked me if I remember anything that happened last night. I said no. They kind of start going over what had happened … and that's when I started really thinking and seeing some type of flashes."
Gianna also mentioned that the man she accused of assault is still part of the show. 
Moreover, an MTV spokesperson said to The Daily Beast, 
"We take these issues very seriously and have paused production/casting to conduct an independent investigation into the allegations, the third-party production company, and further review our internal safety protocols."
Hammer said before she joined the show, she took a low dose of the antidepressant Zoloft daily before bed. She also revealed that her doctor advised her not to take the drug with alcohol. 
"Their logic was that I wasn't on too much of it," 
Hammer said,
"So, if I took it early in the morning, it wouldn't really affect me later in the night."
On the night before she was assaulted, she got into a drunken verbal altercation with a cast member. The last thing she remembered was producers saying she needed to calm down and give her one of her medications. 
"I know that my castmates said that I kept telling them, 'I'm not supposed to do this when I'm drinking. I'm not supposed to do this when I'm drinking.' They still said it was OK, they said it wasn't a high enough dosage or something. So, I took it."
Thereafter, she ended up going into a male cast member's bed but got pulled out after she said no. 
"I don't know how long it was happening for but [another male cast member] heard me saying 'no' to him and he hopped off the bed and said, 'Get off of her,'" 
"And [other cast members] kind of pulled me out of the bed."
The next day after the incident, Hammer said that the producers asked her if she wanted the male cast member who assaulted her kicked out. Ultimately, the production decided to put the male cast member in a different bedroom. To The Daily Beast, Gianna said, 
"I guess [I] really thought about it and was like, 'Wow, that was really f–ked up,'"
"They should have never left me in an unsafe position. I'm definitely a changed person after it all."
However, Producers Lighthearted Entertainment denied Gianna's allegations and said, 
"We are confident that any review will confirm the safety protocols that we have long had in place on the sets of 'Are You The One?,'" the company said in its statement. "We deny the allegations made by the former contestant; throughout the eight seasons of the show, no contestant has reported an incident of sexual assault to Lighthearted."
On the other hand, Gianna said she would keep fighting until justice is served. 
Who Is Gianna Hammer?
Gianna was born on 27th May 1995 in Doylestown, Ohio. She has not talked much about her parents; thus, they remain anonymous. 
However, she has a brother named Jake Hammer, who is 4 years older than her. Her brother is a former football player and now has opened his own vehicle company Prime Time Logistics, LLC. Her brother is married to his wife named Theresa Ciraldo, in May 2017 and shares a daughter. 
Back to Gianna, she stands at the height of 5 feet 5 inches (1.65 meters) and has a measurement of 33-26-35. She has beautiful features like hazel eyes and a slender face. 
Interesting Read: Sam Hammington -- Bio, Age, Height, Weight Loss, Third Child, Son, Net Worth
As per her job, she is a brow and fibroblast artist. She is currently working at Parlour59 as a certified and insured brown artist. Moreover, she is also an aspiring model and is signed to Docherty Model & Talent Agency.
In addition, she has made a television debut, and some of her work includes Disney Princess Go Back to School as Pocahontas, Qualified as applicant 3, The Brave Souls Who Fought Against the Slave Vampire Women as Zamayla. 
Furthermore, for now, we are unable to locate her actual net worth figure. 
Looking into her personal life, in 2021, she is single and has labeled herself as a single mother. Previously, she has dating Hayden Weaver. The couple first met on season 5 of Are You the One? They dated for a while but later put brakes on their relationship after the truth booth predicted that they weren't a perfect match. 
In March 2017, the couple rekindled their relationship and welcomed a son named August Luck Weaver in August 2018.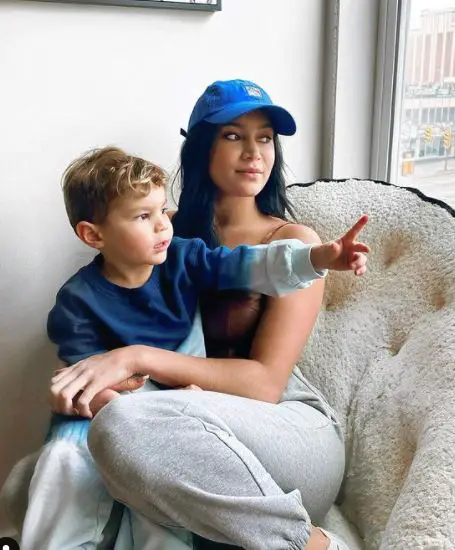 They moved into their new home in Indiana, but the coupled announced their breakup after two years. However, they are co-parenting their son August.