South Korea-based Sam Hammington is a New Zealand-born Australian comedian, radio host, and reality television star. He became the most recognizable foreign face in South Korea after he appeared in one of the country's highest-rated reality TV shows Real Men. In 2013-14, Sam won the 'MBC Entertainment Awards.'
Currently, Sam is a fixed member of the KBS reality-variety show The Return of Superman, featuring celebrity dad and their children. Sam's two sons William Hammington and Bentley Hammington, are also featured.
Moreover, Sam has also appeared in the film 'How to Steal a Dog,' TV series, 'Let's Eat,'  'Witch Hunt,' and 'Who Are You: School 2015,' hosted the radio show 'Drivetime' and shows like 'Happy Together,' 'True Justice,' and 'Infinite Challenge.' 
Who is Sam Hammington?
Sam Hammington was born on 31st July 1977 as Samuel Mayer Hammington in Wellington, New Zealand. He is the son of an Australian mother, Jan Russ, and a New Zealander father, Bruce William Hammington. Jan is a casting director and an actor primarily known for working in the long-running soap opera Neighbors.
Sam his early life in Melbourne, Australia, with his mother. In 2013, Sam revealed that his parents divorced because his father was gay. 
Another Read: Here's Why Mario Dedivanovic Is An Inspiration To Gay Makeup Artist
More about his family, he has an older sister from his mother's previous relationship. However, in the 1960s, his mother was forced to give up his sister for adoption because she was young and unwed. 
Moving on, Sam attended the Swinburne University of Technology, where take-up Asian language courses to help build up his resume. Also, he studied Korean for 18 months, eventually graduating with majors in Marketing and Korean Studies, eventually relocating to South Korea in 2002. 
Marital Status
Sam Hammington is married to a non-celebrity Korean woman, Jeong Yu-mi. In 2013, the couple had two wedding ceremonies in his home country, Australia, at Melbourne Zoo and a traditional Korean one in Korea. 
The couple first met in 1999 at a restaurant in Itaewon and initially lied his age to Yu-mi. But, in fact, Yu-mi is 2-year older than Sam. However, the age difference did not become the problem for them to start dating. After dating for few years, the couple got hitched. 
Sam, 43, and his wife welcomed son William Bruce Hammington in July 2016. He named his son after his father, who passed away in early 2000. His son William also has a Korean name Jeong Tae-oh. 
Later in November 2017, the couple welcomed their second son Bentley Hammington. (Korean name, Jeong Woo-Seong).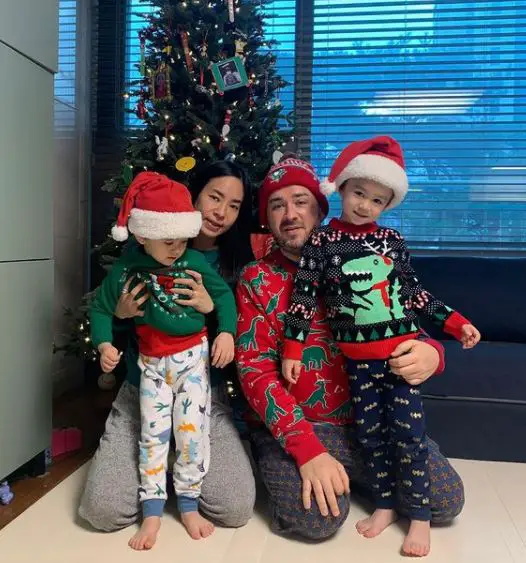 Sam also revealed that they are trying for a third baby by using in vitro fertilization. Through the show The Return of Superman, the two kids are already winning the hearts of many, and their fans are eagerly waiting for the new member. 
Physical Attributes, Weight Loss 
Sam standing at the height of 5 feet 11 inches (1.80 meters), used to weigh 120 kgs. However, he decided to lose weight and take care of his health for the sake of his family. 
Following his diet and making changes to his lifestyle, including giving up alcohol, he lost a whopping 30 kilograms (around 66 pounds).