Jake Paul is mostly known as a Disney star, YouTuber, and rapper. He has more than 20 million subscribers who posted a series of videos that gained attention and were also criticized badly on his YouTube channel. 
However, gone are the days where Jake made stupid youtube videos. Now, he is topping into the market with his boxing talent and has quite firmly established himself as a competitor to watch lately.
With an increasing number of a win under his belt, people have stopped criticizing him doubting his ability. Recently, his win against American mixed martial artist Ben Askren has silenced the haters. 
Jake Knocks Out Ben Askren
On 17th April 2021, Jake Paul faces retired MMA star Ben Askren, and on the first round, the fighters promised a first-round knockout. However, Jake was only the one to keep true to the promise. 
Ben came in strong in the opening moment, but things took a turn after Jake threw big shots. His big shot made Ben collapsed and unfit to continue the fight. In 2 minutes, Jake Paul won against former MMA star. 
Jake honored his fight for his former bodyguard Shamir Bolivar, aka Shadow. Shadow died at 45. He had worked for celebrities like Jake Paul, rapper 6ix9ine, and many others.
Jake paid tribute to Shadow with a long heartfelt caption expressing his disbelief and pain over his death. Moreover, Rapper French Montana and footballer Karim Benzema took to social media to pay their tributes. 
How Tall Is He?
Jake Paul, aka The Problem Child, is 6 feet 1 inch (1.85 meters). He has not fought anyone over 5-foot-9-inches yet. During his fight against Deji Olatunji, the brother of British YouTuber KSI, he had the advantage of 6 inches. 
Moreover, it was the same with fellow YouTuber AnEsonGib and ex-NBA player Nate Robinson. 
His Net Worth
Controversial YouTuber Jake Paul built himself an internet empire, and now, he is making bank competing in boxing competitions. 
Moreover, it was rumored that Jake walked away from his last fight with Nate Robinson with at least $10m. 
Per Celebrity Net Worth, his estimated net worth is $20 million. 
Insight Jake's Personal Life
Jake Paul was born on 17th January 1997 in Cleveland, Ohio, U.S. He was raised by his parents Pamela Ann Stepnick (née Meredith) and realtor Gregory Allan Paul alongside his older brother Logan Paul, a YouTuber and internet personality. 
Jake embraces English, Irish, Scottish, Welsh, Jewish and German ancestry. 
Peeking inside his love life, in November 2016, he dated fellow American YouTuber and internet personality Alissa Violet and broke up in 2017. 
Another YouTuber: YouTube Temporarily Demonetized Multiple David Dobrik Channels | Why?
In April 2018, Jake got into a relationship with an American model Erika Costell. Sadly, the couple broke up in November of that year. 
Soon, Jake was tied with fellow American YouTuber and internet personality Tana Mongeau. In July 2019, the couple announced they were engaged and married; however, it was just a part of the joke.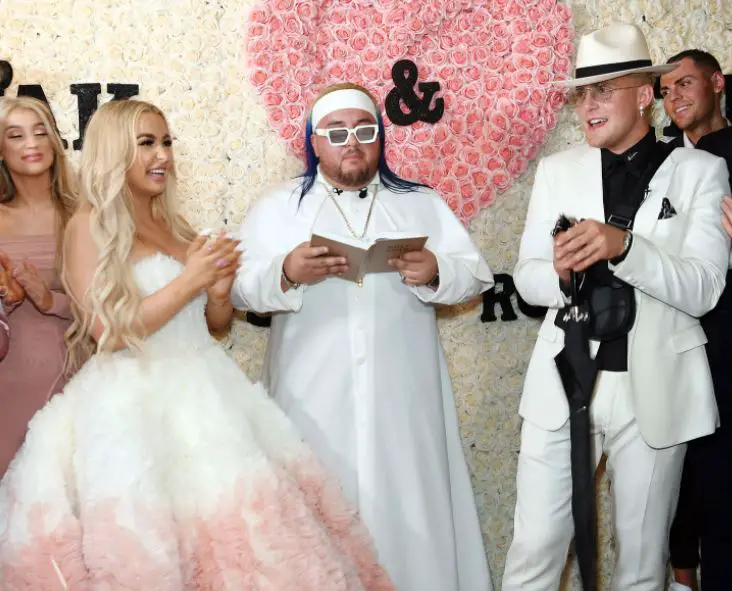 In 2020, Jake ended his relationship with Tana and started dating American model Julia Rose. Later that year, the couple broke up two times.