Ben Napier is one of the several stars of HGTV's Home Town. He is a woodworker who has a passion for renovating historic homes. The show also presented how the home-buying families get benefited from his custom handiwork showcasing local reclaimed materials. 
Moreover, Ben's wife Erin Napier, an artist who works in corporate graphic design, also shows her imaginative hand sketches for the home-buying families. 
Other than their work in renovating homes, Ben and Erin also operate a shop where they sell durable goods made in the U.S.A. and heirloom wares. 
Stay connected with this article as this article will lead to the things you might not know about Ben.
Facts About Ben Napier
Ben Napier was born on 24th September 1983 in Laurel, Mississippi, United States. His parents are named Bennie Napier and Wayne Napier, a Baptist preacher. Ben was named after his mother, Bennie, and he carries the root of his mother's name.
Moreover, Ben has three brothers named Tom, Sam, and Jesse. 
He did schooling at a local school and later got enrolled at the University of Mississippi. From there, he graduated with a degree in History. 
After education, Ben began working as a craftsman and woodworker. He was also the youth minister at Laurel First United Methodist Church, and in 2014 he resigned from the position. 
Ben and his wife Erin then focused more on their business, Lauren Mercantile Co. and Scotsman Co. Ben makes custom cabinets, stunning beds, cutting boards, and most of his work on their showroom.
Furthermore, he and his wife also collect antique cars, and now, they have a 1971 VW Beetle convertible, 1962 Chevy pickup, and 1964 Pontiac Catalina. 
As of now, Ben and his wife Erin have a combined net worth of $5 million.
Moving on, physically, Ben has an enormous height of 6 feet 6 inches and weighs 300 lbs. In 2014, he became more conscious about his health after his father had an emergency bypass surgery. 
Now, talking about his love life, he and his wife Erin went to the same college. Erin had a massive crush on Ben, but she only watched him from a distance because of his high profile. 
In December 2004, everything changed after they went on their first date, where he also met Erin's mother. Ben also confessed his feelings for Erin on taking an oath to get married someday. 
On 22nd November 2008, Ben and Erin got married.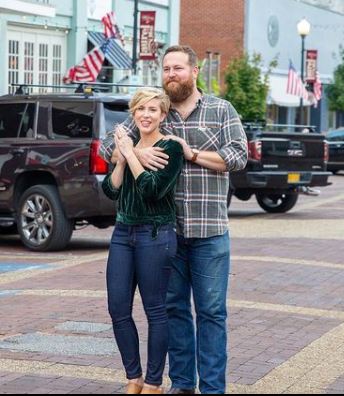 They have been married for 12 years, and Ben is still courting Erin. During an interview with People, Ben's wife said,
"Every day he's up before me, and he writes me a letter. It's a short one, but it's a letter. And since I don't do coffee, I drink Coke; he's got one waiting,"
"Erin is my dream girl. Why would I not continue to court her and win her over every day? That's always my goal."
The couple is also the parents of a beautiful daughter Helen Napier. His daughter got baptized on the day of Father's Day in 2018.