Dr. Tiffany Moon is the newest housewife on The Real Housewives of Dallas. After her appearance on the show, she added another accomplishment to her impressive resume. 
Tiffany, other than being a cast member of the show, is a full-time anesthesiologist. Recently, there came the news that Tiffany might not return to The Real Housewives of Dallas for a sophomore season. She opened up about her struggle to find the balance between her demanding job and motherhood duties. 
Let's find out whether she will return to the show or not!
Tiffany Moon & The Real Housewives of Dallas
Tiffany Moon, the first-ever Asian American to join the newest season of The Real Housewives of Dallas, has revealed that she may not return for a sophomore season. 
Dig Inside: Ashley Benson Avoids "Exploiting" Her Relationships for Fame: Explains The Importance of Not Exposing Love Life
The newbie was able to leave a positive impression on the fans, and the fans think she is funny and smart. 
Tiffany confessed that she missed her family while filming and wanted to spend more time with her daughters. She also revealed that since her twins are younger, she doesn't want to be away from her family. 
"But this time, I was at work, and when I wasn't working, I was working, so I didn't see my family for much over the summer."
As a newbie, Tiffany has brought awareness to a new culture. Moreover, the show also showed the feud between Tiffany and Kameron. Kameron Westcott, who is the queen of Dallas society, came to Tiffany's dim-sum lunch. During lunch, Tiffany was left upset after the mini Barbie made an offensive remark towards her culture. 
Kameron even blocked Moon, and since the feud between them broke, no further update has been made by The Real Housewives of Dallas. 
Facts About Dr. Tiffany Moon
Dr. Tiffany Moon was born on 13th August 1984, making her Leo. Her hometown is in a small town outside of Beijing, China. Her family moved to the United States when she was just 6-year-old. 
Moon has not revealed much of her parents, but she called them "Tiger Parents." 
At the age of 19, she graduated college, and at 23, she graduated medical school. 
Tiffany has a height of 5 feet 3 inches (1.60 meters) and a weight of 51 Kgs.
From her career, she has an estimated net worth of $2.5 million.
Tiffany is married to Daniel Moon, a vice president at the Sam Moon Group (SMG). Daniel was very supportive of Tiffany joining The Real Housewives of Dallas.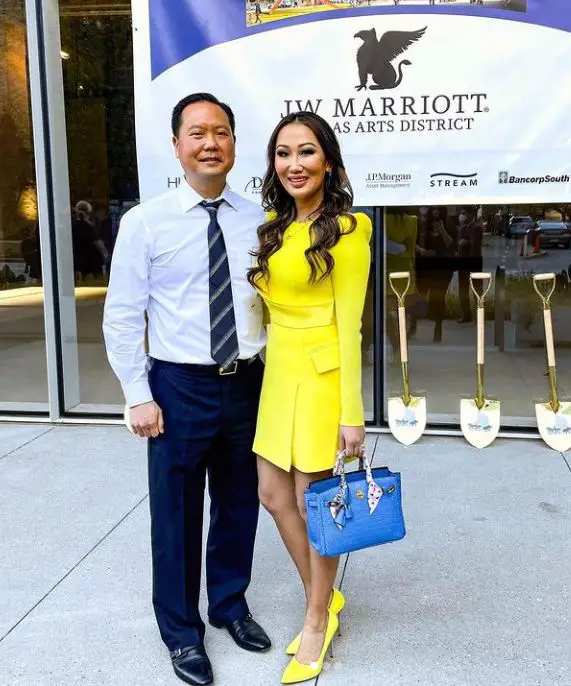 Tiffany and Daniel share 6-year-old twins Chloe and Madison. Daniel is also a father of fraternal twins Nicole and Nathan from a past marriage.