Unexpected bad boy Max Schenzel and Chloe Mendoza joined the show after Chloe got pregnant. However, Max and Chloe's drama got bigger and bigger, and Max was forbidden from meeting his daughter, 
Max proved to be no good to Chloe and his little girl, which forbade him from entering Chloe's house. Max's arrest and long-struggle with addiction shattered the bond between him and Chloe. 
This article unveils all details on Max, behind the bars journey, his experience on being a young father, and many more.
Max Spend Six Months In Jail
The first time Max was arrested in late 2019. He was on drugs and stole a credit card, cash, casino vouchers from his friend's grandmother. He served three months in jail for the act.
Later he took his neighbor's car to meet his former girlfriend, Chloe Mendoza. But when he realized what he was doing was wrong, he drove back and went to bed. 
However, the next day he was arrested and later released on bail with an ankle monitor. He soon made a positive change in his life and was given the minimum sentencing of six months. 
While he was behind bars, he worked in the jail's bakery making bread, and in the prisoner intake area, Max also shared that he did not have a good start in the first two months in jail and was always depressed. The most significant loss he had was not seeing his daughter but stayed positive to become a better father for his little girl. 
After his jail visit, Max said he does not want to go back to jail, and those experiences taught him a lot. 
Feud With Chloe & Her Mother Jessica Bowman
Max is still feuding with Chloe and her mother, Jessica Bowman, who is doing everything to prevent him from contacting her daughter. 
Max insisted, saying he remained sober for a year, but despite his claims, Chloe still refuses to allow Max to see their daughter, Ava.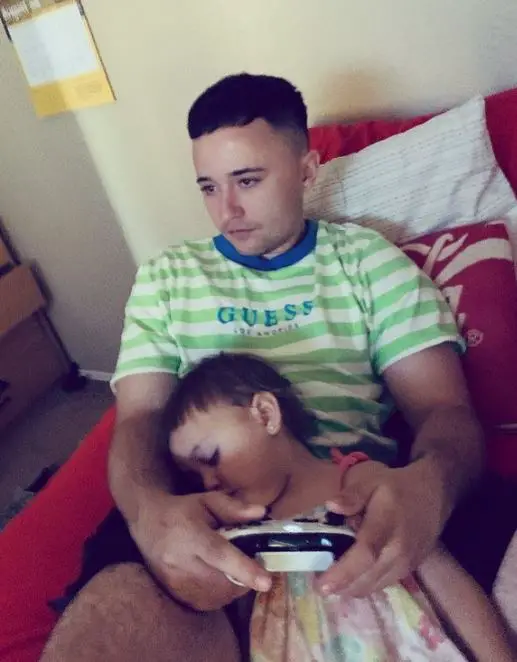 Max expressed his frustration on his Instagram and wrote, 
I never beat up anyone… oh my lord … Chloe has a new boyfriend and I'm happy she's happy. I haven't seen Ava in over 6 months because of the restraining order that Tempe put on me because they are required to even if it's a false domestic violence charge! Keep in mind the case is based off me throwing my phone at Chloe not hitting her… which neither happened. The only reason I haven't seen Ava is because I've been in custody for the past 6 months serving my time and putting my mistakes behind me! I've been sober for almost a year now and also would just like to let everyone know that all I care about is being a great father figure to Ava. I've made terrible mistakes in the past but she's still young and I still have plenty of time to redeem myself and then some. For those of you who believe rumors or gossip, I am deeply concerned for you and your state of mind lol.
Max also wrote to Chloe saying, 
Chloe your probably going to read this…. I don't know why you still have my number blocked… I do not want anything to do with you, but I want everything to do with our little baby girl. I'm sure you go out with your new boyfriend and drink and what not which is awesome , but I'm completely sober… for almost a full year while you live your college party life. It's not fair that you don't give me a chance to be a father and I'm only barely 21 and your already trying to sabotage Ava and Is relationship… it just says a lot about what your intentions were when you made a commitment to have Ava. You obviously have a screw loose in your head because darling I have almost a full year of progress to back me up. Yes I'm posting this on here so you can see it. Do the right thing and go modify the order so I can see Ava and keep the order on yourself, I don't care. I need to see my daughter, and my daughter needs her dad. Everyday that goes by that I don't get to see Ava is another failure in my book.
In response to his messages, Chloe's mother Jessica responded saying, 
"Over one year sober huh ?," 

"Maybe sober, but definitely not clean. And we all know that alcohol wasn't really the issue with this one."

I am just tired of having someone bash my daughter and keep trying to convince people that she is always out drinking. Where is your so-called proof that she is doing these things?

Who cares if she goes out one night during the week. She is a wonderful mother and a very responsible young adult who knows how to have fun without alcohol being involved. Some people do know how to do that. Just saying.

#sorryimnotsorry #tiredofbeingsilent
In response to Jessica, Max's roommate Jason's girlfriend Cassandra replied saying, 
Damnnnnnnn I didn't know yall knew max personally and actually live with him?! CRAZY. Yall hear all this sh*t off of what a show? ? I could go right now and get a order of protection on anyone without any SOLID proof with how the world is filled with dumb*sses that get their feelings hurt off of pronouns now a days ? And you guys have proof that he isnt sober? Cool ill wait while I see something that ISN'T from some fake *ss website ? and I let max around my 3 year old AUTISTIC son and he is AMAZING to my son and my son LOVES max. Max Schenzel im hella proud of you and you've made it so far. Don't let some dumb*ss wannabe know it alls ruin your sobriety and your progress ?❤️
Shortly after the Instagram ranting, Max went to the Instagram live session with Tricia Braunstein. There they talked a lot of stuff about Chloe and/or Jessica. And also, fans asked them if Max and Tricia are dating; Tricia said they aren't, but they're "talking about it." 
Some Facts on Max Schenzel
Max Schenzel is on his 22 in 2021; i.e., he might have born around 1999. He was raised in Gilbert, Arizona father, Todd Schenzel, and an anonymous mother. He lost his mother when he was fairly young to substance abuse. 
About his father, he also has a criminal record like Max. Todd was arrested for several charges like issuing bad checks, forgery, and theft. From later 2008 to early 2010, he was behind bars. He was also ordered to pay restitution for $2,225.00. Todd was also filed for bankruptcy in 2015. 
Moving on, Max attend Desert Vista High School. 
He stands at the height of 5 feet 9 inches (1.75 meters).