Jeff Bezos is taking along people you would not expect to his company's first passenger flight to space, New Shepard (named after Alan Shepard, the first American to reach space). Who, you ask?
Well, there's Jeff himself, the richest person in the world and the founder of Blue Origin; his brother, Mark; Wally Funk, an 82-year-old American pilot, and Oliver Daemen, an 18-year-old Dutch who graduated high school last year.
When New Shepard takes off, Oliver Daemen will be making history as the youngest person ever to travel to space. 
Let's get to know more about Oliver Daemen through this article.
Oliver Daemen's Bio
Oliver Daemen was born to his parents, Joes Daemen and Eline Daemen.
Interesting Read: Did TikToker Hunter "Echo" Ecimovic Date Millie Bobby Brown?
He grew up with his sister, Charlotte Daemen. You can find her sister on Instagram under the username @charlottedaemen
How Did Oliver Daemen Became New Shepard's Passenger?
Oliver's participation to be a passenger on the flight was quite unexpected.
Interestingly, Oliver wasn't even supposed to be joining. Blue Origin had organized an auction for one of the seats on the New Shepard, where Oliver lost to an anonymous bidder who paid $28 million. 
However, the top bidder decided to skip this flight and go later due to "scheduling conflicts." This led to the company slotting in Oliver.
Blue Origin did say the teen was "a participant in the auction," but did not reveal the cost of the seat.
According to RTL Nieuws, Oliver has already left for Texas, where the spacecraft will launch, to complete astronaut training before the liftoff.
Who is Oliver Daemen's Father? His Net Worth
Oliver's father is Joes Daemen, the founder of Somerset Capital Partners, a real estate private equity firm that was founded in 2005. The firm is based in Oisterwijk, Netherlands.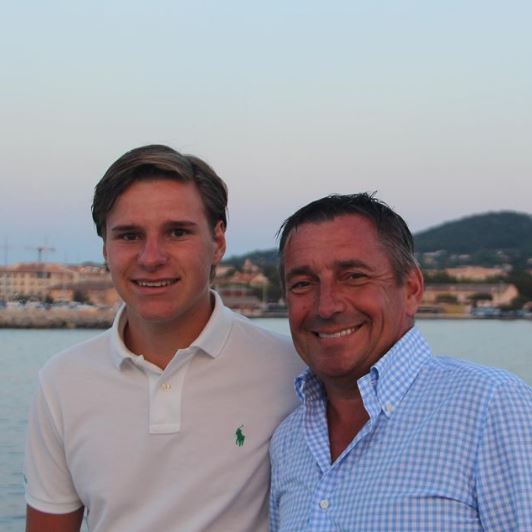 Interestingly, CNBC claims that Oliver had already secured a seat on Blue Origin's second flight, but the company decided to move him up when the auction winner stepped back. 
Peep This: Who Is Julia Haart? Everything To Know About The American Fashion Designer!
Oliver's father paid for the seat and considering the fact that the winner had paid $28 million, it's safe to assume that the Daemens paid a considerable amount as well. 
Who is Oliver Daemen's Mother?
Much like his father, Oliver's mother, Eline Daemen Dekker has a successful background.
Eline works as an ambassador at Joes' equity firm. She also volunteers for a program to combat loneliness among the elderly. 
Before this, Eline contributed to KLM Royal Dutch Airlines as a cabin crew member for five years.
Oliver Daemen Has Always Loved Astronomy 
According to Blue Origin, Oliver has been fascinated by the world of space and rockets ever since he was 4 years of age. 
"Flying on New Shepard will fulfill a lifelong dream for Oliver, who has been fascinated by space, the Moon, and rockets since he was four."
Oliver's interest in astronomy is not limited to "fascination" as he is taking it to his education as well.
While You're Here: Who Is Leah Shafer? Is Captain Sandy Yawn From "Below Deck Mediterranean" Proposing To Girlfriend Soon?
At the beginning of this September, he will be attending the University of Utrecht in the Netherlands to study Physics and Innovation Management.
His Social Media
Oliver has a considerable presence on social media platforms with over 3K followers on Instagram where he posts under the username @oliver_daemen