Kevin McCloud is a British designer, writer, and actor, known for Grand Designs (1999), Meet the Richardsons (2020), and Kevin McCloud's Grand Tour of Europe (2009). 
He was awarded the MBE (Member of the Order of the British Empire) in the 2014 Queen's New Years Honours List for his services to Sustainable Design and Energy Saving Property Refurbishment. 
Besides his professional life, let's talk about his private life. If his love life is a mystery to you, you're in for a treat. 
Kevin McCloud Dating Jenny Jones
Kevin and Jenny were first spotted in June 2021, when they were out on a romantic stroll in Somerset. 
According to The Sun, the couple looked very comfortable together and seem very much a couple.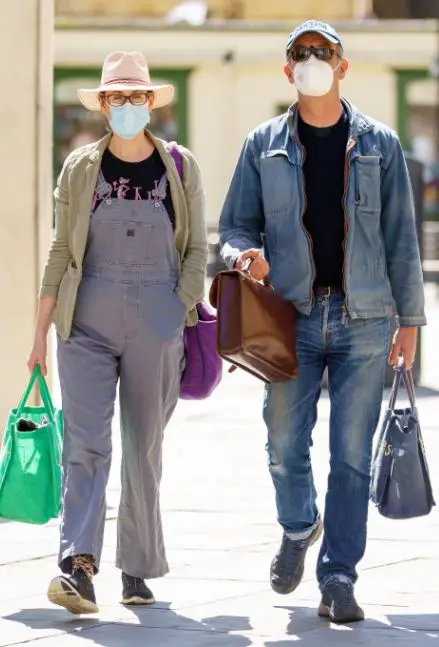 Kevin has not shared many details on his girlfriend but it was reported that Jenny is a wealthy businesswoman. 
First Wife Suzanna McCloud & Children
Kevin McCloud and his wife Suzanna McCloud shared 23 years of marriage before they got separated. His former wife is an interior designer known as Zani. 
Before they split in 2017, the two shared a 500-year-old farmhouse in Somerset. They also sold their previous Grade II-listed home to Fifty Shades Of Grey director Sam Taylor-Johnson for £1.85million in 2010.
Also Read: Who Is Lily Collins' Husband Charlie McDowell? Meet The Son Of Malcolm McDowell And Mary Steenburgen
Although they split in 2017, they announced the news only in December 2019. 
A pal of Suzanna told the Daily Mail that Zani was devastated. 
"She came home one day to find that Kevin had taken his things and left".
A spokesman for Kevin refused to comment on his new relationship but confirmed he is now divorced. 
Kevin and Zani shared two children Milo, 23, and Elsie, 18. McCloud also has two children Hugo and Grace from his previous relationship.
Who Is Kevin McCloud?
Kevin was born on 8th May 1959 in Bedfordshire, England. 
He has two brothers, Terence and Graham. 
Kevin attended Dunstable Grammar School where he studied the history of art and architecture at Corpus Christi College, Cambridge. There he was a member of the Footlights comedy ensemble alongside Hugh Laurie and Stephen Fry.
McCloud stands at the height of 6 feet 2 ½ inches (1.89 meters). 
He is fluent in four languages -- English, German, French, and Italian. He was trained as an opera singer in Italy. 
Check Out: Here Is Everything You Need To Know About Cooke Maroney: Jennifer Lawrence's Husband
Talking about his jobs, he worked as a writer for shows like Kevin McCloud: Slumming It, Grand Designs Indoors, Grand Designs: House of the Year, Grand Designs, and Kevin McCloud's Rough Guide to the Future. 
He is also the founder of an architectural company called MCC3 Ltd. 
Kevin has written books including Kevin McCloud's Decorating Book. 
As of now, he is a qualified architect. He has a double major in art and architecture from Cambridge University-Corpus Christi College. Although he described his education as chaotic as he spent time living and working in many other countries he made a name for himself as one of the best architects in the architecture industry. 
Kevin has garnered a net worth of $4 million.