Following her AIDS diagnosis, Instagram model Gena Tew has recently been documenting her health journey.
She first admitted to having AIDS in a TikTok video from March 2022. Tew claimed to have "gone through hell" and to still be in "hell."
She admitted that she had no idea who might have infected her, but she also disclosed that doctors had informed her that she had been battling the illness for eight to ten years.
She also mentioned that she had been molested a few times while homeless and residing in New York in her most recent video, which was also where she discussed the numerous possible ways she might have contracted AIDS.
She also said, 
"I've gotten a few free tattoos, so it may have been a filthy needle." Do I recognize any of those people? No. Did I say anything when those events occurred? No. Because I was inexperienced, ignorant, and young."
Gena Tew Is Only 27
Influencer Gena Tew, 27, has over 401k followers on TikTok and about 20k followers on Instagram. The social media influencer is most recognized for sharing content on social media about fashion and modeling. She has also posted a few songs covers online, including her performance of Electric by Alina Baraz and a few other Adele tunes. She also served as a model in 2015 for The Cover Magazine.
The influencer frequently posts to her social media channels. Her most recent post had her showing off her pink hair at the time this story was being written. The influencer has also been showing her fans' videos of becoming diagnosed with AIDS.
Tew Speaks Out About Losing Mobility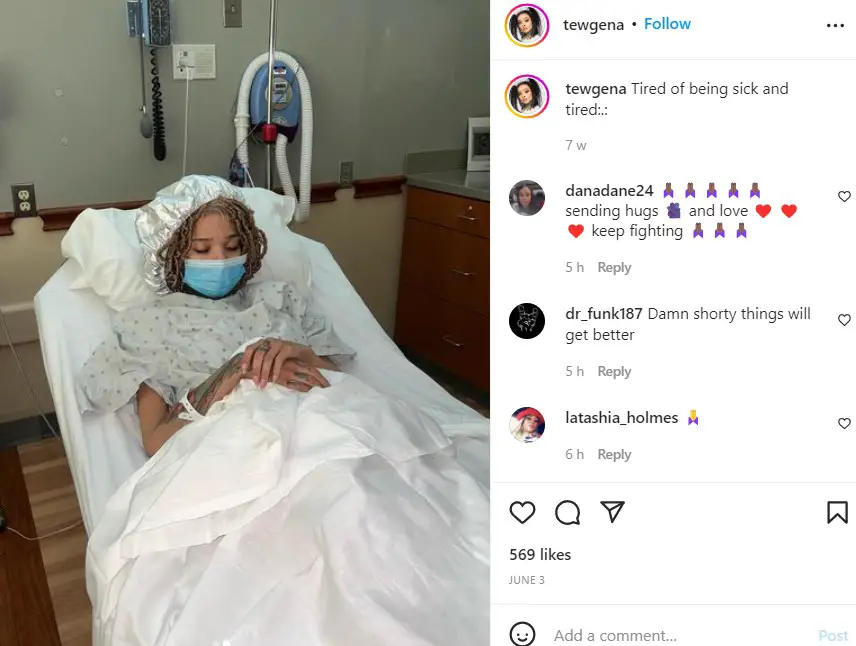 Tew recently disclosed that she has lost her ability to walk and has been confined to a wheelchair. She recounted losing a significant amount of weight after the virus ravaged her body, reaching a low of barely 65 pounds at one time.
Tew further mentioned that the diagnosis left her blind in one eye. She informed her followers in one of her health updates:
"I was so weak in the first few days after discovering I had AIDS… I couldn't concentrate and had to struggle to speak."
Fans have flooded the influencer's comment section with supportive comments as she continues to share her story online.