Influencers on social media or YouTubers in particular do not always have a happy life. Furthermore, given the volume of watchers, even their acts could get them in hot water. However, controversy means greater attention at a time when everyone is obsessed with tea. Some famous people have a history of deliberately creating drama to gain attention. Naturally, celebrities with naughty dispositions gain more fame. 
They discuss interpersonal conflicts, rivalries, and even relationship problems on social media platforms. Naturally, their supporters take sides and stir up even more commotion. These can no longer be avoided if you use the internet frequently, no matter how silly it may feel. 
Also included in these dramas is Alissa Violet. While the YouTube star's professional life appears calm, the same cannot be said about her romantic life. All of the few relationships she has been in have ended painfully.
Alissa Violet Dated Faze Bank
Following her abrupt breakup with YouTube boxer Jake Paul, Alissa Violet initially dated FaZe Banks in 2017.
Violet and Banks dated for over two years. yet 2019 came to a disappointing close.
After Banks mentioned hooking up with YouTuber Tana Mongeau in a podcast, the couple got into a quarrel. Violet eventually accused Banks of cheating on her, despite the fact that both sides insisted the argument wasn't about Tana.
In July 2019, the couple announced their separation in writing. In a lengthy explanation of the matter posted on Twitter, Banks acknowledged that "none of us has been faultless" and asserted that "Alissa and I were having issues and I did something really stupid and hurtful."
Alissa & Bank Got Back Together?
Banks and Violet appear to be enjoying their single lives the most since their breakup. However, recent Instagram images have admirers believing that their romance may have reignited.
Alissa Violet published some sexy images of herself in a car's backseat on June 5, 2022. In a few of the pictures, she is being touched by an unidentified man or woman who has tattoos all over their hands.
It's possible that this enigmatic figure is FaZe Banks. The words "east" and "west" are tattooed on the man's fingers, while a bat and a moth are inked on the back of each hand. Astute fans immediately noticed that these tattoos perfectly resemble those of FaZe Banks.
Additionally, Banks shared one of Violet's images with the message "See you in hell, alissaviolet" on his Instagram stories, tagging Violet in the post.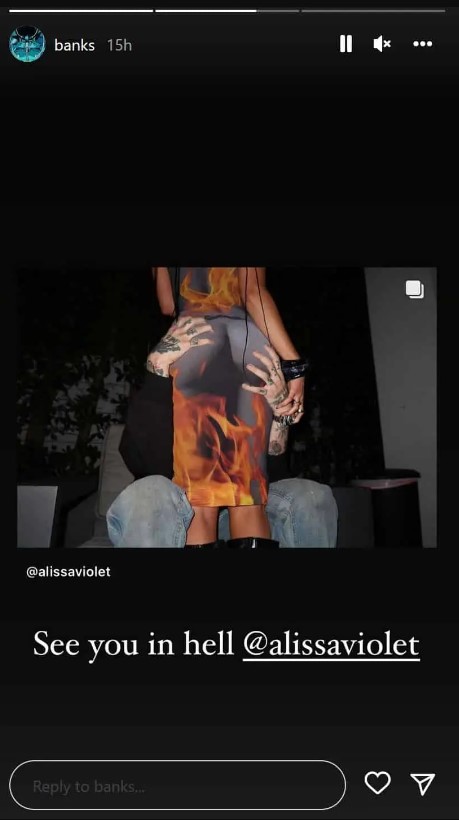 By complaining about not being tagged in the post in the comment area, FaZe Banks confirmed this for himself. With the caption "just friends," Alissa Violet dispelled the rumors before they even got started.

It's not yet apparent whether or whether these two celebrities are rekindling their romance. but in any case, interest among fans has already been aroused.