Some things never change, but they do for Kylie Jenner's son.
On Monday, the 24-year-old cosmetics mogul announced on her Instagram Stories that her kid, who was born last month, will no longer be known as Wolf. 
Kylie wrote, referring to her and Travis Scott's second kid, "FYI our son's name isn't Wolf anymore."
She added, along with a prayer hands emoji, "We just really didn't feel like it was him. Just wanted to share because I keep seeing Wolf everywhere."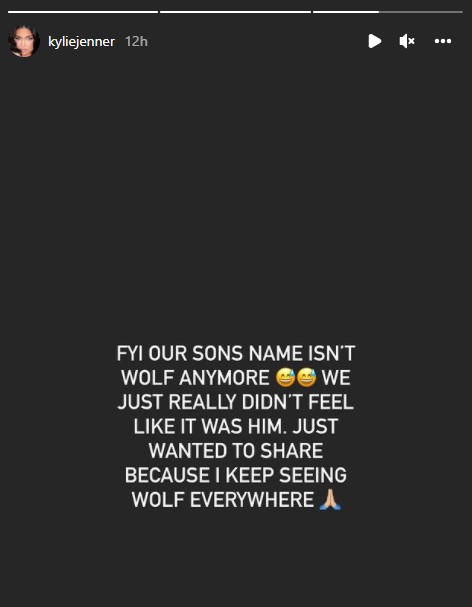 The mother of two hasn't revealed her baby's new name or whether his middle name, Jacques, will be changed as well. 
The infant was also given a middle name in honor of his father, Travis Scott, according to reports. Several accounts said that when the kid was named Wolf Webster, Scott's first name, Jacques, was reportedly picked as the baby's middle name.
Kylie Jenner had not only disclosed her baby's name on social media, but her mother Kris Jenner had also verified it during an interview on The Ellen Show when she spoke about her 11th grandson, Wolf Webster, and that the little one looked like his sister Stormi Webster.
Kylie and Travis Scott released a video tribute to their kid just an hour before they announced that they had decided to change the newborn's name. On her self-named YouTube account, Kylie posted a 10-minute video titled "To Our Son."
The couple documented the infant's introduction to the family in the video. Kylie captures all of her family members' responses, including Travis Scott's. Wanda Webster, Scott's mother, records a loving greeting for Kylie in the video.
"You know, this was the best thing ever for him. I see a different person in my son. And you, as a young mother, I was just telling somebody at the party today, what a wonderful mother you are. You always think about Stormi first. And that is so wonderful. I'm so blessed and I'm so happy that you are the mother of my grandchildren. I love you and I love baby Jack, and good luck"
The video features several must-see moments from Kylie's second pregnancy with Travis Scott. Kim Kardashian, Kourtney Kardashian, Khole Kardashian, and Kendall Jenner, among others, filmed themselves sending sweet messages to their sister and soon-to-be-born son.
At Jenner's baby shower, Kim takes the time to congratulate her newest nephew. She said, 
" I pray that you love the family that you are born into because we're very special. We love you, and we can't wait to meet you."