Blake Moynes has made it to the final candidates in Katie Thurston's season of The Bachelorette after a series of drama-filled episodes.
When a random previous candidate from another season makes a surprise guest appearance to win over the new lead's heart, it's the best/worst time of any season of The Bachelorette. And it almost always results in drama. That time arrived for Katie Thurston's season in week four: Blake Moynes, who competed for now-host Tayshia Adam's final rose as a competitor on her season, returned.
Despite criticism regarding Blake's quote-unquote being there for the proper reasons and contact before entering the program, he has made it to Katie's final four.
Moynes was a contestant on Clare Crawley's season of The Bachelorette, and you may recall that he contacted her before shooting. He joined Adams' company when she cast Dale Moss early on, and he soon fell in love with the new leading woman.
Katie told Us Weekly,
"I definitely knew who he was, which also Tayshia's ex-boyfriend!'

So that's weird. We had chatted before, but usually what happens is, like, the guys will reach out to the women once they're eliminated and be like, 'Good luck, you did great.' Like very generic, you know? And so to see him, I was like, 'Why is he here?' Like, 'What's happening?'"
Who Is Blake Moynes & what do we know about him?
Blake Moynes was born in Hamilton, Ontario, Canada, on August 9, 1990. After their parents ' divorce, he is raised by his mother and his brother and sister, Taylor and Cody. Emily, his mother, is a life coach who owns 'Rebuild a Kick-Ass Life' and specializes on helping women break out from unhealthy relationships and recognize their own value.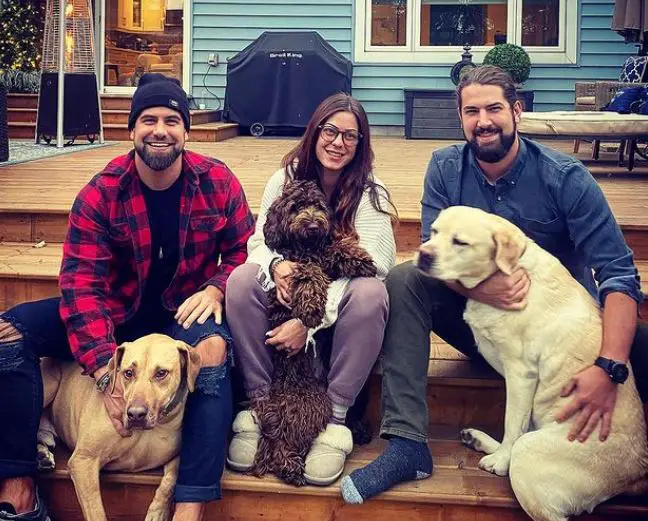 Blake identifies himself as a wildlife enthusiast after studying "every sort of wildlife management program" in college. Moynes is a guy who enjoys being outside. He owns his own line of merchandise as a wildlife manager (proceeds support wildlife conservation). Every year, he supports a new endangered species, according to his ABC profile. He's also concerned about the environment.
More From Us: Meet Married At First Sight Thirteenth Season Star Gil Cuera!
In his spare time, he enjoys picnics and volunteers with endangered animals. Despite his attractiveness, Blake is the only single person in his group of friends, which may explain why he's so eager to date three women in a row on national television. He hinted with an Instagram photo from the premiere.
"I have always wanted my love story to be similar to the notebook … but do I get my wish?"
He adopted a rhino through the non-profit Care For Wild Rhino Sanctuary, the world's biggest orphaned rhino sanctuary, and focused on caring for orphaned, injured, or sick rhinos. He's also a cat and dog owner. And, once again, he has the merch to back it up.
Find Blake Moynes on Social Media!!
With 251k followers, Blake Moynes' Instagram account is @blakemoynes. His Twitter handle, @BlakeMoynes, has a following of 7,143 followers. We can also find him on Facebook, where he is known as @blakemoynes.
Blake's two Instagram profiles, @mowglimoyes, and @soilders_for_wildlife show his love and devotion to wildlife, as well as his job.