Season 17 of The Bachelorette is officially underway; pulling up in an antique car, "The Bachelorette" contestant Andrew Spencer, a bogus Brit, introduced himself in a British accent. 
Andrew gained lots of attention for his confidence and good looks. Andrew possesses all of the qualities to be a top contender on the show. He used the faux accent to charm Katie Thurston and became the first to steal Katie away for a one-on-one. 
On the other hand, Katie also confessed that his accent was good. So, because of his natural charm and a fake accent, Andrew got a rose on the first night. 
That being said, people are already heavily invested in Andrew's journey and waiting for him to win. So here we present to you all the information's about Andrew Spencer you didn't know about. 
Andrew Spencer & The Bachelorette
Andrew Spencer is one of the participants on The Bachelorette Season 17. Upon his arrival, he announced he traveled across the pond to meet Katie Thurston in a thick British accent. 
Katie did buy his traveling statement as she was aware of the international travel restrictions. However, she played along and gave a toast in a British accent. She also complimented his looks, said he looked dashing and even thanked him for coming on the show. 
Peek Inside: Who Is Carlos "Loz" Oliveros From VH1'S Cartel Crew?
The two giggled on their date night, and Andrew seemed to be off to a good start. On the first night, he was successful in impressing Katie and stealing a rose from her. 
It was reported that Andrew would like one of the top four finalists alongside Blake Moynes, Greg Grippo, and Justin Glaze per Reality Steve. 
However, the show's ending does not give the fans much hope as he fails to receive the last rose. After filming, he was spotted returning to Austria alone, but he had not spoken about his time in the show before the show ended. 
During an interview with AFI, he said, 
"Football is my first love, it's something that's always going to have a special place in my heart. Being able to come back here and breathe football air, it's been like coming back home, almost relaxing. It's my safe haven, my Zen."
His Ideal Type
Andrew believes in strong communication in a relationship. He loves traveling, has a great sense of humor, loves margaritas, and loves his family members. 
He is also not afraid of making a grand romantic gesture. He finds someone attractive who enjoys spontaneity, who respects his family, and loves the outside world. He wishes to get married and have five children. had
Who Is Andrew Spencer?
Andrew Spencer was born on 21st January 1995 in Illinois. He spends half of his year living in Chicago, Illinois, and the half other in Vienna, Austria. 
Spencer was raised by his mother, Phyllis Harbor Spencer, after his parents separated a long time ago. His mother worked at a medical company called Abbott. 
Also Read: Who Is Girls Gone Wild Founder Joe Francis' Long Time Partner Abbey Wilson?
As a single mother, his mother faced a lot of trouble while raising him and his two siblings, Tejader BigPhill and Krishauna Harbor. Andrew understood his mother's situation, and on his Twitter, he often shares tweets to cheer his mother.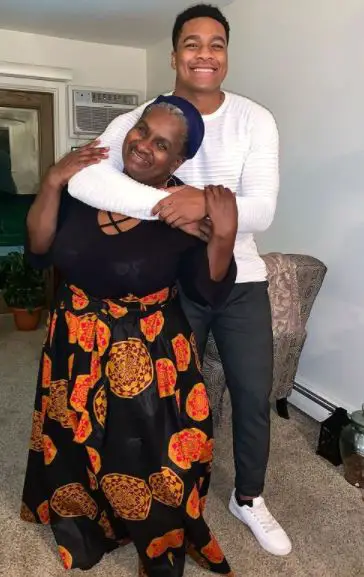 Andrew also missed the presence of his father in his life but feels grateful to have a mother. 
Career & Net Worth
Andrew Spencer is a professional football player based in Vienna, Austria. In addition, he works as a football coach and teacher's assistant. As of 2021, he played for Dacia Vienna Vikings and joined the club organization mid-way through 2019. 
Before becoming a footballer, he worked in sales and marketing at Aidells Sausage Company and later worked at his alma mater, Winona State University. 
More From Us: An Insight Into The Reality Series Cartel Crew Cast Salome Jackson!
During his time at Winona, Spencer played in 12 games and won over ten awards and honors. 
From his career, he has garnered a net worth of $400K. 
Interesting Facts 
Andrew stands at the height of 6 feet 1 inch (1.85 meters), weighing 95 kgs. 
On his Instagram handle @andrewzspencer   , he has 10.3K followers.