'Making It' has returned on NBC with its third season kicking off its premiere on June 24, 2021. The reality competition television series features craftspeople who are skilled in different media as they compete to be the 'Master Maker' and win $100K.
The series has returned with hosts Amy Poehler and Nick Offerman along with several new makers from across the country. Among those competitors is Chelsea Andersson. 
Chelsea Andersson Bio, Family
Chelsea Andersson was born to Lennart (Hacienda) Andersson and Fern Levine Andersson.
Chelsea's mum has worked at Eastern Suffolk Boces. Introducing herself as 'former jack of all trades, master of none,' Fern has stated that she has contributed to Sagamore Children's Psychiatric Center. She attended Massey Junior College and went to the University of Oxford.
Interesting Read: Who Is Daniel Fryer? Know More About Victoria's Secret Angel Taylor Hill's Fiancé!
Chelsea's father worked at Lufthansa according to his Facebook bio. The bio also reveals that he went to Garden City Senior High School. 
It should not come as a surprise that Chelsea's parents are very much enthusiastic over her achievements as they often boast about her on their respective social media.
Chelsea grew up with her sister, Dana Andersson-Rodriguez. Dana is happily married and has a daughter named Hailey.
Education
Chelsea went to the State University of New York College of Environmental Science and Forestry and graduated with a degree in Landscape Architecture in 2014.
Her Career
Chelsea has opened up several paths in her career that rely on her artistic crafts.
Through her brand, 'ChelseaMakes,' she operates her online merch stores that sell products ranging from Dollhouse kits to wearable designs. 
"ChelseaMakes Modern Dollhouse craft kits are handmade (with lasercutter) from our home in California. I take pride in our use of formaldehyde free, US grown plywood, boxes made and printed in the US, and the ease and simplicity of the design." - The bio on ChelseaMakes website
Chelsea Andersson Married, Husband
Chelsea is happily married to Nickolas McKee. In a June 2019 post on her Instagram, Chelsea expressed her excitement over getting to marry her partner. There, she revealed that they had been "engaged for 2 years and in love for nearly 8."
The couple got married on June 24, 2019. They exchanged their wedding vows at the Lloyd Harbor Historical Society's Henry Lloyd Manor House in George Weir Barn.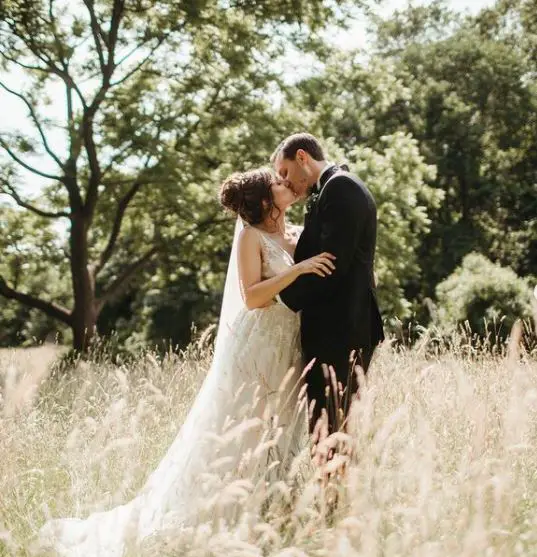 They spent their first year of marriage in quarantine in a "tiny apartment" according to Chelsea on her anniversary post.
"One year ago I married Nick and it was the best day of my life. I never imagined spending ¼ of my first year married being quarantined in a tiny apartment, and although it's been slightly maddening, there's no one I would rather be stuck with than you @nstroud1 (heart emoji) Today I'm going to give you all the hugs and cuddles. Thanks for being my person." - Chelsea Andersson on her Wedding Anniversary post on Instagram
Nickolas, on the other hand, also seems to love posting his journey of life with Chelsea. His Instagram feed is filled with pictures of him and Chelsea and their adventures, and also his undeniable love and appreciation for her. 
Her Social Media
Chelsea has maintained a considerable presence on social media platforms. She is active on Instagram where she posts under the username @chelseamakes with over 10.4K followers.
She also has a Facebook account by the name 'Chelsea Andersson.' However, she is not active over there.