"Below Deck Mediterranean" is back with Season 6! The new season has brought cast members who are new to the franchise. The only former stars returning to this season are Captain Sandy Yawn and former deckhand Malia White. 
The new crew members include chef Mathew Shea, chief stew Katie Flood, stews Courtney Veale and Lexi Wilson, and deckhands Lloyd Spender, David Pascoe, and Mzi "Zee" Dempers. 
Among the new cast, we are going to talk about Courtney Veale today.
Courtney Veale's Bio, Family
Courtney Veale was born in Conwy, Wales to her mother Simone Veale and her father whose identity remains anonymous.
Interesting Read: Meet Chelsea Andersson! Competing On NBC's 'Making It' Season 3
When it comes to siblings, Courtney grew up with her brother, Joshua Veale. He got his advanced CIMA Advanced Diploma in Management Accounting in 2015. He went to the University of Bristol and graduated with a bachelor's degree in Economics and Finance. According to several reports, Joshua is currently working as a Global Product Manager.
Courtney, on the other hand, grew up exploring North Wales' beautiful lakes and mountains. For her education, she went to a performing arts college, according to her Bravo wiki.
Her Career 
Courtney went traveling after her graduation. While on her journey around the world, she did several odd jobs.
Her resume reveals her having worked as a bartender, ski resort representative, paper delivery girl, nanny, and performer in Disneyland Paris.
It was during her travels and among these jobs when she landed in Australia and started working on several smaller boats as a stew and deckhand.
Courtney soon accepted her very first job on a yacht in the South of France and realized that she had "found the perfect fit."
Courtney Veale in Below Deck Mediterranean
Courtney will be going back and forth in the show as a deckhand, seeing to the expectations of the guests. She will be working under Captain Sandy Yawn. (and teaching the captain to twerk)
The trailer for the new season revealed a clip of Courtney teaching Sandy Yawn how to twerk. "I've never learned how to twerk, but, hey, you know? I was up for learning," said the captain. "I couldn't keep up with Courtney."
According to Bravo's wiki, Courtney is gracing the show with her cheerful personality.
"With a sunny personality and can-do attitude, Courtney is motivated to continue to progress on the interior side while having a great time with the crew."
Who is Courtney Veale's Boyfriend?
While the details are scarce, Courtney was dating a guy named Evan Griffith, according to what her social media posts suggested. 
They often appeared on each other's Instagram, sharing their adventures together. The couple was not hesitant to flaunt their romance. 
While You're Here: Who Is Vada Fly? What Is His Real Name?
The last post of them together was in October 2017 when Courtney shared a picture of the two during their visit to Paris.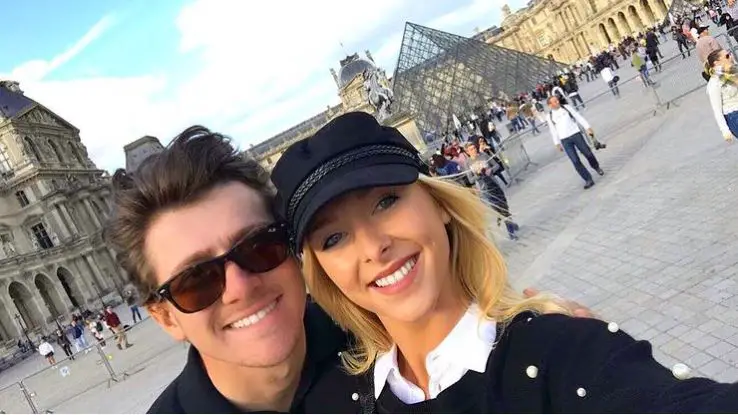 Her caption said, "The Louvre & bae. Thanks for coming @evangriffithgolf. Had the fabbest time FR (heart emoji) #paris #louvre #louvremuseum #tourists #beautiful #city"
Meanwhile, the recent trailer of 'Below Deck Mediterranean' showed Courtney kissing deckhand Mzi "Zee'' Dempers in one clip. However, Courtney appears to be shocked about the incident in another scene.