Bernadette Robi, a former sports illustrated model who is also widely recognized as the wife of the former boxer and motivational speaker Ray Charles Leonard best known as "Sugar" Ray Leonard. Bernadette is one of the most queried people related to Sugar. 
The couple has been married for nearly 26 years and is still going strong in their relationship. They are blessed with two amazing kids, a son and a daughter. 
Bernadette Robi's Married Life With Ray
Bernadette and Ray first met at a Luther Vandross concert in 1990 and were introduced by their mutual friend Lyndie Benson. Sugar also thanked his friend Lyndie for introducing him to Robi on his Instagram account. 
However, at the time, Sugar was going through a hard time which he referred to as 'personal hell.' In addition, sugar just had a divorce with his wife Juanita, who later married Atlanta Braves outfielder Otis Nixon. From his marriage, he shared two sons Ray Jr. and Jarrel.
Peek Inside: Who Is Daniel Fryer? Know More About Victoria's Secret Angel Taylor Hill's Fiancé!
Despite the tough time, Sugar asked Robi out with the hope of starting a new chapter in his life. Having gone through a devastating divorce, it certainly took a bad toll on Sugar that he stood her up thrice. But, Robi was not the easy one to give up. 
As they had set up a date for the fourth time, Sugar told her he would meet at the restaurant, but Robi denied and went to pick Sugar up for their date instead. And the rest is a wonderful history. 
If it weren't for Robi's stubbornness, the couple would have a different story.
After few years of dating, Robi and Sugar tied the knot at Sugar's over 8 million dollar Pacific Palisades estate with 250 guests on August 20, 1993. The extravagant flashy wedding included ten thousand roses and a plane flying a banner displayed, 'I Love You, Bernadette.'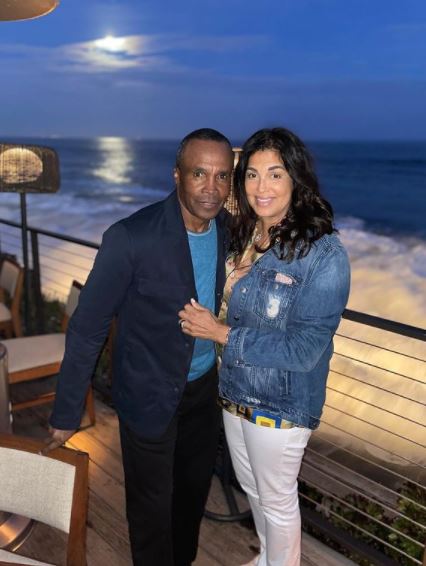 The wedding was followed by a luxurious honeymoon at the Bel-Air hotel suite with champagne, a hundred flickering candles, caviar, and Kenny G's music. From their 27 years of wonderful bond, the pair has two children, son Daniel Ray Leonard and daughter Camille Leonard.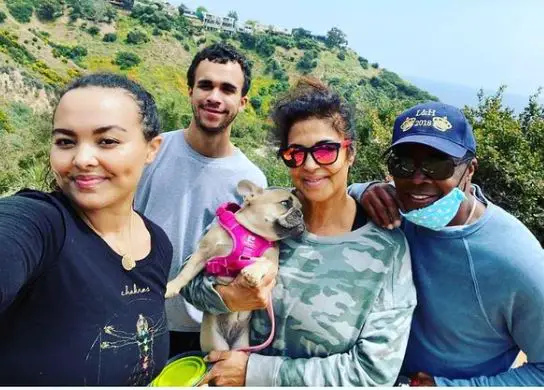 Don't Miss: Jay Dukes Appearing On Put A Ring On It With His Partner LaRhonda Mabry
Camille has already set her foot in business and making a name of her own and is the owner of her own creation Born Indigo Fragrances, which started at a young age. The company creates natural scented candles to soothe the mind and body. The proud mother Robi took to her 'gram to flaunt her daughter's achievement and praised her for her determination.
Moreover, Robi also shares a similar story as Sugar regarding her past relationship. She had also separated from her the football star Lynn Swann after only twenty-two years of marriage, in 1983. But, she did not have any children from the brief relationship.  
Besides, Robi is known to have been in several relationships before Sugar, but she explains her romance with Sugar as,
I fell in love with his kind heart. Even though he was having problems, he gave more of himself to me than to anyone. 
Despite going through failed relationships, both Robi and Sugar eventually found one another to hold onto for the longest time. Marking the twenty-seven years of marriage and 31 years of togetherness, the pair still has more years to create beautiful memories together.
What Is Bernadette Robi Doing Now?
Bernadette, born to her father Paul Robi, one of the original singers of Platters, and her mother Martha, began her career as a sportswear model. The model, who inherits mixed ethnicity, hasn't disclosed much of her personal information, but she is assumably in her 60s.
Check Out: Who Is Gina Youbi? Facts About '2Racun Youbi Sister' Singer
Although mostly known for being the wife of Sugar, she later left her modeling career to give her full attention and care to her children and husband. Indeed, the dedicated wife did a great job raising her kids and bringing back happiness in Sugar's life.